A woman's place in political ephemera
By JOL Admin | 31 January 2017
Guest blogger: Dr Lorann Downer, 2016 John Oxley Library Fellow
When white women won the right to vote in Queensland elections from 1905, political campaigners had to consider how to appeal to this new group of electors.
We can see how campaigners viewed, and sought to reach, female voters by looking at the words and images they chose for their election materials. These materials - like how to vote cards, posters, pamphlets, direct mail, stickers and clothing - are known as ephemera because of their fleeting nature. They weren't meant to last beyond a particular election campaign but some of them did survive to bring us interesting tales from our past.
The Queensland political ephemera in the John Oxley Library collections show that for the first half century at least, many campaigners marketed to women via their roles as wives and mothers. But not all.
The first piece from the collections which references female voters is a 1907 policy manifesto from Thomas Glassey. A former Queensland Labor leader and federal Senator, Glassey unsuccessfully contested the seat of Fortitude Valley, in Brisbane, in the state election of 18 May, 1907. In his manifesto, Glassey warmly notes the recent enfranchisement of women in Queensland and casts himself as a friend of female voters. He reminds readers that he has long supported female suffrage, was the first state Member of Parliament to introduce a measure to give women the vote and advocated for equality for women in the Commonwealth Public Service.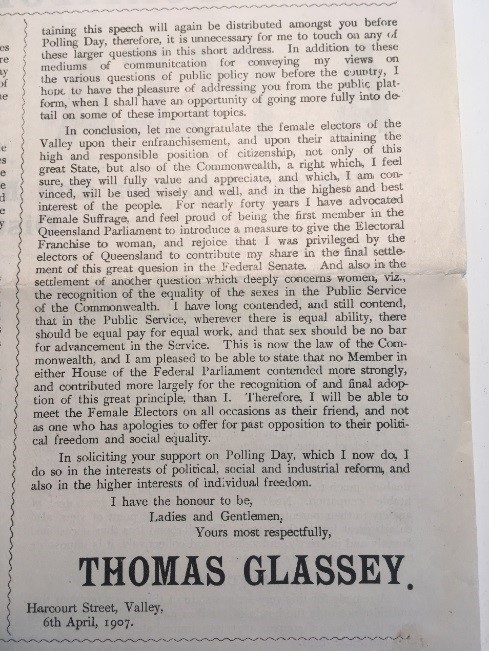 SLQ political ephemera collection
SLQ political ephemera collection
Campaigners make very different appeals to women - targeting their roles as wives, widows and mothers - in pamphlets from the 1918, 1926 and 1938 state elections. The first is a piece from the Labor Party for the election on 16 March, 1918. Titled 'THE WIDOW AND THE ORPHAN!', it speaks directly to women, contrasting Labor and Liberal policies on state aid for women who lost husbands and children who lost fathers in World War I. The second piece is four-page policy platform from Arthur Moore, leader of the Country and Progressive National Party, ahead of the election on 8 May, 1926. Inside, a promise of "social justice and material prosperity" is pitched at the women of Queensland who are urged to vote against the "Labour-Socialists". Moore canvasses the effects on family life and the state economy of Labor administration including increases in tax, food and clothing. Moore concludes with an appeal "not to your greed and cupidity, but to your intelligence and patriotism". Moore's pitch wasn't enough; Labor was returned at this election. The third piece, from Labor for the poll on 2 April, 1938, carries a grim title: 'Babies Born in Sitting Rooms at Crown Street Hospital'. The pamphlet compares the reported conditions at a New South Wales hospital under a conservative government with the policies of the Queensland Labor government. An excerpt from a Sydney newspaper reports that women "with limited means are not receiving the adequate and efficient maternity services to which they are entitled," with some giving birth in sitting rooms at the Crown Street Women's Hospital. The piece then lists nine family-friendly Labor policies ranging from baby clinic care and free primary school education and to 10,000 extra jobs for boys and girls.
SLQ political ephemera collection
SLQ political ephemera collection
Women won the right to stand for election in Queensland in 1915 and in the following years we start to see them being presented in campaign materials as candidates as well as voters. One great example from the collections is a four-page newspaper produced by the Queensland People's Party for the poll of 15 April, 1944. Two women are among 30 candidates who are introduced via head shots and short biographies, in the inside pages. Mrs E. A. Tipper (top row, third from the left in the image below), contesting the inner-Brisbane seat of Fortitude Valley, is described as a former kindergarten teacher and shop assistant with 18 years' involvement with the Women's Christian Temperance Union. She is "keenly interested in all movements for benefit of women and children". Mrs Athena Deane (bottom row, fourth from right in the image below), standing in the north Queensland seat of Townsville, is described as a cane farmer, businesswoman and "active worker in patriotic causes and public movements". Neither woman was elected. The Queensland People's Party was founded in 1943 and later became the Queensland division of the Liberal Party of Australia.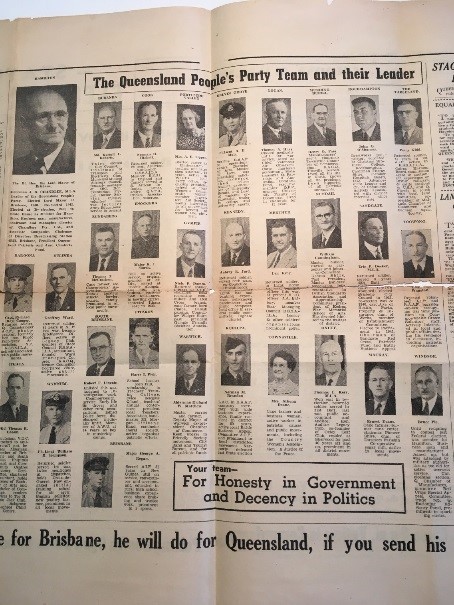 SLQ political ephemera collection
SLQ political ephemera collection
A Liberal pamphlet from the 1950s shows the party understood the value of appealing to young women. This eight-page, tri-colour piece was produced for the Queensland election on 7 March, 1953. Titled 'LET'S PUT ENERGY, COURAGE & ENTHUSIASM TO WORK FOR QUEENSLAND', the inside page features headshots of three men and two women, who are meant to represent target voters. On the next page is a quote from Liberal Prime Minister, Robert Menzies, who sees young people as having both responsibility and authority for the future. The following text shows a Liberal push to broaden its appeal to young voters, claiming the party "has become "younger" in tune with the requirements of the times".
SLQ political ephemera collection
SLQ political ephemera collection
Labor targeted female voters in two interesting pieces for the election on 3 August, 1957. The first is a four-page leaflet titled, 'I am voting ALP BECAUSE…', and carries a graphic of a woman counting on her well-manicured fingers. Inside are listed the benefits of a Labor Government which include "better wages and less hours for my husband", "modern homes which lessen women's work" and a trustworthy government. The final page features a graphic of three women – including one vacuuming and another typing – who endorse the sentiments of the pamphlet. The second piece was produced for the Women's Branch of the Labor Party in the Brisbane electorate of Norman. Titled, 'A MESSAGE TO THE WOMEN OF NORMAN', it urges support for the successful Labor candidate, Bill Baxter. Under the headline, 'Help Preserve Your Family Unit', the inside pages argue that just as women value the security of their families, they should also value "sound and wise administration in the State where we have chosen to bring up our families". The last page carries a recipe for chocolate walnut cake and advice on where to get voting assistance.
SLQ political ephemera collection
SLQ political ephemera collection
In 1960, the Country Party promises "a full role for women" in a pitch to women who are interested in contributing to policy development. The party produced a small pamphlet, titled 'The Story of the NEW Queensland created by FRANK NICKLIN and the COUNTRY PARTY', for the election on 28 May, 1960. The pamphlet says the party "gives women an equal say in the management and policy-making". This, the piece argues, has transformed the state's health and welfare sectors, delivered innovation in education such as School of the Air, and a modern kindergarten system.
SLQ political ephemera collection
SLQ political ephemera collection
Two pieces from the Labor campaign of 28 May, 1963 are targeted directly at women, who are depicted as workers as well as wives and mothers. The first piece has an image of nine people, some carrying cases marked 'ALP' and all walking purposefully. Included are five women, three dressed as medical staff and two who might be secretaries. Beneath the title 'Going somewhere?', is the campaign slogan 'Go with ALP in '63' followed by a promise on the second side of prosperity for 'Mr and Mrs Queensland'. The second piece is a full-colour pamphlet, titled 'We all agree…' which features an image of three women talking in a shop. Under the headline '…ON VOTING ALP IN '63', the second page offers five reasons to support Labor including jobs for women, their husbands and children, free hospitals, education services, laws for equal pay and housing.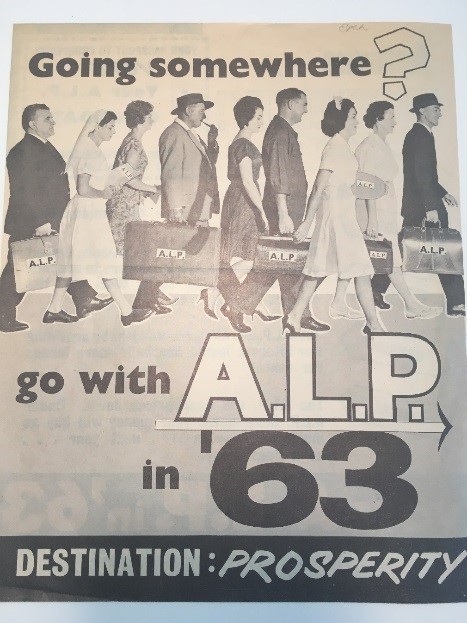 SLQ political ephemera collection
SLQ political ephemera collection
SLQ political ephemera collection
With their varied representations of women, these pieces reflect the increasing attention paid to female voters and the increasing professionalism of political marketers as they responded to social changes like female suffrage and the beginnings of the women's liberation movement.
Further reading from Dr Lorann Downer
2017 John Oxley Library Fellowship
The John Oxley Library Fellowship is awarded annually to support a research project that uses the rich resources of SLQ's John Oxley Library and contributes to the creation of new knowledge of Queensland.
Applications for the 2017 John Oxley Library Fellowship is now open.
The successful applicant will receive a stipend of $20,000 along with a personal work space within the John Oxley Library's Neil Roberts Research Lounge for 12 months giving premium access the extensive collections and expert library staff and advice.
Comments
Your email address will not be published.
We welcome relevant, respectful comments.