Who was J.A.Carpenter, Esq.?
By JOL Admin | 6 February 2014
The recent digitisation of a Farewell Dinner menu in honour of J.A. Carpenter, Esq. dated Wednesday 1 July 1914, begs the question - who was he?
The souvenir menu, a small ephemeral folded card, tells us very little about the gentleman himself, except to show his stylized signature and those of the fourteen (14) or so Company members who attended the dinner in his honour.
The generous menu tells us much more. He was obviously a respected man who had considerable influence as the dinner was given by the Departmental Heads of Burns Philp & Co., Ltd., Cairns Branch, in recognition of Mr Carpenter's contribution to the firm and its ongoing success in North Queensland. The 1884 company Handbook of information outlines the firm's focus and expansion around industries such as sugar, mining, and shipping in Townsville and further north to the Cairns region.
Queensland handbook of information. John Oxley Library, State Library of Queensland
The choice of menu was 'opulent', with seven (7) courses of fine dining prepared by Mrs Hides in honour of Mr Carpenter's new appointment to the Townsville headquarters following sixteen (16) years with the Cairns office. Courses such as Hors d'oeuvres of olives, mock turtle soup, boiled schnapper with anchovy sauce, entrees and mains of four different meats ensured there was something on the menu for all tastes. It was reported in the Cairns Post on July 6 that 'the table was very neatly arranged, and the firm's flag and colors were prominent, lending good effect.'
With the outbreak of World War I looming and Britain's declaration of war on Germany a month later on 4 August, 1914, general conversation around the table may well have included personal feelings and opinions about the events unfolding in Europe as well as celebrating Mr Carpenter's personal achievements with the firm.
Two weeks earlier, the local newspaper reported on June 23, that Mr Carpenter began his illustrious career as a junior with Burns, Philp & Co. (Cairns), working his way up to the position of Manager in seven short years. While attending the annual staff picnic at Kuranda with around 150 employees, Mr Carpenter and his senior colleagues delivered toasts and shared interesting details regarding the growth of the firm. He stated " the firm pledged to reward merit and that he had always tried to follow the same precept…recognising that men were equal and should have equality of opportunity." Cairns Post, June 23, 1914 p. 8
The reported reference to the 'firm's flag and colors' brings me to another interesting aspect of the story around this menu. Employees who visited the offices of Burns, Philps & Co. might have been served a cup of tea or coffee in the firm's personalized crockery. The colours green and black were obviously recognisable firm colours as they were used to highlight the white background of the ceramics. See attached several images of a milk jug measuring 6 x 12.3 x 7 cm bearing the words 'Maddock Royal Vitreous England' and 'Burns, Philp & Co. Ltd Cairns' on the base. This interesting piece was located in Mareeba in 2012. Readers are invited to share personal stories and memories linked to similar examples of menu and items of significance!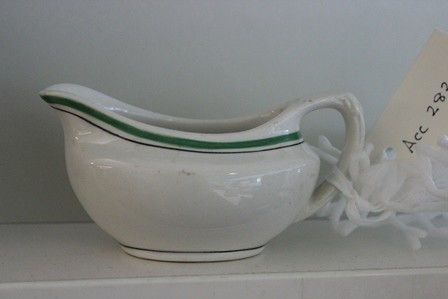 Burns, Philp & Co. Vintage Milk Jug. 28206 John Oxley Library, State Library of Queensland
More information about this special piece of North Queensland history can be viewed in One Search and published newspaper content involving Burns, Philps & Co in Trove.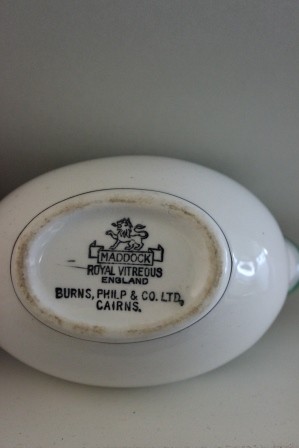 Burns, Philp & Co. Vintage Milk Jug. 28206 John Oxley Library, State Library of Queensland
Comments
Your email address will not be published.
We welcome relevant, respectful comments.