Who owned the properties known as Malvern, Lauriston and Killeen
By JOL Admin | 6 December 2013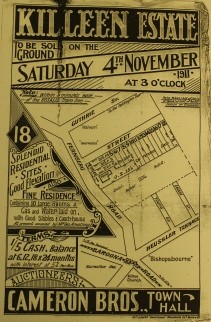 Recently a Brisbane resident asked the John Oxley Library for help in solving a few mysteries about three properties that used to be in Paddington called Malvern, Lauriston and Killeen. He was searching for photographs and information about either or all of these houses as to ownership and why these names were selected for the properties.
I did some preliminary searching of our collections but was unable to find images of these properties. However I did locate some information that related to the houses and the people who had resided in them. The house called Killeen was occupied by Mr and Mrs George Joseph Armstrong. From a land selection file held at the Queensland State Archives, one sees George listed as a selector of land in 1868. In the Queensland Post Office Directories he is described as a merchant and a resident of Killeen, Milton. The Queensland Births, Deaths and Marriages Index lists George Joseph Armstrong marrying Elizabeth Mary Killeen, on the 11 August 1875. Their son Edward Killeen Armstrong was born on the 15 February, 1881. The Killeen Estate was eventually sold at auction and on the 4 November 1911, Cameron Brothers Auctioneers advertised in the Telegraph, the sale of the Killeen Estate, on behalf of Mrs. George Armstrong who occupied the premises at that time.
It appears from information contained on an old paper title deed held by the inquirer, that confirms his current home is on land originally subject to the Deed of Grant, No. 943, which was issued to Edward Armstrong, son of George and Elizabeth. This suggests that a title for land passed to Edward from his parents at some stage. The Killeen Estate was situated across the street, opposite the site of Malvern and Lauriston and consisted of 18 residential sites with a fine residence (Killeen) containing 10 large rooms. Edward Killeen Armstrong continued to prosper in the district and was the proprietor of an ironmongery business in Milton. Sadly Killeen House was pulled down in early 1960 and replaced by multiple units known as Cambridge Court which has been run by the War Widows Guild.
Paddington, Brisbane, ca. 1902. John Oxley Library, State Library of Queensland. Neg 39215
One can only speculate on how the home known as Lauriston came to be. Was it named after the four masted barque called Lauriston that came to Australia carrying immigrants under Captain W. A. Armstrong? Lauriston the house stood on the corner of Fernberg Road and Moffatt Street (formally Killeen Street). After a quick search of Trove historical newspapers online, I located advertisements announcing land for sale at the Lauriston Estate - "Six magnificent building blocks and a substantial residence of eight rooms on a corner site of 38 perches". Lauriston had once been the residence of the Hon. Albert Norton until his death in 1914. It would appear that Lauriston Estate was subdivided by the Late Archbishop Duhig on behalf of the Catholic Archdiocese of Brisbane, most probably after the death of Mr Norton in 1914.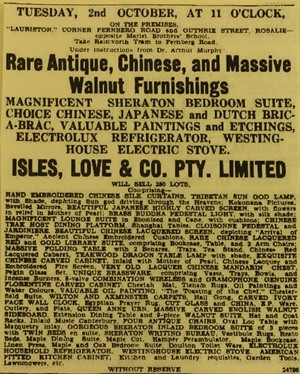 Hon. Albert Norton. John Oxley Library, State Library of Queensland. Neg 68256
The third property known as Malvern was in the vicinity of Lauriston and Killeen. I have not found evidence to prove how this residence inherited its name, but it is possible that the name was chosen from a place name, possibly where the original owners hailed from. I discovered several places called Malvern in various locations around the world, again it is only speculation but possible that its origins were location based. Malvern can be found in Worcestershire, UK, Barbados, Jamaica and South Africa.
Through the use of estate maps, newspaper clipping files and ephemera, a valuable clue was discovered about Lauriston in the collections of the John Oxley Library. The original auction catalogue is held and reveals a complete inventory of the items sold at the Lauriston auction.
Auctioneers, Isles Love Pty. Ltd., placed an advertisement in the Brisbane Courier which announced "On Tuesday, 2nd October, 1934, at 11 o'clock, Antiques for Sale at Lauriston, under instructions from Dr. Arthur Murphy". Lauriston was situated across the road from the present Roman Catholic Church of Sacred Heart, Rosalie.
This information was gathered from the collections of the State Library of Queensland, Queensland State Archives, Trove and clues supplied from the local community.
Titles and information about historical property searches can be obtained by contacting the Department of Natural Resources and Mines.
The Brisbane City Council has produced a free research guide called, Your house has a history: keys to unlocking its past
Janette Garrad – Original Content Technician, State Library of Queensland
Comments
Your email address will not be published.
We welcome relevant, respectful comments.