What does the Internet look like?
By Administrator | 10 February 2017
What does the Internet look like? Find out when our Digital Futures Lab opens this Saturday February 11.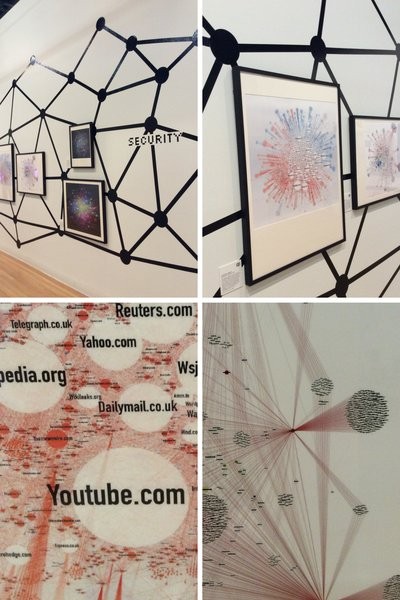 The Security wall explores how algorithms impact our digital lives
The Security wall explores how algorithms impact our digital lives
The SLQ Gallery on level 2 has been transformed into a hive of virtual and real-time activity. Exploring SLQ's 2017 theme, Digital Futures, you are invited to join the conversation around digital citizenship. This immersive space is designed to make you think and maybe even look twice.
The Opte Project, a program that creates a picture of the internet. It developed around the idea that the internet is a vast constellation of interconnected networks that provide for the relatively seamless communication of data from one point to another. The colours represent the allocation of internet protocol space to different registrars around the world, providing an image of the geographic distribution of the internet.
The Security wall examines how our ideas and identities are shaped by our digital participation. In contemporary life, individuals are precisely targeted by fake news sites. The Lab features an example of spatial maps that look at how these websites – both left and right-wing – spread their messages leading up to the US election last year. Websites used embedded links that were carefully connected to other fake news sites in influence viewers. Some experts believe that fake news targeting is social engineering on a mammoth scale and is unprecedented in human history.
When we go online to search for something we are surrounded by algorithms. Social media and search sites quickly and deftly work out who we are and the things we like. At first, the use of algorithms was benevolent - to make our lives easier by customising our online experience - but it has become increasingly open to abuse. On the Security wall of the Lab you can put yourself in one person's digital shoes and see how she is led, for better or worse, to websites that align with her world view.
Discover smart cities and digital bodies, real life robots and risky algorithms. Immerse yourself in virtual worlds, learn mindfulness from a machine, and share your dreams and predictions for the future.
The Digital Futures Lab is open daily from 10am to 5pm until November. Share your Digital Futures experience on social media #digitalfutures Visit our What's on for more information and details of special events coming up in the Lab: /whats-on
Anne Pensalfini
Signature Program Support Officer
Comments
Your email address will not be published.
We welcome relevant, respectful comments.