West End
By JOL Admin | 6 August 2008
The name of the suburb is believed to be derived from the area of London by the same name. A possible reason for the use of this name was that the area was seen as a fashionable place for the homes of the wealthy of early Brisbane.
Some of the early settlers and residents of the area have included:
John Hardgrave who purchased six acres in the area (1860). His name is commemorated by the name of Hardgrave Road.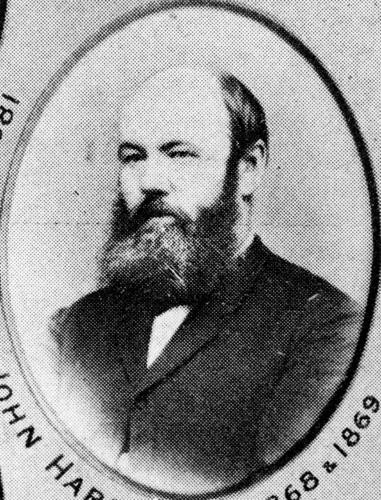 John Hardgrave, John Oxley Library image no. 63589
John Davidson purchased land towards the intersection of Brereton and Boundary Streets (1864).
Chinese market gardens were located on the western side of Montegue Road, between Boundary Street and Jane Street in the 1880s.
The original land which was offered for for sale included riverbank land in the present Hill End area. Some early real estate subdivisions included:
West End Estate of 200 allotments (1863).
Bridgelands estate (1878).
Barron's Hill Estate (1882).
Montpelier Estate comprising blocks adjacent to Boundary Street (1883).
Dornoch Terrace Estate of 90 allotments (1890).
Regatta Estate comprising riverfront allotments (1891)
Whynot Estate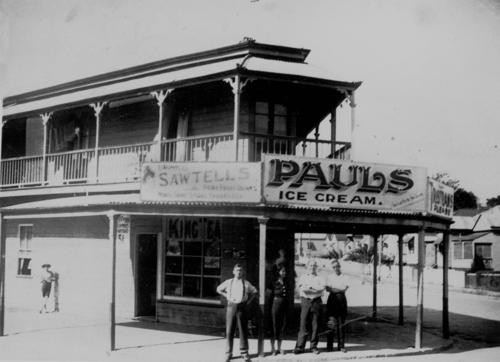 Corner shop in West End, ca. 1930s, John Oxley Library image no. 131738
Industries and businesses
A range of industries have operated in the West End area including, gas works, concrete and pipe works, iron and steel works, a boot factory, glass works, a soft drink factory and an ice cream plant.
Other industries and businesses have included:
Polar Bottling Works, Montegue Road
W.S. Binnie and Sons, Engineers, Montegue Road
Staff of Dixon's Shoe Factory, John Oxley Library image no. 165836
The name Little Athens came into popular usage at one time as large inflows of Greek migrants arrived, especially after the Second World War. By 1980, it was estimated that 75% of Brisbane's Greek population lived in West End and Greek culture remains a significant part of the area.
Buildings, sites, and points of interest
In 1846, an early attempt at town planning set the town limits of Brisbane. Boundary Street, Spring Hill and Boundary Street, West End were the northern and western boundaries. Vulture Street marked the southern boundary and Wellington Street, East Brisbane marked the original eastern boundary.
West End is the birthplace of the Blue Nursing Service – the West End Methodist Mission commenced the service in 1953.
Gas Stripping tower, located in Davies Park at West End. This tower is a remnant of the South Brisbane Gas Works and was constructed in 1912 in Yorkshire, England.
Rialto Theatre, constructed ca. 1924. The building was principally intended as a cinema but was also a venue for live performance. It was also used as a venue to record major radio programs, for instance Bob Dyer on 4BK, Jack Davey for 4BH, Australia's Amateur Hour (Terry Deere) and Quiz Kids with John Dease. The Rialto Theatre was eventually un-roofed by a violent storm in 1995. It is now in use as a restaurant and office complex.
Musgrave Park – named for Sir Anthony Musgrave, Governor of Queensland.
Timeline
Some significant dates in the history and development of West End include:
1875 (16 August) - West End School was opened.
1885 – West End Methodist Church was established. The foundation stone was laid on the 10 January 1885 with the official opening taking place on 15 November 1885.
1889 – an omnibus service operated by William Winterbottom.
1890 – West End Brewery was established.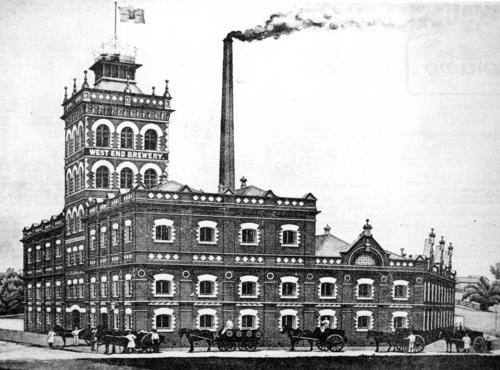 West End Brewery, 1896, John Oxley Library image no. 159529
1988 – Expo 88 – revitalized South Brisbane and West End, but this was at a cost to cheaper styles of accommodation which made way for an influx of tourists and wealthy residents. This process continues.
Find more photographs of West End in the State Library's collection.
Comments
Your email address will not be published.
We welcome relevant, respectful comments.