Wecker Estate, [Coorparoo], 1884 (Map of the Week)
By Myles Sinnamon, Project Coordinator, State Library of Queensland | 20 August 2017
State Library of Queensland has an extensive collection of historical maps of Queensland, some of which have been digitised and can be viewed online.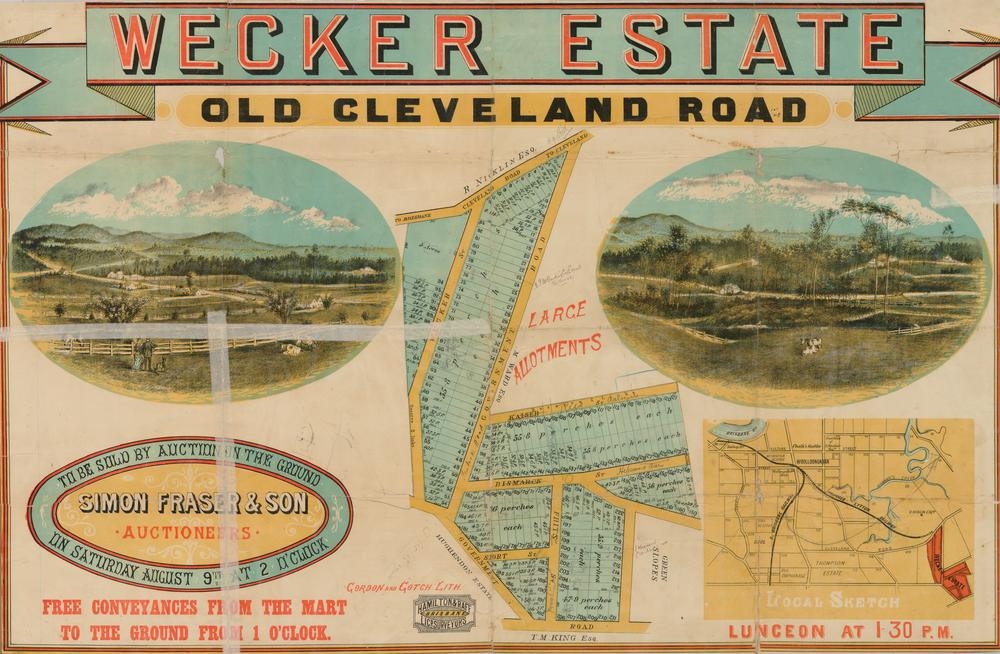 Wecker Estate, Coorparoo, Queensland, 1884. John Oxley Library, State Library of Queensland
This real estate map from 1884 advertises 222 allotments of land for sale at the Wecker Estate in the Brisbane suburb of Coorparoo. The allotments were situated along Old Cleveland Road, Wecker Street (now Kirkland Avenue), Kaiser Street (now Rees Avenue), Bismarck Street (now Hipwood Avenue), Fritz Street (now Wylie Avenue), Short Street (now Lindsay Street) and several unnamed roads (now Pembroke Road, Upper Cornwall Street, Chatsworth Road, Marian Street and Mackay Street). The sale also included a existing homestead set on three acres of land.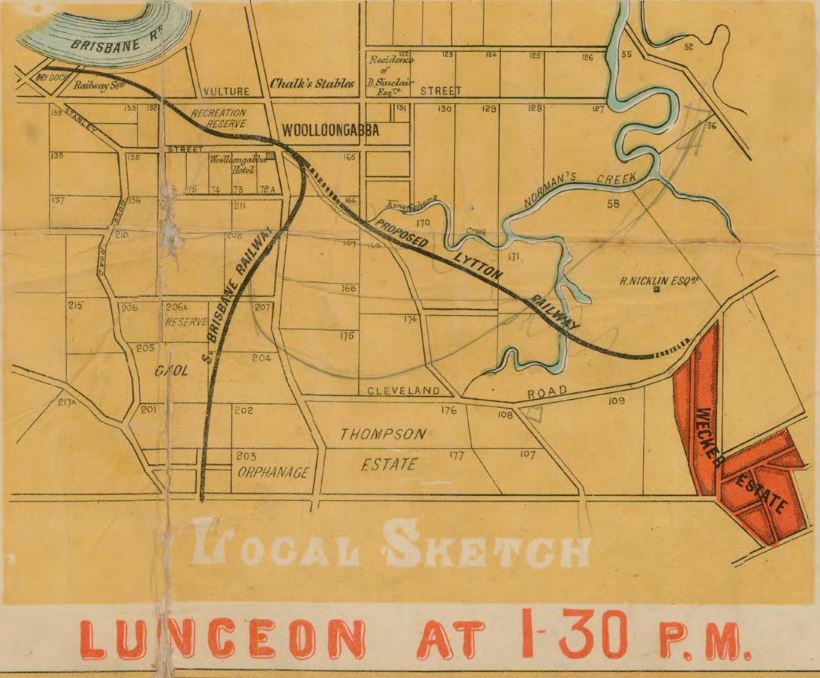 Prior to the sale extensive publicity was published in Brisbane newspapers.
"A few plain facts. The Wecker is a short distance past Woolloongabba...The Wecker distance will be reduced by the bridge over Norman Creek, and by tramways...The Wecker presents the opportunity for splendid gardens, as much of it is in a high state of cultivation. All who want a beautiful home, a safe investment, a profitable spec, should invest in the Wecker." (Brisbane Courier, August 9, 1884)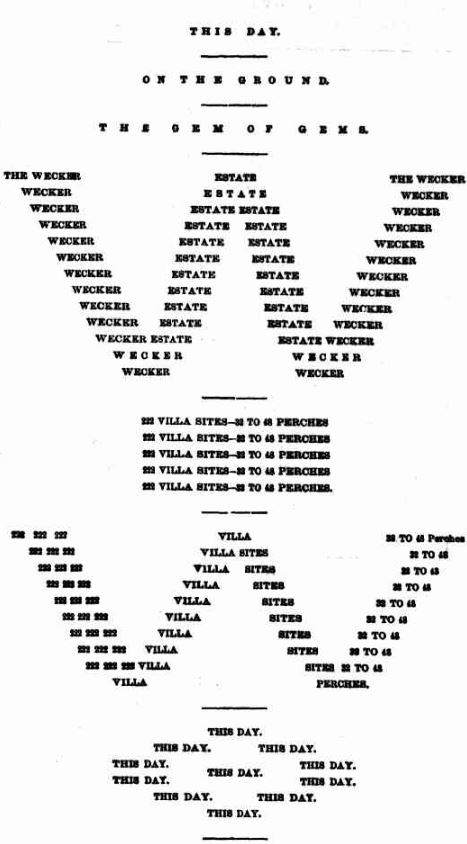 Advertisement for Wecker Estate. Published in Brisbane Courier, August 9, 1884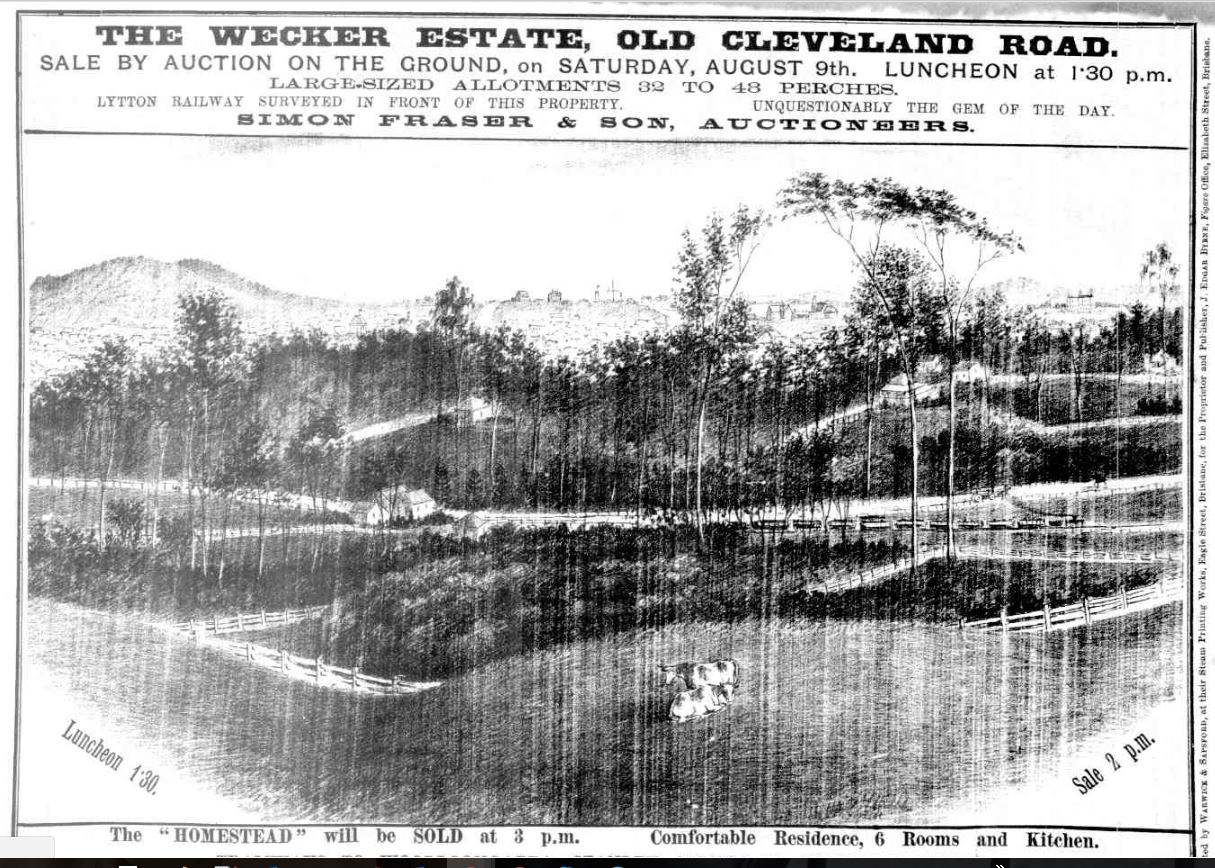 Advertisement for Wecker Estate. Published in Queensland Figaro, August 2, 1884
A public auction was held at the site on the afternoon of August 9, 1884. The Telegraph newspaper reported the results of the sale.
"Messrs Fraser and Son report a large company at the sale of the Wecker Estate. Twenty-one allotments only were sold; while the appreciation of the beauty of the estate is shown by prices ranging from £35 to £75 per allotment, by far the best and most valuable part of the estate is untouched. The proprietors, without being anxious to push this splendid property at present, will be prepared to sell privately." (Telegraph, August 11, 1884)
A higher resolution image of this map can be viewed and downloaded through our One Search catalogueopen_in_new.
Prints of this map are also available through the Library Shop.
You can browse a compendium of our previous maps of the week on our blog.
Myles Sinnamon – Project Coordinator, State Library of Queensland
Comments
Your email address will not be published.
We welcome relevant, respectful comments.