WEB ARCHIVING - WHAT'S IT ALL ABOUT?
By JOL Admin | 26 June 2015
Each year State Library of Queensland contributes hundreds of Queensland websites to PANDORA – Australia's web archive. These include websites of numerous organisations, community groups and individuals, festivals, events, and sites about various topical and political issues, election campaigns, interests and activities. If you are a web publisher that has been contacted by us seeking permission to archive your website, or if you are simply interested in web archiving, the following FAQ may assist you.
What is web archiving?
Web archiving involves selecting, copying and preserving specific websites and making these available in PANDORA, a growing online collection of Australian websites. Once archived, the live website may continue to change or eventually disappear, but the archived version remains as it was at the time it was captured. In short, the intention is that after we are all long gone, the archived website will live on.
Why do we archive websites?
John Oxley Library's commitment to preserving and sharing aspects of contemporary Queensland life includes collecting not only physical materials but also born-digital resources such as websites. There is an ever-increasing range of information resources that are only available online. Many websites and blogs include important content and images which will be of great value to future researchers. While the World Wide Web is ubiquitous, we cannot expect that websites available today will always remain online. The web undergoes constant change - online content and even entire websites can be removed at the click of a button. By capturing selected Queensland websites we are helping to preserve our history, culture and experience.
What is PANDORA?
PANDORA is a world class web archive established by the National Library of Australia in 1996. It is built collaboratively by 11 Australian institutions. State Library of Queensland contributes Queensland content to this growing national archive. PANDORA is a member archive of the International Internet Preservation Consortium. PANDORA appears on the Australian register of the Memory of the World – a UNESCO program documenting heritage significant for Australia.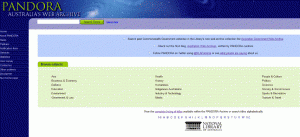 PANDORA homepage
Why was my website selected?
We aim to contribute content to the national archive that is reflective of the diversity of our vast state. This includes websites about Queensland's people and places, our varying environmental conditions and natural disasters, local and regional history, contemporary life, politics, trends, interests, culture and events. We actively identify a wide range of websites and blogs – from both organisations and individuals – to capture the essence of the Queensland story to be preserved for both current and future generations.
What are the advantages of archiving a website in PANDORA?
Archived websites will endure long after the live site has changed or been removed from the web. A record of the website is created in our library catalogue and will also appear on Trove, the major Australian libraries database aggregator, leading researchers and others to the archive. If a website is captured periodically over a number of years, each instance can viewed online and the evolution of the website can be seen over time. See for example how the Ekka website has changed over the years.
Some publishers who have websites in PANDORA have been able to access content that has been deleted from their current site, and in some instances where websites have been lost due to circumstances beyond their control, have been able to retrieve their content from the archive.
Many publishers understand that their websites hold important content and are aware of the fragile and ephemeral nature of digital resources. Publishers are often keen to see their websites preserved for both present-day and future users and feel privileged making their specific contribution to Queensland memory.
How often does a website in the archive get captured?
It depends on the individual site. When deciding on a regather schedule we take into account technical and other considerations. A website that is not being updated extensively or has ceased may only be captured once; other active websites may be captured periodically, for example annually, to reflect significant changes over time. The intention of archiving is not to mirror websites or capture every change, but to take snapshots over time. See my previous blog about preserving the websites of the Premiers of Queensland.
What is needed from the website owner before archiving and how much does it cost?
There is no cost to web publishers. To allow us to archive a website, the site owner(s) read and agree to our formal request and complete a short form providing permission to include their website in the archive.
How can I suggest a website for archiving?
For more information about our web archiving activities, and to view our selection guidelines and suggest a site for archiving, visit the web archiving page on the State Library of Queensland website.
Maxine Fisher - Queensland Digital Content Coordinator, State Library of Queensland
Comments
Your email address will not be published.
We welcome relevant, respectful comments.