Wattlebrae Infectious Diseases Hospital
By JOL Admin | 28 May 2015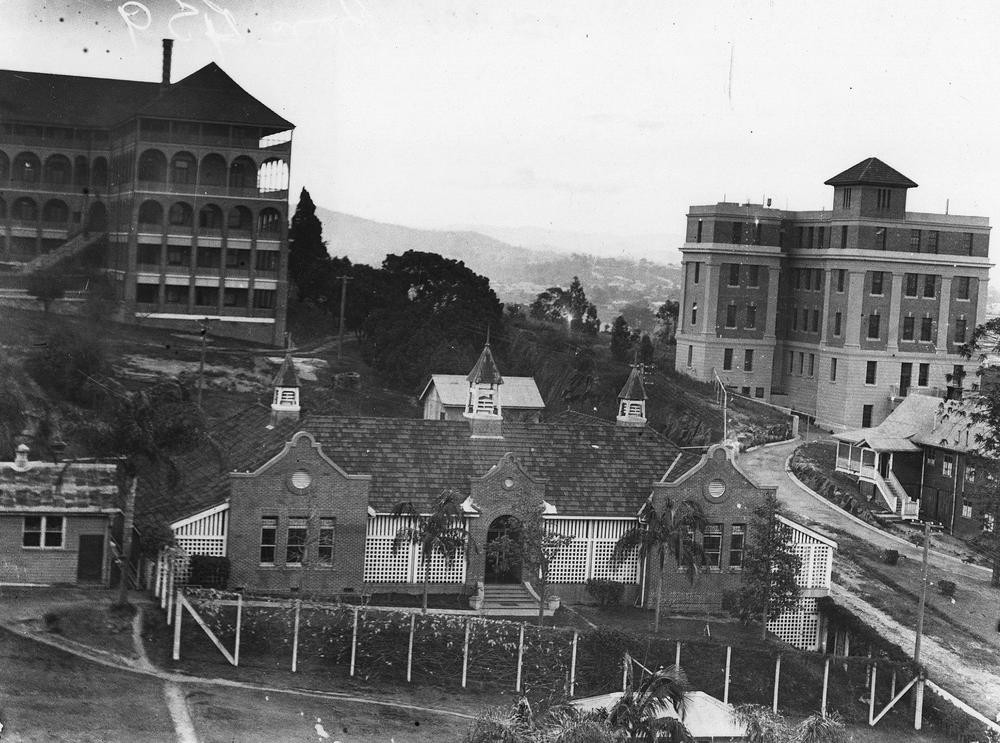 Lamington nurses quarters is at the back left of the photograph, with Wattlebrae or Lowson House on the right. The centre building housed Wards 16 and 14.
The original Wattlebrae Hospital was a house within the confines of the Brisbane General Hospital, where those suffering from an infectious disease were treated and cared for. In 1910, an article appeared in the Brisbane Courier announcing that plans had been prepared by the architects Hall & Dodds for the removal of the old Wattlebrae premises and the redevelopment of that site with a new hospital for infectious diseases. Although Hall & Dodds, prepared the preliminary plans they did not win the contract, as the tender was finally given to Messrs Walls & Juster at a cost of £4743/19/6.
The proposal was to build a new administration block with four wards that were fully equipped with the necessary conveniences. The administrative block was to contain accommodation for eight nurses and four servants, and its own kitchen where food could be prepared. The wards were built using the open air principle which consisted of a series of open pavilions to enable fresh air circulation. This form of treatment was used for a variety of diseases, especially tuberculosis. Each ward was to be capable of holding eight patients. Unfortunately it was not long before Brisbane had its share of epidemics creating overcrowding in this small hospital.
Former Wattlebrae Hospital
Comments
Your email address will not be published.
We welcome relevant, respectful comments.