Walter Hill : the gardener who helped grow a state
By Simon Miller, Library Technician, State Library of Queensland | 20 June 2012
Walter Hill was Superintendent of Brisbane's Botanic Garden from 1855 and Director of the Garden and Colonial Botanist from Separation in 1859 until 1881. His talent and energy led him to not only develop the few acres of marshy ground originally set aside for the Gardens into a world class botanical garden but also to introduce plants such as pineapples, mangos and sugar cane that became major contributors to Queensland's prosperity, make significant contributions to the discovery and classification of Queensland's native flora, and contribute to the exploration and settlement of previously unknown parts of the state.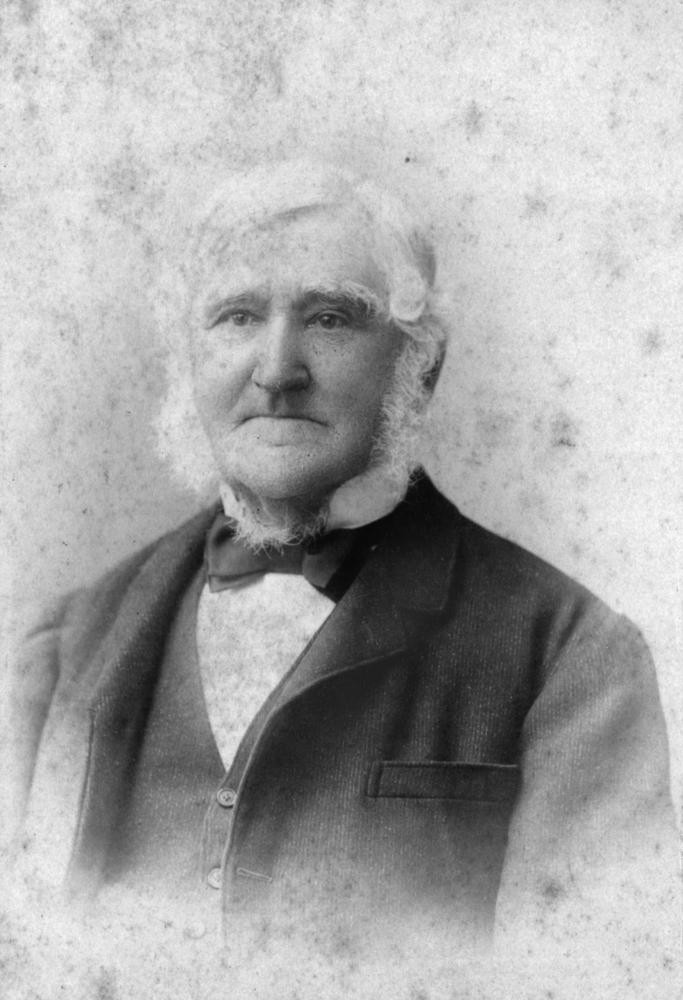 Walter Hill, first Superintendent of the Brisbane Botanic Gardens, Negative number: 17483, John Oxley Library, State Library of Queensland
Hill was born in the Scottish border country in the parish of Cannonbie Lea, the name he gave to the house he built in Eight Mile Plains. He was apprenticed before the age of sixteen to his brother David who was head gardener at Balloch Castle in Dunbarton shire. After various appointments as gardener and nurseryman he became foreman of the Propagation and New Plant Departments at the Royal Botanical Gardens at Kew in 1843. From there ambition and an adventurous spirit led him to set sail for Australia. Hill arrived in Sydney in 1852 and after initially joining the gold rush with little success and taking part in exploratory expeditions he found himself appointed Superintendent of Brisbane's new Botanic Garden.
His first task was to have the original allocation of six acres with no river frontage increased to 28 acres on the banks of the Brisbane River. Hill also took every opportunity of exploring the surrounding country in search of plants and seeds, not only for adding to the gardens, but also as affording a much appreciated medium of exchange with other countries and colonies for the seeds and plants which they produce. There were never enough funds allocated for the work that Hill wanted to do at the gardens and this network of exchange of plants and seeds that Hill established with gardeners and botanists around the world was vital in enabling him to import a wide variety of plants so that he could establish which plants and varieties would thrive in Queensland's climate and soils. In his first Annual Report Hill outlined his philosophy.
In my selection of plants I always kept in view the fact that these Gardens were designed to become not merely a pleasant and instructive resort, but a nursery for the propagation of such as were capable of being turned to profitable account upon more extended cultivation, if found to be readily acclimatized.
View of the Botanic Gardens in Brisbane, 1875, 6161 Watson's Queensland Photograph Albums Album: APE-1, Image number APE-015-01-0006, John Oxley Library, State Library of Queensland.
One of Walter Hill's most important contributions to Queensland was the introduction of sugar cane. Hill experimented with planting different varieties of cane and in 1862 took advantage of the arrival of a man from the West Indies with experience in sugar production to successfully trial producing sugar from his own cane. The successful trial was reported in the Courier of April 26, 1862.
We yesterday received from Mr. Walter Hill, Director of the Botanic Gardens, a sample of sugar manufactured from canes grown in those gardens by Mr. John Buhot, a gentleman who has recently arrived in the colony. Space will not permit us to do more in this issue than to affirm that the experiment is triumphantly successful, and to insert Mr. Hill's letter on the subject. We shall, however, take an early opportunity for recurring to the topic.
Sir,--I have much pleasure in forwarding for your inspection, a sample of sugar manufactured from the canes in our garden by Mr. John Buhot, a gentleman passenger per ship Montmorency. He is a native of the Barbadoes, in the West Indies, where he was employed in the planting and manufacture of sugar. The canes were in a very green and imperfect state, but Mr. Buhot found no difficulty in the granulation, the soil giving no deliquescent salt, very often found in similar soils in the West Indies. It was simply a hurried experiment, to see if the canes would produce a granulated sugar. The utensils made use of were three iron pots hung in the open air, boiled at night by the uncertain light of a candle. A much clearer quality might have been produced, had there been a sufficient quantity to have retained warmth to part with its molasses. A further trial, at Mr. Buhot's request, is contemplated, that gentleman feeling confident that, with proper appliances, a superior quality of sugar to what he has seen generally sold in Brisbane, can be produced from similar canes only riper.
I am, Sir, yours truly,
WALTER HILL. Botanic Gardens, 25th April, 1862.
http://nla.gov.au/nla.news-article4605296
Hill continued to experiment with different varieties of cane and sent many hundreds of cuttings to growers in different parts of Queensland, having determined the best areas for sugar growing during his travels and explorations around the state. It is largely due to his untiring efforts that sugar growing became a major export industry for Queensland.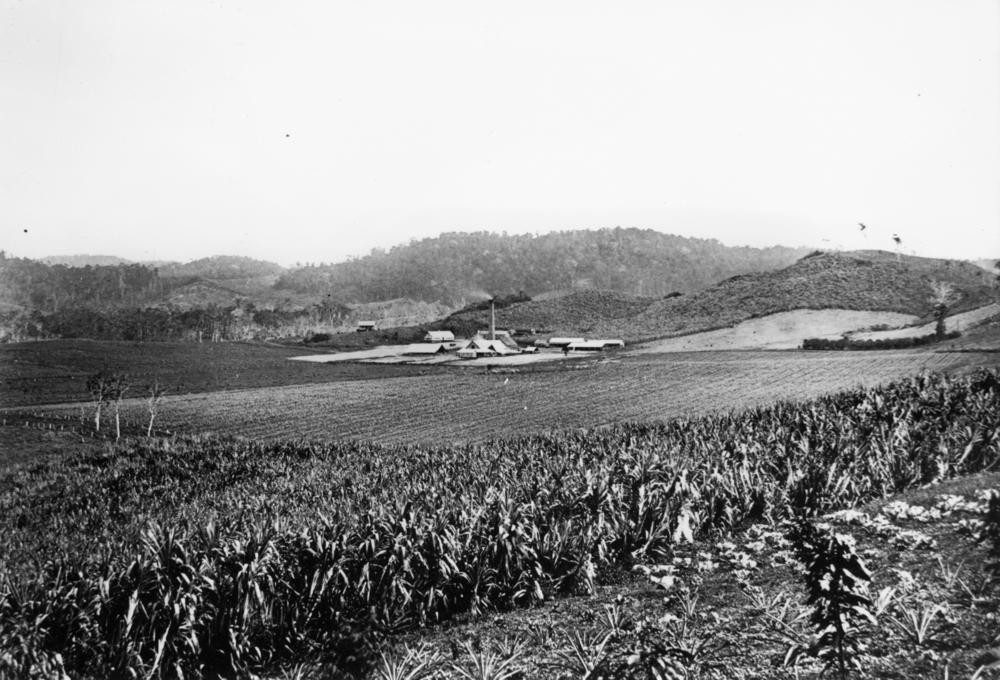 Cedars Sugar Plantation at Mackay, ca. 1880, digitised copy print from 7355 Brisbane and Mackay Photographic Collection 1870 - 1880, Negative number: 172020, John Oxley Library, State Library of Queensland.
Hill continually sent out seeds, cuttings and seedlings to all those in the Queensland who might make best use of them. This quote from the Annual Report of 1866, which was published in the Brisbane Courier, typifies these endeavors.
During the year there has been a great demand for the more useful plants, such as the sugar-cane, coffee, tea, jaca tree, &c, &c, which have been liberally supplied to those persons who were likely to take a real and practical interest in their cultivation. I have uniformly acted on the principal of encouraging, by the contribution of seeds or plants, the opening up of new sources of industry ; and therefore all those who came and solicited me in a reasonable manner I have endeavored to oblige, and I think the farming capabilities of the colony may be thereby largely benefitted.
In disposing of the plants and seeds at my command, I have tried to act upon the principle of obtaining a fair exchange for anything emanating from the gardens, the chief object being to encourage a taste for horticultural and agricultural pursuits.
http://nla.gov.au/nla.news-article1265972
Much more could be written about Walter Hill and his many contributions to the early development of Queensland. The State Library holds some useful resources.
There is a fictionalized biography by Brisbane author Gordon Smith Walter Hill of Brisbane's Botanic Garden.
The library holds several works by Hill including his Catalogue of the plants in the Queensland Botanic Gardens.
There is a useful biographical sketch titled 'A man's work' published in The Queenslander after Hill's death in 1904 http://nla.gov.au/nla.news-article22266370
'Canonbie Lea' the house built by Walter Hill at Eight Mile Plains, ca. 1910, Negative number: 67214, John Oxley Library, State Library of Queensland.
Simon Miller - Library Technician, State Library of Queensland
Comments
Your email address will not be published.
We welcome relevant, respectful comments.