Waiting for the cyclone
By Simon Miller, Library Technician, State Library of Queensland | 11 April 2014
With reports of cyclone Ita threatening the North Queensland coast this week I have been reading Vance Palmer's 1947 novel 'Cyclone'. The novel uses the rising tension ahead of an approaching cyclone as a background to the increasing conflict and emotional tension between three men. They were partners in a marginal shipping business, and their families. There is also, in the 1930s depression era setting, the threat of violence between a group of unemployed men camping at the showgrounds and some local businessmen who want to force them out before the coming sports carnival.
Bundaberg born author Vance Palmer, together with his wife Nettie, were among Australia's best known literary figures from the 1920s to the 1950s. Palmer attended Ipswich Grammar School and studied literature at Brisbane's School of Arts, there being as yet no university established in Queensland. He spent time working as a tutor at Abbieglassie cattle station in western Queensland before heading to London to hone his craft as a writer. He met fellow writer Nettie Higgins in 1909 and they were married in London in 1914. At the outbreak of the war they returned to Australia and settled in Melbourne where they had two daughters. Vance joined the army in 1918 but the war ended before he saw active service. The 1920s saw Vance and Nettie living in Caloundra to save money while devoting their efforts to writing full time. Vance published his first novel in 1920 and twice won the Bulletin novel competition. He became a widely known literary critic through his regular talks and reviews for the ABC. His last novel The Big Fellow, published shortly after his death in 1959, won the Miles Franklin Award. The Victorian Premier's Literary Award for fiction is named the Vance Palmer Award, while the prize for non-fiction is the Nettie Palmer Prize.
Vance Palmer ca. 1935
The story of 'Cyclone' turns around three men, Brian Donolly, Ross Halliday and Clive Randall. Donolly has come north with his family, renting out his farm, to establish a coastal shipping business with his old army friend Halliday. Randall, another old army buddy had bankrolled the enterprise. They had had dreams of building a thriving shipping business but the plan had not worked out. Their first boat had been burned and the insurance company wouldn't pay up and Halliday refused to fight them about it. They had obtained another old boat, the 'Gannet', but the business barely paid. Donolly's wife Fay is increasingly unhappy about the move and when Brian decides he has to sail with Halliday after promising to stay home for the Easter holiday, and in the face of a possible approaching cyclone, there is an argument. Brian tries to explain his loyalty to Halliday.
"I suppose I have seemed to go off at an angle," he said. "It's always been hard, old girl, to make you understand what Ross meant to Clive and me. He was a couple of years older than us when we went into the Army, and he'd knocked round more than we had. Been a sailor, for one thing; that meant a lot to us. Until he was pulled out for the Naval Reserve we shared everything - knocks and circuses - two years of heavy going. Then we lost track of him, Clive and me, although whenever we met it was Ross we talked about. It gave us no end of a kick when we heard he was coming up here. For one thing, we owed him a lot; it seemed as if we might have a chance of making it up to him."
Further tension comes from the suggestion that Clive Randall is having an affair with Halliday's wife Bee. Fay tells Brian that Randall's wife Elsie has told her she suspects the affair.
Ross Halliday may well be modeled on a real character that Palmer had known. Palmer wrote an obituary, published in the Melbourne Herald and reprinted in the Cairns Post of April 9, 1934, of William Millard, Captain of the lauch Mossman, lost with all hands in the cyclone in March of that year.
Sir,- As it now seems certain that the launch Mossman has been lost with all hands in the recent cyclone, I would like to pay a last tribute to its captain and owner, William Millard.
He was a man of uncommon character and ability, even in waters where such qualities are not rare. All his life had been spent at sea, in sail or steam, except for a period in the A.I.F., from which he was. Drafted into the Navy as an officer of the R.N.R. He held a master's certificate and might have returned to the mercantile marine after the war, but preferred his own little boat and the life of the Reef. Few white men knew it better, especially the part between Cairns and Cooktown, and his quick intelligence, his original mind made him the best of companions on little voyages in those waters. ...
There has been a certain amount of rejoicing because this cyclone struck part of the coast where little material damage could be done. Well, it is hard to estimate damage in precise terms. But the life of the Barrier waters will be poorer for the loss of "Bill" Millard--good seaman, good comrade--Faithfully yours, VANCE PALMER.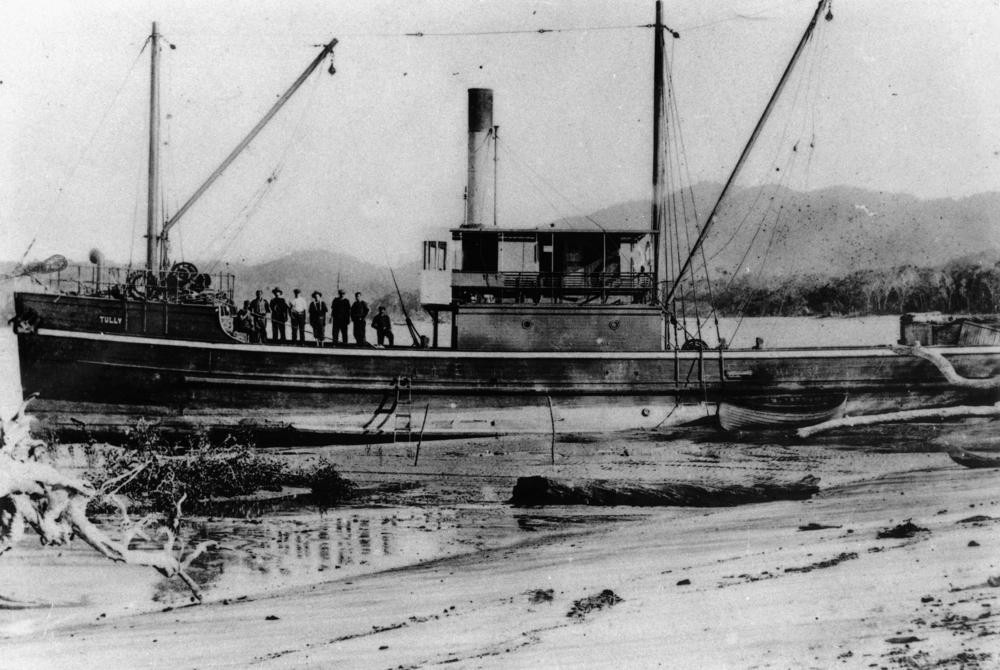 Tully at Maria Creek, Innisfail, in 1930. The Tully sank at the mouth of the Johnstone River in 1934.
Tully at Maria Creek, Innisfail, in 1930. The Tully sank at the mouth of the Johnstone River in 1934.
The 1934 cyclone may well have been the model for the one in the novel. There are parallels in that the cyclone struck a comparatively unpopulated part of the North Queensland coast but a number of vessels were lost. The wreckage was discovered by a searching airplane and in the novel Randall takes his Tiger Moth up to search for the missing 'Gannet', landing on a sand bar where he discovers two girls lost from a lugger. This report of the cyclone comes from the Hobart Mercury.
Ten lives were lost when the lugger Mildred foundered between Schnapper Island and Cape Tribulation, about 35 miles from Cooktown, during a cyclone on Tuesday morning, and grave fears are entertained for the lives of ten other persons who were occupants of three motor launches which are reported missing. The lugger tragedy was discovered by Pilot McDonald, of Cairns, who was engaged to make an aerial search for the launch Mossman, which, with M. Millard (owner), Carl Smith, and a man named George, left Cairns on March 9 for a fishing cruise at the Barrier Reef. Wreckage from the Mossman was sighted yesterday, but there was no sign of the crew. Pilot McDonald landed on the beach at Cape Tribulation today, and there found the survivors of the lugger Mildred, who were very short of provisions, and had been living on pumpkins. They reported that the lugger had been anchored, but when struck by the cyclone overturned and sank immediately. The survivors swam half a mile to the shore, some being without clothing.
The 'Gannet' too is capsized in the cyclone in the novel but Brian Donolly manages to swim to shore and is rescued by Randall, although Halliday and the Malay deck hand Pedro are presumed drowned. The death toll of the 1934 cyclone eventually rose to 79, most being the crew of luggers fishing for trocus shell and trepang.
Trochus shell lugger, north of Cairns, 1934
Trochus shell lugger, north of Cairns, 1934
Another character in the novel is Fay Donally's brother Tod. Tod is a young man with ambitions to be a writer and is likely a reflection of the author's own experiences. Tod has been camping out in the showgrounds with the unemployed men after quitting his job on the boat after taking a dislike to Ross Halliday. Tod risks an offer of paid work for the local newspaper and the chance of a date with young lady he has been desperate to go out with to stand in solidarity with the men in the face of threats of violence from local business men. Eventually the conflict is made irrelevant by the fury of the storm and there will be plenty of work for everyone for the time being cleaning up the damage.
Simon Miller - Library Technician, State Library of Queensland
Comments
Your email address will not be published.
We welcome relevant, respectful comments.