Victor Owen Williams (WWI): Remembrance Day 2021
By Anzac Square Memorial Galleries | 2 November 2021
Victor Owen Williams was just 18 years and 11 months when he enlisted in the AIF (Australian Imperial Force) on 17 April 1917. He lived with his parents and three siblings, working on their farm at Crows Nest, near Toowoomba. Owing to his young age, it was necessary for him to gain permission from his parents to enlist, and his mother duly signed the consent form. Victor, known as Vic, was initially posted to the Australian Light Horse. However, within a couple of weeks he was transferred to the 41st Battalion, AIF, and then quickly moved on to the 47th. He embarked on the transport ship HMAT "Miltiades" (A28), leaving Sydney on 2 August 1917, and sailed to Europe.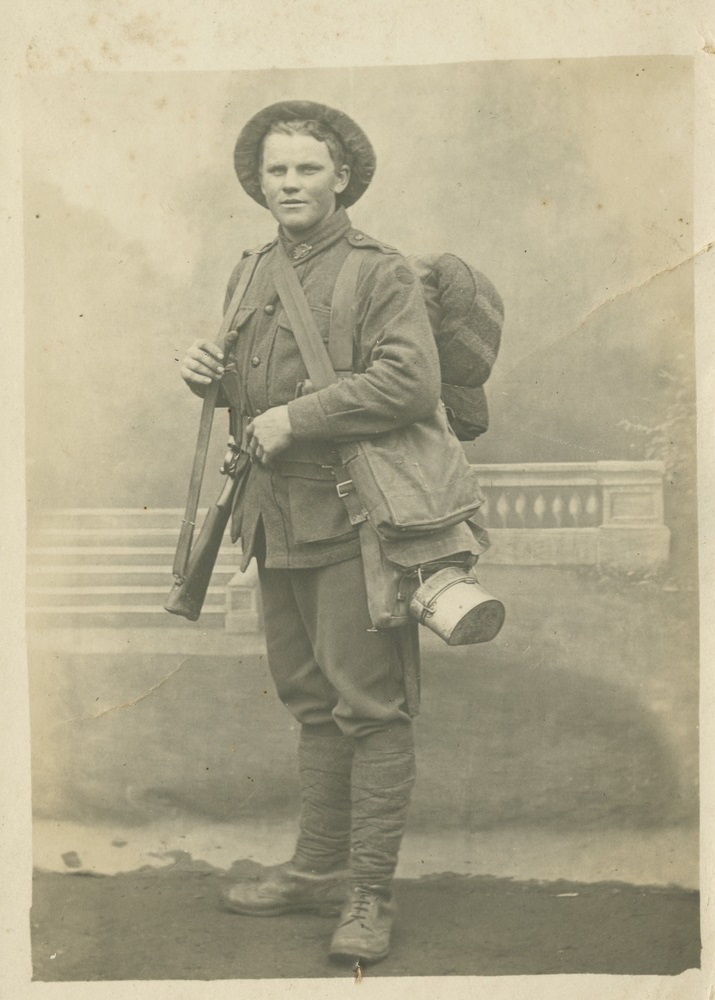 Studio Portrait of Victor Owen Williams in uniform, taken in Paris, 1919, image no. 28939/1, John Oxley Library, State Library of Queensland.
After arriving at Glasgow in early October, the new recruits were sent to Codford on the Salisbury Plain, England, for further training. Young and resourceful, Vic bought a bicycle so he could travel to see his best mate, Allan Arthur, who was stationed at nearby Larkhill Camp, near the village of Fovant. The two young men, whose families owned farms near each other, were the same age and had enlisted within days of each other.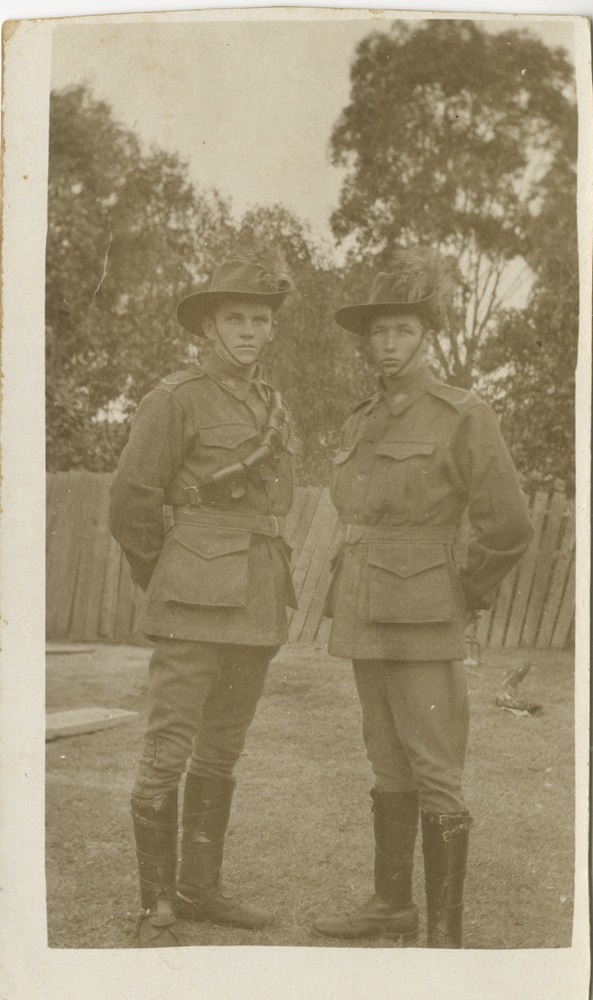 Image of Victor Owen Williams and Allan Victor Arthur at the Williams' family farm at Plainby on the Darling Downs, 1917, image no. 28939/2, John Oxley Library, State Library of Queensland.
In January 1918 Vic embarked for France, where his battalion, having just come through a long year of heavy fighting at Bullecourt, Messines and Passchendaele, was rotated in and out of the front line north of Hollebeke in Belgium during the winter. On 5 April Vic was wounded in action during bitter fighting at the second battle of Dernancourt. He was evacuated to hospital, suffering gunshot wounds to both hands, then contracted influenza during his recuperation.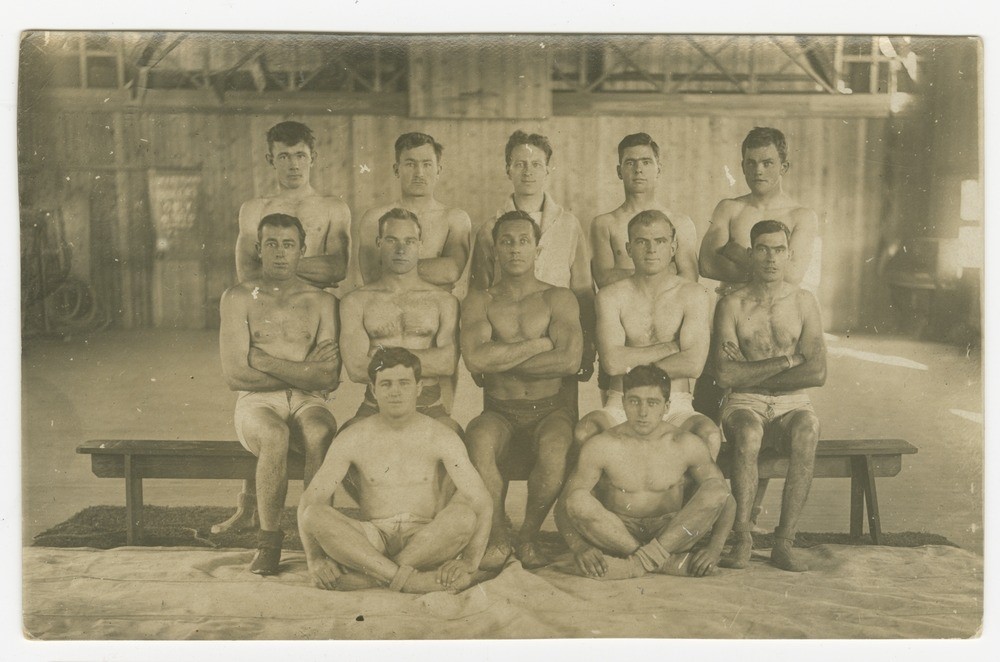 Wrestlers at the 1st Australian Convalescent Depot in the Y.M.C.A. Gymnasium in Le Havre, Victor Williams is in the second row, second from the right, France, 1918, 28939/4, John Oxley Library, State Library of Queensland.
By the time Vic recovered, the 47th Battalion had been disbanded, having suffered extremely heavy losses and a lack of reinforcements from Australia. Vic then joined the 45th Battalion in France only to fall ill again a month later. He was admitted to hospital with dysentery, brought on by the unsanitary living conditions in the trenches. He saw no further action during the war.
At the war's end, Vic was one of 92,000 Australian soldiers in France waiting to be demobilised back to Australia. While waiting, Vic took advantage of a vocational scheme offering soldiers educational courses and work placements. In early April 1919, Vic returned to camp at Sutton Veny in England and took an agricultural class, at the same time as his mate Allan Arthur did work experience at the Sheep Shearing Machines Company in Birmingham. During this time Vic bought himself a camera and compiled a photographic record of his experiences. He also started another diary – he had kept the first while on the voyage to Europe and the war; this one recorded his voyage home. Vic finally returned to Australia, travelling on board the troopship HMAT "Ajana" (A31), and arrived on 9 October 1919.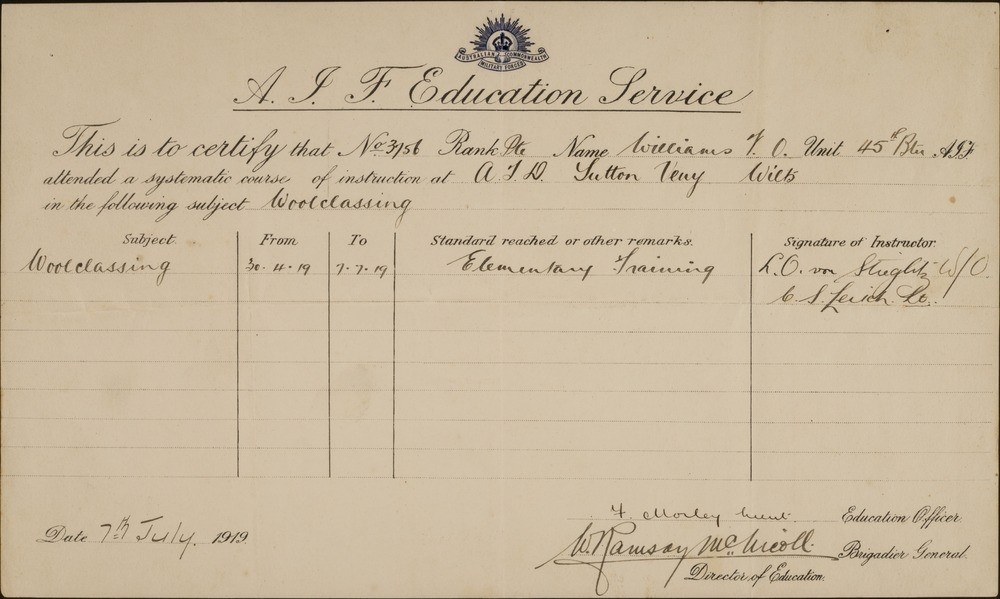 Image of A.I.F. Education Service Certificate awarded to Victor Owen Williams for woolclassing, 7 July 1919, Image no. 28939/15, John Oxley Library, State Library of Queensland.
Victor's experiences of WWI are brought to life through the photographs, postcards, and other treasures that he kept during his military service, many of which are featured at Anzac Squareopen_in_new, open Sun-Fri 10am-4pm. He is also part of our 2021 Remembrance Day Campaign, which encourages Queenslanders to consider who they will stop to remember.
Visit the website to meet some of the Queensland heroes, past and present, that we will be honouring this Remembrance Day. Discover more here.
Resources
More information
Comments
Your email address will not be published.
We welcome relevant, respectful comments.