Uncovered talk - Queensland at War
By JOL Admin | 20 April 2009
On Sunday 19th April, in the lead up to Anzac Day, members of the public enjoyed an "Uncovered" joint presentation by librarians Ken Taylor and Simon Farley on the subject of military related collection items held in the Heritage and State Reference Collections of the State Library of Queensland.
Heritage Collections' Librarian Simon Farley speaks about the range of military collections to be found on level 4 of the State Library of Queensland.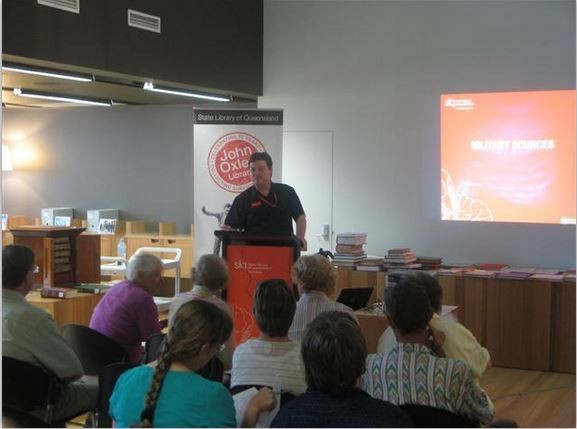 Ken Taylor from Reference Services discusses the rich array of resources of use to researchers interested in military matters.
Materials on dispay in the Fox Family White Gloves Room included books from the State Reference Library and materials from the Heritage Collections including posters, regimental histories, ration coupons, artworks, cuttings books and photographs.
Of the archival collections available for people to see the 2nd Light Horse Association Records were of particular interest.
The 2nd/14th Australian Light Horse had its origins in the Queensland Volunteer Defence Forces and saw service in the Boer War and in World War 1 at Gallipoli and in the Middle Eastern campaigns, including Jerusalem and Beersheba.
Records on display included rare photograph albums, regimental war diaries, diaries and journals of the Reverand George Green, casualty lists and nominal rolls.
Contact the State Library for more information on its military holdings and keep in touch with upcoming Uncovered talks through the State Library of Queensland's What's On webpages at /whats-on/events/talks
Comments
Your email address will not be published.
We welcome relevant, respectful comments.