Tylissa Elisara: how writing bedtime stories helped me win a black&write! Fellowship
By Reading and Writing | 11 February 2022
Tylissa Elisara is a 2021 black&write! Fellow. Her winning entry, Wurrtoo: the wombat who fell in love with the sky, is a middle-grade adventure novel about friendship and facing your fears. It's set in the stunning and unique landscapes of Kangaroo Island. Here, Tylissa reflects on the process of submitting her work and winning the Fellowship.
When I stumbled across the application for black&write!'s 2021 Writing Fellowship, the only work I had that fit the competition's eligibility criteria was a half-written novel. At that point I was writing 'Wurrtoo' for my son as our current bedtime stories either had negative depictions of First Nations Australians or none at all.
I would read each of the completed chapters to him as I wrote them and each time he would insist I get the story published. I had no faith in myself, but with his gentle encouragement and my wanting to set a good example, I sat down and finished the novel in a couple of weeks just in time for the deadline.
I am now so thankful I ignored those inner-voices of doubt and chose to listen to the unconditionally loving voice of my child instead. I was surprised to find out that 'Wurrtoo' had not only been regarded of interest but had actually won. When I first received the call I could not stop shaking and crying.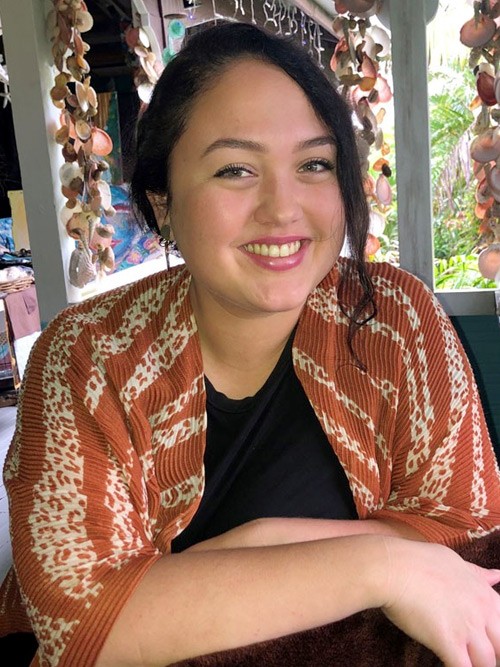 Tylissa is a Narungga, Kaurna and Adyamathanha woman, and one of two black&write! Fellowship winners in 2021
That was only the beginning, as I've shed happy tears right until the very end of this amazing journey. And although I continued to worry I wasn't a good enough writer, I was blown away by the talent and constant support of the editing intern (and her team) who were behind me every step of the way.
Additionally, as a social worker I've become very aware of the many flawed programs that are targeted at supporting First Nations Australians. But I was amazed to learn of the important empowerment opportunities this project provides to our people.
I therefore highly encourage those interested to apply to this fellowship. Especially those individuals who might otherwise be listening to their own inner voices of doubt. This has been one of the greatest opportunities of my entire life. One that I know I will cherish forever.
Find out more about black&write! Fellowships and how you can enter!
Thank you, Tylissa, for sharing your journey of creativity and great persistence. And thanks to your son for his encouragement! We are sure readers will love 'Wurtoo' as much as he does.
Comments
Your email address will not be published.
We welcome relevant, respectful comments.