'Treading the maze: an artist's book of daze.' Susan E. King
By Christene Drewe | 4 February 2014
'Would you make a blog about this terrific artist's book?
It's by a woman called Susan E. King - 'Treading the maze: an artist's book of daze.'
OK, I'll have a look at it; but I turn green when told that it is a book about the artist's brush with breast cancer.
Then,
I look at the book and am amazed; it is a beautiful, discreet, elegant object.
It is a hand span square in size: in a tripartite structure with a spiral binding, which invites, no, instructs the reader to explore this labyrinth in a number of ways.
It is a deeply feminist text, which assumes that the reader is a woman. In an introduction to the publication The book as art : artists' books from the National Museum of Women in the Arts, by Krystyna Wasserman. Princeton Architectural Press. New York 2007, the artist explains
'As I laboured at my drawing table to refine the structure, I looked up and saw a labyrinth on a poster I'd brought back from France. I found the key to the book: the reader would explore a maze, treading her way through a series of looming images to the centre of the book and then reading her way out again. Once inside, she would suffer the disorientation of being lost in a maze, because the book embodies my experience struggling through the labyrinth of illness.'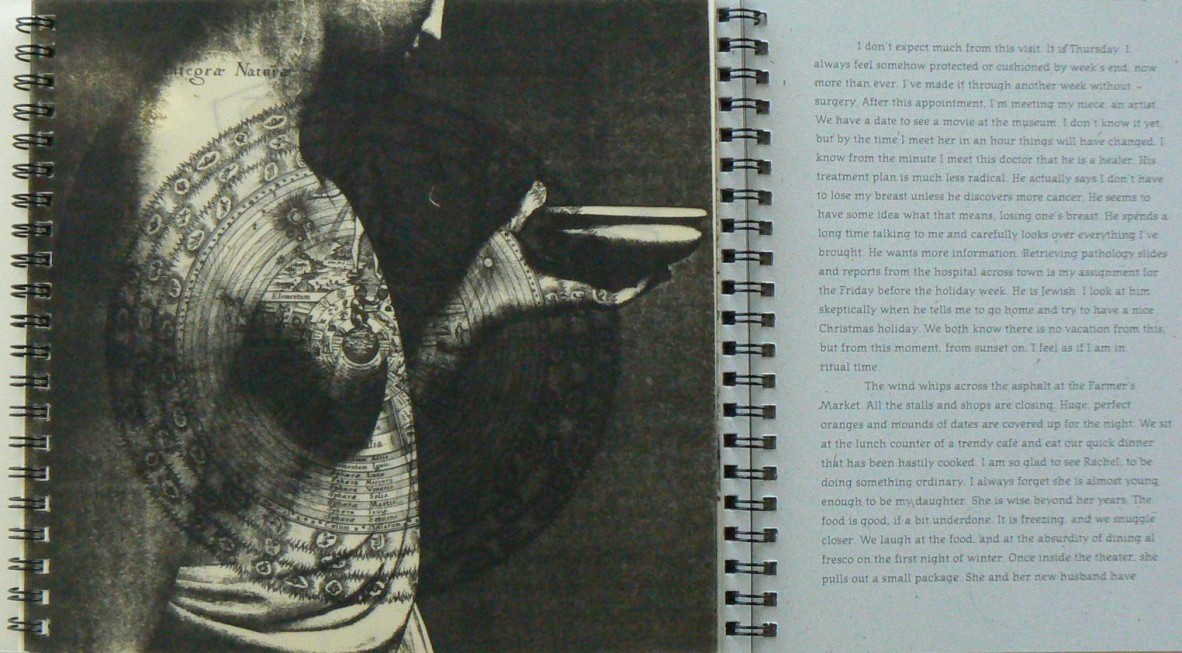 This book was designed and produced using today's computer based technology, which contrasts sharply with the earlier blog (August 2013) about the 'Carnival Songs' book.
That, you may remember, used technology of the 15th century to reproduce the 'feel' of a book which celebrates poems written before 1492.
This book also celebrates the technology of its own time – late 20th century computer driven; text, layout, printing, everything. It is a beautiful celebration of its own time, in both content and form.
Obviously this story has a happy ending, because the artist will be here in Brisbane, in April 2014 to give a lecture at the State Library of Queensland, followed by a master class, and a workshop.
• Siganto Foundation artists' books Lecture 'This other Southland' 6 April 2014.
• Master class; Making Artists' Books with Susan King 7, 8 + 9 April 2014.
• Beginners' workshop; Making Artists' Books, with Susan King 12 + 13 April 2014.
For all the above events times & bookings.
Books from the collection

Treading the maze : an artist's book of daze
I spent the summer in Paris : a view of life in Paris, France & Paris, Kentucky, 1983
The book as art : artists' books from the National Museum of Women in the Arts
Comments
Your email address will not be published.
We welcome relevant, respectful comments.