Train accident at Brunswick Street Station, Brisbane, 1927
By JOL Admin | 30 October 2017
On October 20, 1927, at 1.57am, residents near the goods yard at Brunswick Street Station in inner-north Fortitude Valley were woken by what The Brisbane Courier newspaper described as "the sound of a loud, tearing crash, and a reverberating succession of bumping of buffers".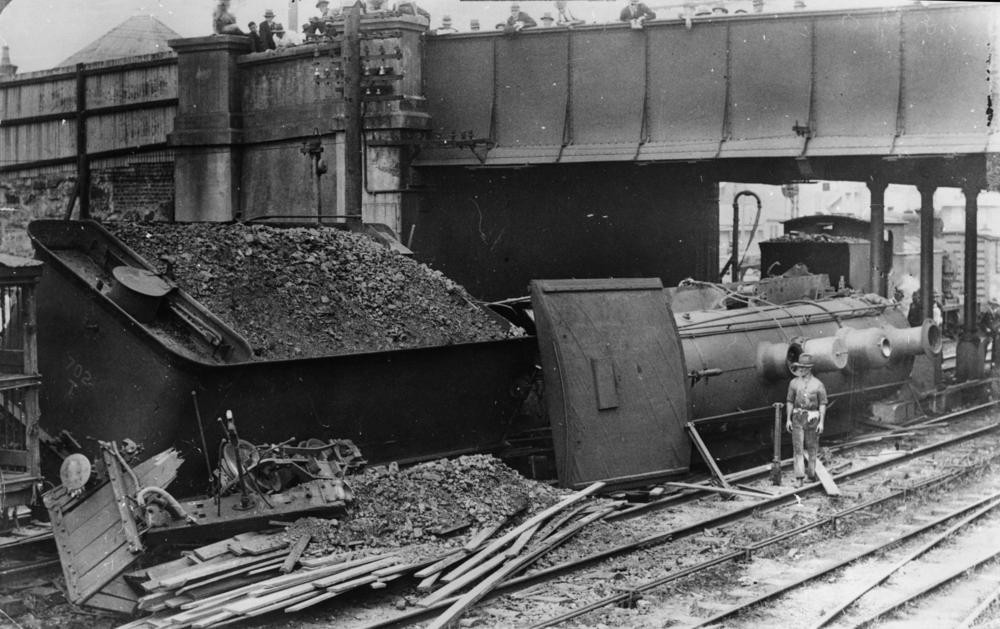 Train collision at Brunswick Street station in Brisbane 1927. John Oxley Library, State Library of Queensland. Neg 22661
A Toowoomba-bound stock train with 21 empty sheep and cattle wagons had collided with a loaded goods train that was backing into a siding, also ploughing through a truck loaded with timber. The driver of the stock train had applied the brakes, but the weight and momentum caused the engine wheels to lift from the rails and it continued sliding until it hit the Constance Street overpass. The engine then toppled onto its side.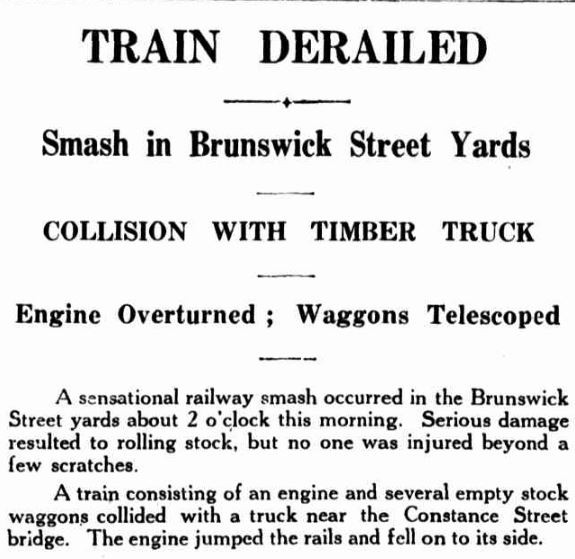 From The Telegraph newspaper, 20 October 1927
Remarkably, there were no fatalities. The driver, Walter Johnson, escaped with a mere cut to one of his fingers.
Breakdown gangs from Brisbane and Ipswich were dispatched to clear the lines of debris. A total of nine wagons were badly damaged, along with the engine of the stock train. A report from the signalman at Brunswick Street stated that the stock train had passed two sets of lights set to "danger" before hitting the goods train.
Both driver Johnson and fireman John Archer from the stock train were suspended and later dismissed following an investigation. An appeal by the two men claiming their dismissal was too harsh a punishment proved successful. Though the Railway Appeal Board upheld the appeal, it was determined that the pair not receive pay from the date of the accident until their eventual reinstatement. Both men were demoted for the intervening period.
Comments
Your email address will not be published.
We welcome relevant, respectful comments.