TIDES OF HOPE
By JOL Admin | 20 June 2012
The John Oxley Library recently received one very unusual addition to the flood material that we are acquiring: it is a collectable, limited edition comic-book named "Tides of Hope", published by Supernova Pop Culture Industries in April 2011 to benefit Queensland flood relief charity funds. Supernova donated a copy to the State Library, and it is much appreciated. We thank them for their generosity.
This is a limited edition of 1000 copies, to be sold at ten dollars per copy. It was inspired by Australian comic-book writer Christopher Sequeira, who edited it and contributed a story. The contents were created by Australian and international comic-book writers and artists, in response to the disaster that befell us in January last year. The cover features a picture of the most unusual rescue to take place during the Queensland floods: that of a drowning kangaroo.
This is a welcome addition to the flood material that we have already collected, and will continue to collect. The John Oxley Library collects material relating to Queensland on any and every subject; we are interested in collecting any material relevant to Queensland both past and present.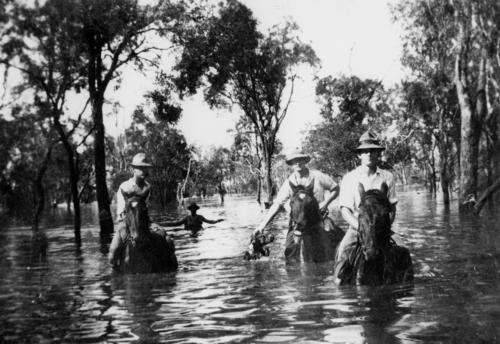 Rescuing stock during the 1928 flooding in Goovigen, Queensland. State Library of Queensland. Negative number: 122555
Comments
Your email address will not be published.
We welcome relevant, respectful comments.