The Thomas Splint - vastly improving mortality rates in World War One
By Pauline Gordon, Visitor Services Assistant, Anzac Square Memorial Galleries | 14 April 2021
War has inspired many advancements in technology across several sectors. As time is always of the essence, when problems are identified governments task their brightest minds with formulating solutions. Advancements in one sector may bring about progress in another. The innovations in weaponry in World War One led to a search for better ways to care for thousands of severely injured men and women.
The new heavy artillery and rapid, continuous firing machine guns caused much carnage, destroying flesh and bone. These highly effective weapons caused our medical profession to respond to the challenge of reversing disturbing mortality rates.
In the early years of World War One, if a soldier suffered a broken femur (thigh bone), at best, he would endure incredible pain and a high probability of infection of his wounds during his extraction from the battlefield. If the fracture was compound (where the bone pierces the skin), there was a greater than 80% chance they would die from the resulting blood loss and infection. In the horrendous conditions on the Western Front, combat medics and stretcher bearers struggled to dress broken legs and transport the patients back behind the lines to casualty clearing stations for treatment without causing further damage and immense pain. The standard method of splinting fractured limbs was not simple or fast enough to be performed in a lot of combat situations. The answer to this particular problem proved to be the Thomas Splint. This appliance was easy to use and highly effective.
Wongabel area, Queensland, 1944-05-17. Members of the 1st Army Medical Corps Company Beach Group Stretcher Bearers demonstrating the use of the Thomas Splint to RAN commandos. Australian War Memorial Accession No: 066364.
The Thomas Splint allows access to wounds for dressing and cleaning, while immobilising the limb, reducing pain and the risk of further damage and severe haemorrhage. It is comprised of a ring that encircles the top of the thigh at the hip joint, and two sturdy wires that run down the length of the leg on either side, joining at the ankle or below the foot. It could be applied quickly on the battlefield without removing clothing or boots, before lifting a patient onto a stretcher, making for safer and less painful transportation to medical care. Teams practised the application blindfolded, so they would be able to perform this function at night and in times of poor visibility.
The Thomas Splint was invented by Hugh Owen Thomas well before it was utilised in World War One. In 1865 Thomas described the splint in his book, Diseases of the Hip, Knee and Ankle Joints with Their Deformities Treated by a New and Efficient Method. He employed the splint successfully for many years in his orthopaedic practice. His nephew, Robert Jones (later Sir Robert Jones), was his apprentice from the age of 16. Jones went on to have a prosperous career and was appointed as the Consultant Orthopaedic Surgeon to the British Army. It was in this role in December 1914 that he advocated use of his uncle's invention for battlefield treatment of fractures to the mid to lower femur, knee or upper tibia. Its use on the Western Front brought recognition to the appliance and its value. The Thomas Splint was put to use across several theatres of war – from France to the Middle East to Africa.
Palestine, c. 1917. A mounted soldier displaying medical equipment with a Thomas Splint, hammock and an arm splint highlighted. Australian War Memorial Accession No: H02523.
It was not, however, routinely supplied to army medical teams until 1917. When the Thomas Splint was consistently used, an enormous reduction in the mortality rate of soldiers with severe thigh injuries was observed. While not solely because of the introduction of use of the Thomas Splint, it is believed to have played a large role in reducing the mortality rate from over 80% to just 15.6%.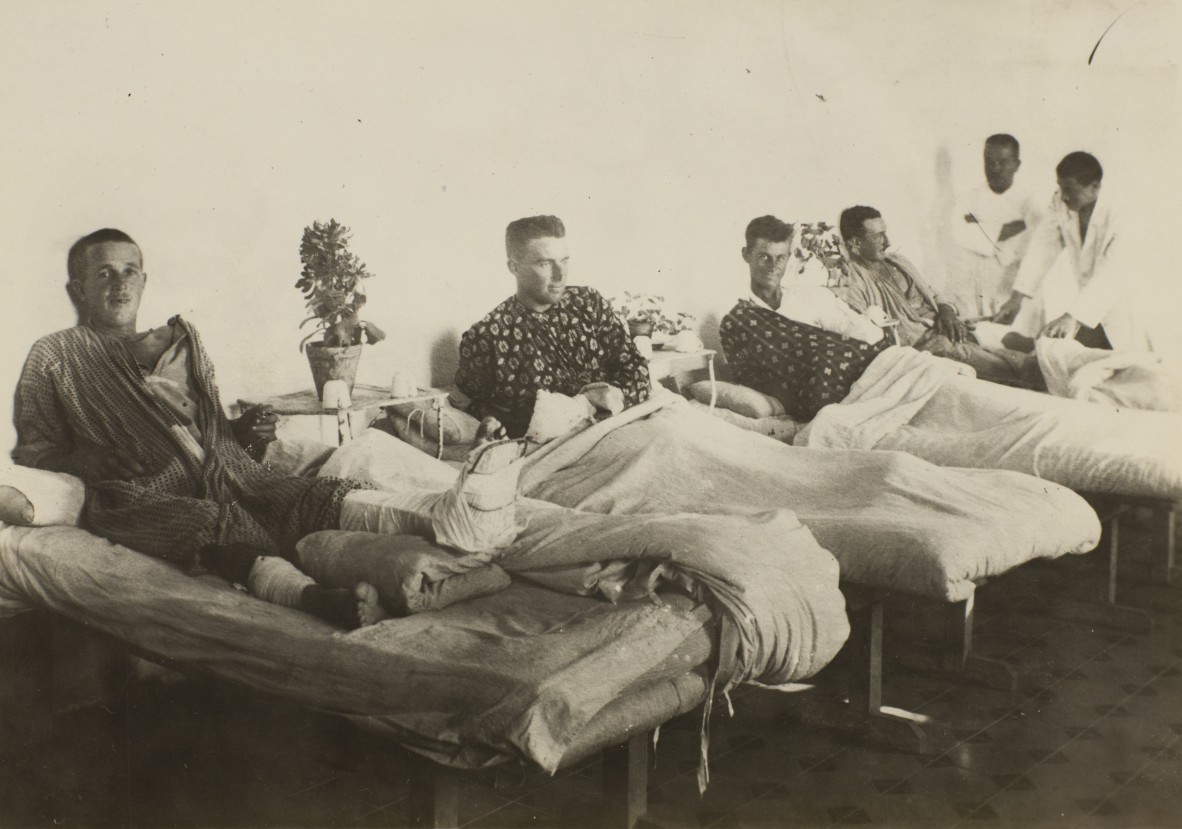 Injured Australian soldiers in hospital, Beer-Sheva, Israel, ca. 1914-1919. The soldier in the foreground's splinted leg is resting on a pillow. John Oxley Library, State Library of Queensland Image No: 30590-0001-0024.
It is amazing that a device so simple in its design and construction could be instrumental in saving the lives and legs of countless Queenslanders in World War One. This Anzac Day learn more about the medical advancements of World War One by visiting the Anzac Square Memorial Galleries.
Comments
Your email address will not be published.
We welcome relevant, respectful comments.