Thomas ANDREWS #2124
By Marg Powell | 28 July 2017
Indigenous Australian, Thomas ANDREWS, 52nd & 49th Infantry Battalions
Thomas Leslie ANDREWS born in 1893 at Termeil, NSW, was one of six sons born to James Andrews and Rachel Claydon, a Budawang woman. Thomas Andrews was working as a bullock-driver in the Sunshine Coast hinterland before he enlisted in Brisbane 26 March 1916, age 23. Andrews trained at the Rifle Range infantry camp, Enoggera before embarking for England on board HMAT Boorara. Assigned to the 52nd Infantry Battalion, while serving in France he was reported missing in June 1917 and later was thought to have deserted.
The court martial enquiry found Andrews guilty of being absent without leave and sentenced him to 12 months prison, he was interned at No 2 Military Prison, Rouen, France. After remission of his sentence in May 1918 he was transferred to the 49th Infantry Battalion in France, but was once again found absent without leave and sentenced to 12 years for this crime.
When the war ended, Andrews was transferred to Portland Military Prison, England to complete his sentence, which was then suspended, and he was returned to Australia in August 1919. Thomas Andrews returned to his family in Cooroy where he married Alice Klinch in 1920.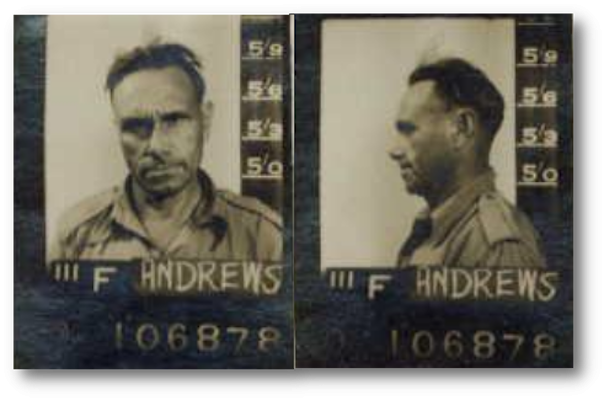 Q106878 Thomas Leslie Andrews, Volunteer Defence Corps, January 1942 to August 1944
Thomas Andrews brothers Arthur and Walter also enlisted in the First World War - Thomas later served with the the Volunteer Defence Corps from January 1942 to August 1944, in Gympie, Maryborough and Townsville in the Second World War.
Read more ...
The information in this blog post has been researched by State Library staff and volunteers, it is based on available information at this time. If you have more information that you would like to share or further research uncovers new findings, this post will be updated.
Comments
Your email address will not be published.
We welcome relevant, respectful comments.