Arthur George ANDREWS #2554
By Marg Powell | 7 August 2017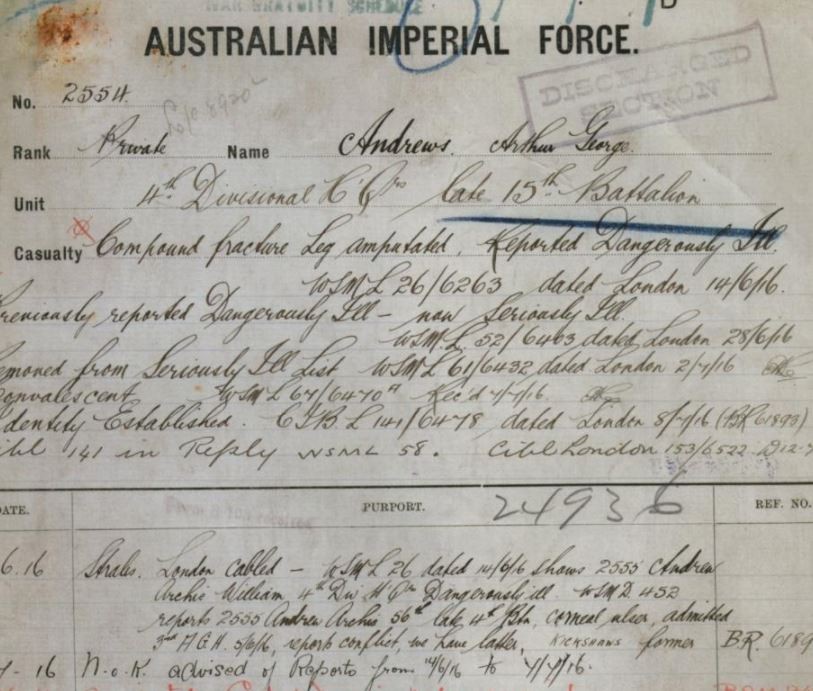 Indigenous Australian, Arthur ANDREWS, 15th Infantry Battalion
Arthur Andrews born in 1880, was one of six sons born to James Andrews and Rachel Claydon, a Budawang woman. Assigned to 8th Reinforcements for the 15th Infantry Battalion, Arthur trained at Green Hills and Frasers Camps, Enoggera, Qld. before embarking for overseas. While in camp in 1915 he was almost discharged when his commanding officer complained that he had been a "continual source of trouble" but managed to redeem himself to be included with his comrades of 'A' Company when they embarked for Egypt in August on board HMAT Kyarra.
By the time the reinforcements reached Egypt, much of the disastrous operations on Gallipoli had concluded and battalions were brought to strength for service in France. Arthur embarked from Alexandria for France in June 1916 and landed in the port of Marseilles several days later. While travelling on a 'horse' train to northern France, Arthur was knocked from the carriage when he went to check on one of the animals, and was severely injured as the vehicle passed over his left leg. Arthur was transported to the 2nd Australian General Hospital, Moussot. The leg had been badly crushed, he became dangerously ill, and after examination the leg was amputated.
Two months later Arthur was transported to the Beaufort Military Hospital in London, where he spent several months recuperating and it was during this time that he met Esther May Beesley, from Dorking, Surrey. They were married in a civil ceremony at Uxbridge in March 1917. Arthur was repatriated home just two months later in May 1917 and spent a considerable time at the repatriation hospital 4th AGH, Randwick. An application was made for free passage for his wife Esther and two children, Alexander (Alec) and Phyllis. Outward passenger lists show that Esther May Andrews together with Alec and Phyllis emigrated to Australia in February 1919 and took up residence first in Rockhampton, then in Mt Morgan.

In 1920 Arthur Andrews applied and was accepted for 'Home Service' at 4 AGH Randwick and he remained there for more than a year, until the number of patients diminished, and staff numbers were reduced. Arthur dropped out of sight after this time, and his death was reported in 1929 at his place of residence, Heath Street, Ryde, NSW.
After Arthur's death, Esther married William Alfred Damke and remained in Mt Morgan until her death in 1959. Her son Alec Beesley enlisted in the RAAF in 1940, and while serving as an Air-Gunner with 103 Squadron flight Sergeant Beesley was tragically killed in September 1942 when his aircraft was shot down by a Luftwaffe night-fighter during a bombing mission on Bremen, Germany.
Arthur's two brothers, Thomas Leslie and Walter Ernest Andrews, also served.
Read more ...
The information in this blog post has been researched by State Library staff and volunteers, it is based on available information at this time. If you have more information that you would like to share or further research uncovers new findings, this post will be updated.
Comments
Your email address will not be published.
We welcome relevant, respectful comments.