Telling it from the image: T.H. Jones & Co., Ironmongers of Ipswich
By JOL Admin | 12 March 2013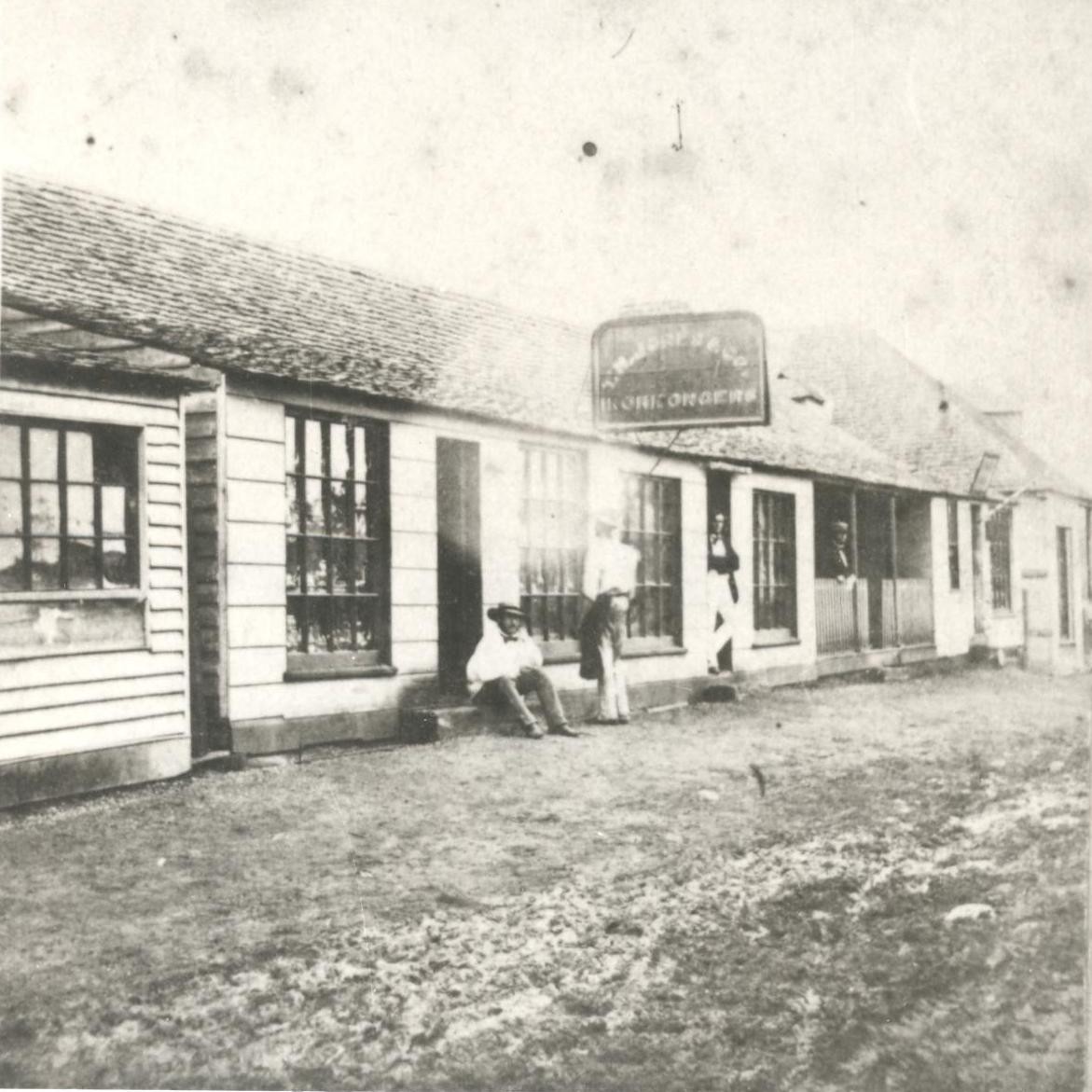 T.H. Jones & Co, Ipswich, ca. 1860. State Library of Queensland. Neg no.89243
It is, let us guess, late afternoon in the business precinct of Ipswich in the early 1860s and our focus is on an obscure hatted figure perched, or perhaps posed, on a step underneath a prominent shop sign. A magnifying glass would reveal that the business establishment in question belongs to an ironmonger, one T.H. Jones of Ipswich. To judge from the descriptive detail supplied in sale advertisements in The North Australian, T.H. Jones & Co., wholesaler and retailer was, from as early as 1854, a source of both luxury and essential commodities for Ipswich and its rural community.
In the year 1860, the approximate date of this image, one of the firm's advertisements promotes a "great variety of lamps, plain and figured, suitable for bells and parlours". An earlier notice in the same year provides a more detailed account of its merchandise, listing, among other items, horse shoe iron, vices, bellows, anvils, horse shoes and nails, picks, spades, wedges, oils, paints, carbines, guns, gunpowder, blasting powder, locks, bolts, hinges, carpenters tools, earthenware, glassware, tinware, stationery, stoves, forges, ploughs and chaff-cutters.
Advertisements like this one competed for space in The North Australian with those of a host of other establishments vying for business in the thriving Ipswich community, among them tailors, tea emporiums, watchmakers, wheelwrights and purveyors of bottled fruits, cut tobacco, saddles, ladies' black silk riding hats and other sought after merchandise. The population of the recently gazetted municipality provided a ready market for such goods, having reached 3,600 by 1861. The town supported two newspapers, three banks, a courthouse, a general hospital and it returned three members to the state's Legislative Assembly.
The location of this photograph (given that its precise date has not been established) is either in Union St, where the business originally traded, or in Bell St where it relocated to a "new and more commodious establishment" in 1862-3. The man seated on the front step is likely to be the proprietor, Thomas Hayes Jones, described elsewhere as being "well known in Ipswich and in the district of Moreton Bay". He was sufficiently prosperous to have taken out substantial advertisements in Pugh's 1862 and 1863 Queensland Almanacs and to have issued a handsome copper one penny trader's token in 1858. The evidence of the electoral roll suggests that Thomas's house, like those of a number of his business contemporaries, was attached to the shop in both the Union and Jones Street locations.
Quite apart from its appearance in the advertising columns, the company made the news in a more dramatic capacity in 1863. The Courier provides an account of a fire which broke out in the back quarters of an East Street business in the early hours of the morning on September 10th of that year. The fire engulfed the "back stores" belonging to T.H. Jones and those of the adjoining business and it is speculated that the flames might have taken out most of the business district of Ipswich, had it not been for the merciful abatement of the wind and the combined efforts of a number of public spirited Ipswich citizens, among them a man identified as Mr O'Rourke. According to The North Australian, O'Rourke made his large water tanks available to water carts engaged in fighting the fire and kept his engine "going full speed to keep the tanks well supplied". As a mark of its gratitude the firm of T.H. Jones subsequently made a public presentation to O'Rourke in the form of a kitchen range which had "all the latest improvements" and "the value of fifteen guineas".
This early image captures, in its detail of shingled roof, absence of footpaths and guttering and its unsurfaced road, the essence of a pioneering business community, at a point where it is poised to take up the rich commercial opportunities awaiting the town of Ipswich. The photograph also prompts an intriguing question in relation to its exact location. While we can only speculate as to whether this row of buildings is situated in Union or Bell Street, someone out there in the blogosphere just may be able to offer us a further clue. It's a challenge which, in the interests of the historical record, we invite you to take up!
Libby Fielding - Published Materials, State Library of Queensland
Comments
Your email address will not be published.
We welcome relevant, respectful comments.