Swimming Pools
By JOL Admin | 3 November 2011
Before Brisbane's public swimming pools were built, swimmers used a number of floating baths in the Brisbane River. These baths were subject to tidal variations which often made them unusable. Brisbane residents, faced with a hot climate, were keen to bathe. According to Helen Gregory, Brisbane's first public bath was built by the Brisbane businessman Taylor Winship. Opened in April 1857, it was moored close to the river bank near the old convict hospital, now the Brisbane Supreme Court. It was one shilling for a single bathe or twenty shillings for 3 months. (Brisbane River Story p 125-126).
Brisbane's first swimming club "The Old Brisbane Amateurs" met at the Metropolitan Floating Baths which were built in 1894 and were at the time at the end of Edward Street in Brisbane. At one time, the Brisbane River was crowded with a huge number of floating baths and, although these were extremely popular, there were problems with sanitation and the pools regularly got swept away in floods. The Redcliffe Baths had problems with jelly fish and once a grey nurse shark broke into the swimming enclosure.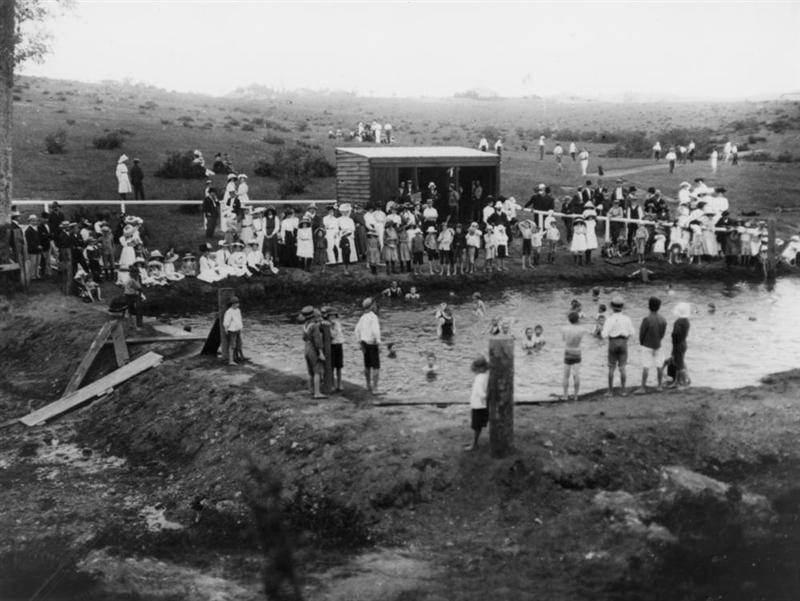 Brisbane's earliest official public swimming pool were the Spring Hill Baths in Arthur Street. Built by M. Callum Park and opened 9 December 1886 before 200 spectators they were 80 ft long, 30ft wide and 7ft. deep at the end nearest the entrance, and 3ft. 6in. at the other end! There were also sixty dressing rooms, and three shower baths. The water was pumped from the river at Victoria Bridge by an 18in. pipe.
The Booroodabin Baths, later the Brisbane Valley Baths was opened in 1896. When the Valley Baths opened in 1926 suggestions that the old baths be kept open as a ladies only pool was defeated because of the cost of the new pool and the old pool was opened to everyone. Municipal authorities were responsible for the erection of nearly all Brisbane baths except at Toowong Swimming Club which sold shares and accepted loans and donations to build their pool which was opened in 1909.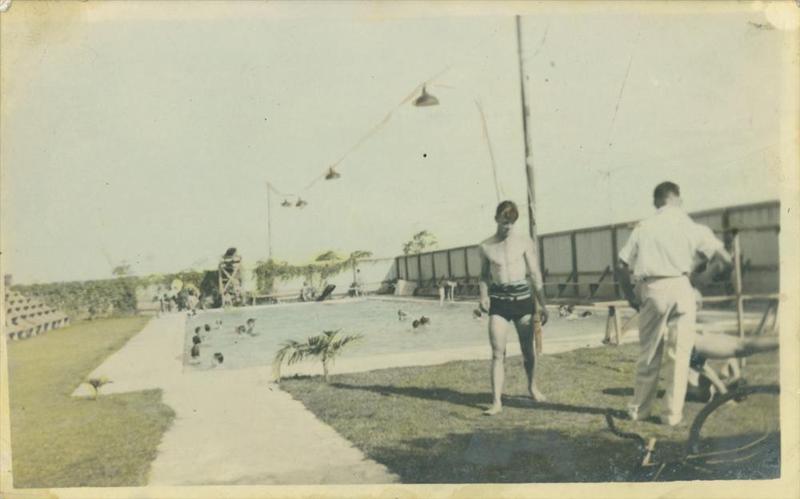 Although some private schools built swimming pools, baths became a feature of many state schools. Junction Park was the first state school in the city to have its own pool and Rangeville School in Toowoomba had the first school pool outside the metropolitan area. Built In 1914, it was 40 feet long and cost 225 pounds. Dalby had a pool in 1936 and Blackall and Bowen in 1938-39.
The question of mixed bathing remained a problem in the early years with Davies Park the first Brisbane pool to have mixed bathing in 1924. Swimming pools eventually became a common feature in holiday destinations and backyards.
The State Library has hundreds of photos of swimming and swimming pools, as well as swimming club records such as Commercial Swimming Club records 1900 – 2008; Queensland Amateur Swimming Association Medal 1909; Elsie Dann Papers containing swimming certificates and newspaper cuttings; Paula Stafford, bikini designer clippings, photographs realia and more.
Karen Hind
Librarian, Queensland Memory
Comments
Your email address will not be published.
We welcome relevant, respectful comments.