Summer Pop- Up Exhibitions - Bold and Beautiful Artists' Books
By Administrator | 18 December 2015
An exciting pop-up exhibition will be featured this summer at State Library of Queensland to highlight objects from the Artists' Book collection of the Australian Library of Art. Three sculptural works have been selected for the display and will be exhibited on level 2 of the library over the next couple of months. Come and feast your eyes on the delights we have to offer from this diverse collection.
In Lapidem Statuere
In lapidem statuere, , Stewart Scambler, Australian Library of Art, ALAAB SCA, SLQ.
For this exhibition three larger items have been selected which demonstrate the versatility of this genre by using materials other than paper. 'IN LAPIDEM STATUERE' a ceramic and metal object, measuring 50 x 37 x 9 cm, and opens to 50 x 74 x 5 cm., is an original work by 'Stewart Scambler' from Western Australia. The work consists of two framed clay composite tablets that are hinged together using the form of a book. The outward face of each tablet is pigmented and glazed and the front is engraved. The inward face of each tablet is imprinted with palm leaves, resembling fossils.
In Lapidem Statuere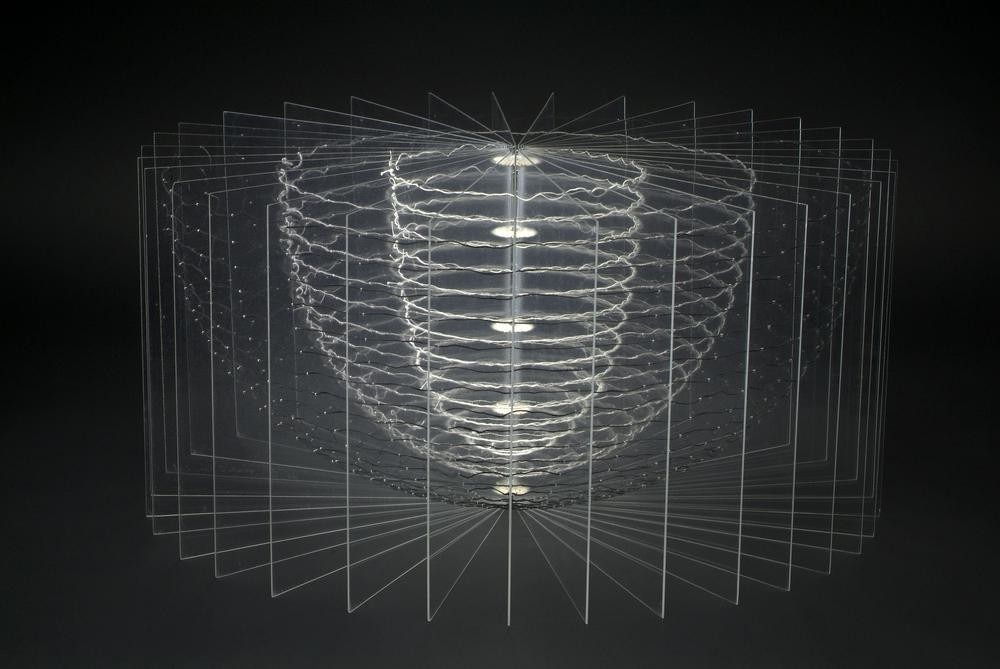 Vessels
Vessels
Vessels, 2004, Adele Outteridge, Australian Library of Art, ALAAB OUT, SLQ.
'VESSELS' is a sculptural book that has Plexiglas "pages," which are threaded with linen yarn suggesting lines of text. It is bound using a Coptic binding facilitating opening and closing like a book. However, when fully opened the circular object is an elegant sculpture, casting pleasing shadows and creating an illusion of three sculptural 'bowls.' This interesting and delightful piece is by Brisbane artist Adele Outteridge who started making books in 1989. She has made everything from carefully bound journals and drawing books to "feral" artist's books using materials such as teabags, old envelopes, junk mail, newspaper and metal.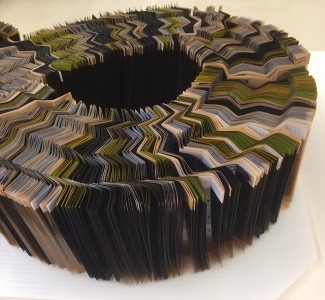 Compendium of Knowledge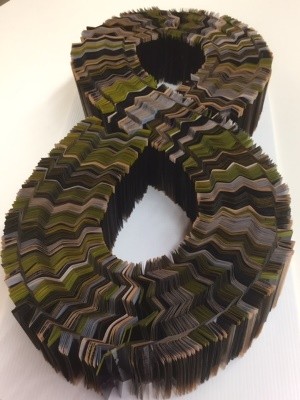 Compendium of Knowledge
Compendium of knowledge, 2014, Bernard Appassamy, ALAAB APP, Australian Library of Art, SLQ.
Bernard Appassamy, is a writer and artist who trained in Visual Communications at the Sydney College of the Arts, and worked as a graphic designer and teacher, more recently he describes himself as someone who writes short stories and stitches paper. 'Compendium of Knowledge' is an original work that has been assembled from Approx 2,000 recycled microfiche and alludes to the librarians' and archivists' methodical dedication and infinite construction of systems of data. Each microfiche was individually drilled, folded and threaded onto fishing line, and arranged in the shape of the infinity sign. The dimensions are variable but are approximately, H10 X W73 X D37cm. Bernard Appassamy's sculpture was shortlisted for the Manly Artists' Book Award 2015 and is now part of the Australian Library of Art, artists' books collection.
For more information about Bernard Appassamy and his work, visit his website here and to search for artists' books in the collections at State Library use One Search and enter the term 'ALAAB'. Alternatively, a search for 'artists' books' will return references to artists' books as well as books about artists' books. Selected artists' books from the collection have been digitized.
Browse all digitised artists' books
This Pop-up exhibition will be on display from early January 2016, on level 2 of the Library. To keep up-to-date with our new acquisitions, events, exhibitions and what the Australian Library of Art staff have been doing please visit our blog. /blog/ala/
Janette Garrad, Senior Published Content Technician, State Library of Queensland.
Comments
Your email address will not be published.
We welcome relevant, respectful comments.