Street Life: Posters and their role in the Brisbane music scene 1975-1995 (project update)
By JOL Admin | 9 March 2017
Guest blogger - John Willsteed, recipient of the Letty Katts Award discusses his project Street Life: Posters and their role in the Brisbane music scene 1975-1995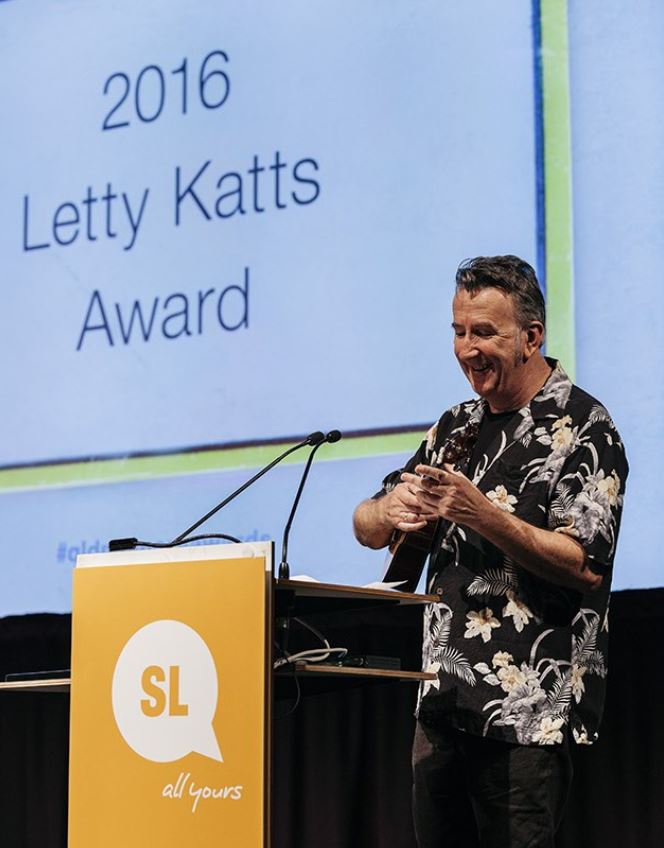 Letty Katts Award recipient, John Willsteed. Queensland Memory Awards 2016, State Library of Queensland
My first move after the Queensland Memory Awards night was to put out a call on social media (Facebook, in this case). It looked a bit like this:
"We are all getting older, kids growing up, downsizing. And maybe getting sick of holding on to stuff - the nostalgia-sodden vestiges of our long-departed youth. With that in mind, I am asking anyone who is interested to donate their music/band/venue posters to the State Library over this summer. I'm hoping to make this a really definitive collection from a diverse range of people. A magnificent visual slice of Brisbane history that will be available to you, me, scholars and storytellers in perpetuity."
There were quite a few responses, and some interesting successes. These included a range of poster and handbill art from Cal Crilly, centred around the mid-90s and 4ZZZfm, Brisbane's iconic community radio station; a selection of hand screen-printed posters made by Brisbane musician Peter Loveday for his bands in Brisbane and London from 82-85; a collection of Maleny/Woodford Folk Festival posters from my brother, Paul. All interesting, all different, all full of stories. And, being the novice I am, I was unaware that the posters had to be quarantined! So they have gone off to a little room somewhere to be "dealt with" – lucky things!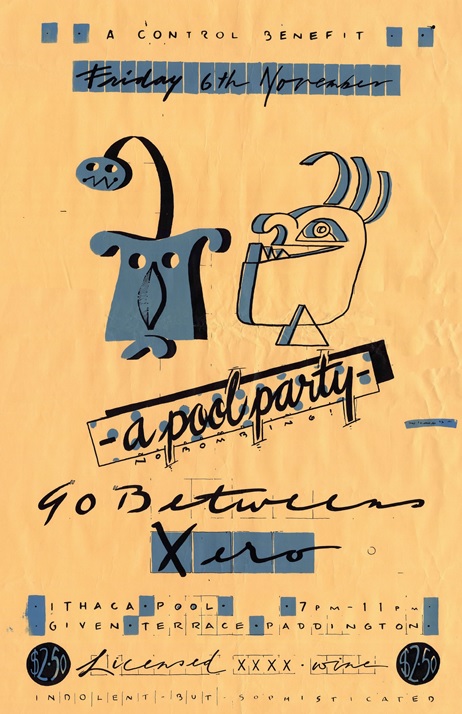 Go-Betweens & Xero concert poster. Designed by John Willsteed
I have a QUT student, Alan Boyle, who has been assisting me with building a database that will dovetail into SLQ's catalogue. We also need to send the word out further, and will be accessing email lists and social media from the institutions: SLQ, State Archives, Museum etc. It has been a very busy summer and I'm looking forward to having the time to spread the word, check the collections and call out for more!!
Still thinking about the the "presentation"- - - Posters on a wall? Some writing, talking and/or singing? This will be developed over the next few months, and presented in late July. Keep your ears open!
John Willsteed
Comments
Your email address will not be published.
We welcome relevant, respectful comments.