Stones Corner
By JOL Admin | 6 May 2009
It is hoped to include the history of the Brisbane suburb of Stones Corner in a future episode of Channel Seven's Great South East program. Here is an overview of the suburb's development:
In 1875, James Stone purchased land on the corner of the present day Logan and Old Cleveland Roads from Frederika Klumpp. In due course, James Stones operated a ginger beer shop from the site. Over time, the area became known as Stones Corner.
The Stone family had arrived in the colony in August 1857 on board the ship Mary Pleasants, with James being one of the family's children.
Before the arrival of James Stones the area was known as Burnett's Swamp. Stones Corner is now gazetted as a locality within the suburb of Coorparoo.
Some early residents, settlers and businesses include:
Henry Opperman purchased land in the Stones Corner area in 1857, paying £59. Opperman eventually sold his land to Frederika Klumpp who, in turn, sold the land to James Stone.
John Montegue Black. Montegue Street is named in honour of this early settler.
Dennis O'Connor.
H. Narnst, Cash Butcher (1906).
Watson & Son, butcher (1911), J.F. Rogers butcher (J.F. Rogers later became the owner of the Alhambra Theatre).
Bicycles parked outside the Alhambra Theatre, Stones Corner, Brisbane, 1949, John Oxley Library, State Library of Queensland, Image No: 146464
Stewarts Department Store established in 1914.
Charles Henderson Motor Repair Shop.
Johnston's Store (crockery, hardware, kitchenware, paint).
Regency Home Furnishers.
Beard's Shoes.
Scientific Hobby Shop Pty Ltd.
Drouyn's Music Store.
Tacey's Drapers.
Gardiners Millinery.
Holt's Electrical Store.
Finlayson's Menswear.
Handasydes (Holden).
As the area was progressively developed for residential housing, a number of individual land subdivisions were undertaken, including:
Baynes Estate comprising 470 allotments (1880s).
Tram Terminus Estate, between Old Cleveland Road and Norman Creek (1885).
Knowsley Estate (1887).
Logan Road Estate comprising 30 allotments (1889).
Thompson Estate (1890).
Langlands House. The land was originally purchased by Reuben Nicklin with Langlands House being constructed in 1876. This property was eventually subdivided for housing (500 allotments).
Langlands Park – named after Langlands House. At the time the property was subdivided, part of the land was retained as a sporting reserve. Originally it was to be the home of the Eastern Suburbs Cricket Club and was large enough for two cricket fields. In due course the cricket club moved on and it is now home to East Tigers Rugby League. The Easts Leagues Club was built in 1999.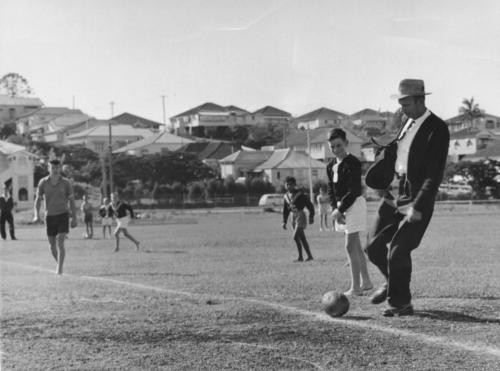 Kick off for Junior Rugby at Langlands Park, Stones Corner, John Oxley Library, State Library of Queensland, Image No: 193241
Stones Corner Hotel – This was originally called the Junction Hotel and was built by Dennis O'Connor (approximately 1890).
Stones Corner Shopping Precinct – In recent years, Stones Corner has become known as a centre for direct factory outlets. This has brought a lot of shoppers to the area, rejuvenating the suburb.
1856 – Norman Creek was first crossed by a bridge.
1892 – Salvation Army Hall was constructed.
1893 (October 6) – Postal services were established at Mr. Maxwell's shop.
1897 – Brisbane's first electric tram ran from Logan Road, Woolloongabba to the southern end of Victoria Bridge on 21 June 1897. This was extended to Stones Corner in January 1899.
1902 – Public concern was being expressed over larrikin gangs in Coorparoo, Stones Corner, Highgate Hill, Paddington, Spring Hill, Manly and Nundah.
1906 – August 10 – the first public telephone in Stones Corner was established in Reynold's Store.
Comments
Your email address will not be published.
We welcome relevant, respectful comments.