Staff Nurse Monica Margaret O'Callaghan
By Anne Scheu | 11 August 2016
Guest blogger: Pauline O'Keeffe, Cairns Historical Society.
Monica Margaret O'Callaghan, daughter of Callaghan O'Callaghan and his wife Margaret (nee Finlay) was born in Irvinebank, 2 December 1887. Monica completed her nursing training at the Cairns District Hospital, graduating on 2 August 1915 aged 27.
The Australian Army Nursing Service appointment record issued to Monica in 1917. This document is held at the Cairns Historical Society.
By September 1917, Monica enlisted in the Australian Army Nursing Service in Brisbane as a Staff Nurse. On 16 November 1917, she sailed for India on the Canberra and was posted to the King George Hospital at Poona arriving in January 1918.
Monica's AIF attestation paper listing her unit as A.N.S. India is held at the Cairns Historical Society.
Nurses posted to India experienced difficulties. India was not considered a war zone and many nurses, including Monica, were not awarded the Victory Medal even though they cared for Turkish prisoners of war and British and Indian soldiers.
It is said many nurses had great difficulty in coping with the climate, the lack of facilities and the venomous snakes. They received no training in cultural or religious protocols and there were language difficulties with patients and the Indian servants.
The Indian caste system exacerbated the problems as did the differing religious beliefs. The hospitals were grossly understaffed and there were outbreaks of smallpox, plague and influenza. During her time in India, Nurse O'Callaghan was hospitalised for a month with measles and later with pneumonic influenza.
Sister O'Callaghan returned from the front in September 1919 and went back to work at the Cairns Hospital. In January 1921, the Cairns Sub-branch (RSSILA) Executive unanimously agreed to elect Sister O'Callaghan as an Honorary member of the League, in recognition of her extensive service overseas during World War One.
Monica married William Kevin Aloysius Collins in 1924. Collins was a local pharmacist elected Mayor of Cairns from 1927 until 1949. Mrs W. Collins was regularly named in the social columns of the Cairns Post newspaper, performing various civic duties.
Monica married William Collins in 1924. She donated land to the Cairns RSL Sub branch for the building of retirement homes for local returned servicemen. Image c 1950s, Cairns Historical Society.
On 26 April 1939, Monica was one of five war nurses who joined 300 returned servicemen for an Anzac Day luncheon at the Masonic Temple. She was an active member of the Comfort Fund during the Second World War and donated land in McLaughlin Street, Cairns in order to support returned servicemen with suitable housing. This site and the units were collectively named 'Warhaven'.
Mayor Collins died in 1959 and Monica in 1960. They are buried in a family plot in the Martyn Street Cemetery. Monica's brother, the late Mike O'Callaghan, a longstanding member of the Cairns Family Historical Society donated many family photographs and documents, including these relating to his sister Monica.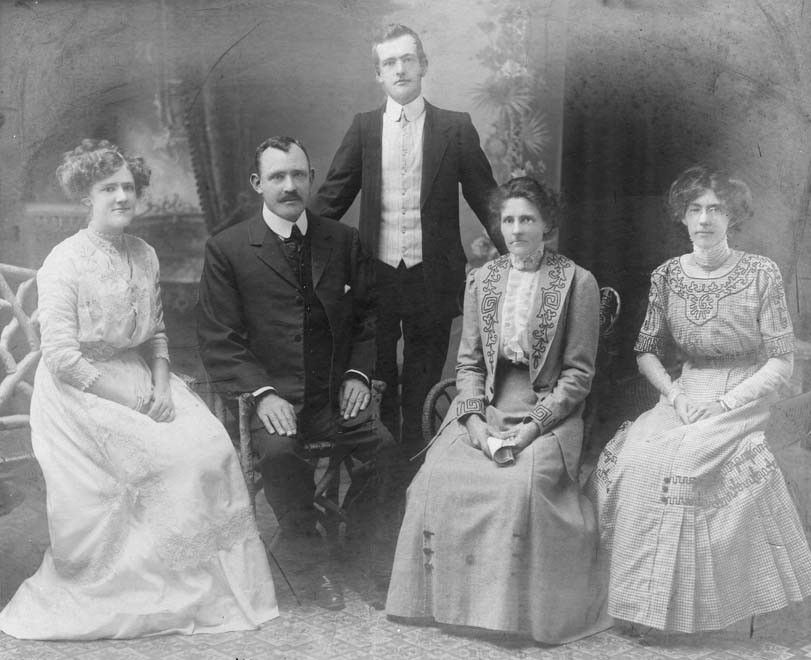 The O'Callaghan family with Monica seated to the right in 1915. This family portrait is part of the O'Callaghan collection, Cairns Historical Society.
Read more about 'Warhaven' reported by the Cairn's Post, August 1954. The newspaper article stated that following the opening of a new double unit, there was a total of 11 War pensioner homes available on the site since 1939.
The Warhaven story continues today! Earlier this year in 2016, RSL Far Northern District began an extensive redevelopment of the site to provide improved housing for veterans residing in the area. Read more about the renewal project and the legacy that began with a vision by Mrs Monica Collins (nee O'Callaghan), recognised for her contribution as a staff nurse from 1917 - 1919.
Pauline O'Keeffe
Cairns Historical Society
Founded in 1958 to preserve, collect, research and make accessible materials pertaining to Far North Queensland.
Cairns Historical Society is a recipient of the John Oxley Library Community History Award in 2016.
Comments
Your email address will not be published.
We welcome relevant, respectful comments.