SLQ hosting Regional Indigenous Languages Research Discovery Workshop in the Northern Peninsula Area from 14-16 May
By JOL Admin | 15 May 2013
The State Library of Queensland, in partnership with local Council, is hosting a Regional Indigenous Languages Research Discovery Workshop in the Northern Peninsula Area, at the tip of Cape York, from 14-16 May. The first day of the workshop was held at the NPA Council Hall in New Mapoon. Workshop participants came from many surrounding communities including Bamaga, Injinoo, Seisia, and Umagico to share their stories and knowledge about traditional Aboriginal and Torres Strait Islander languages of the region.
Des Crump, Indigenous Languages Researcher in Queensland Memory at the State Library opened the workshop about language revival and maintenance with a brief overview of resources in the State Library and information about the state of Indigenous languages in Queensland today.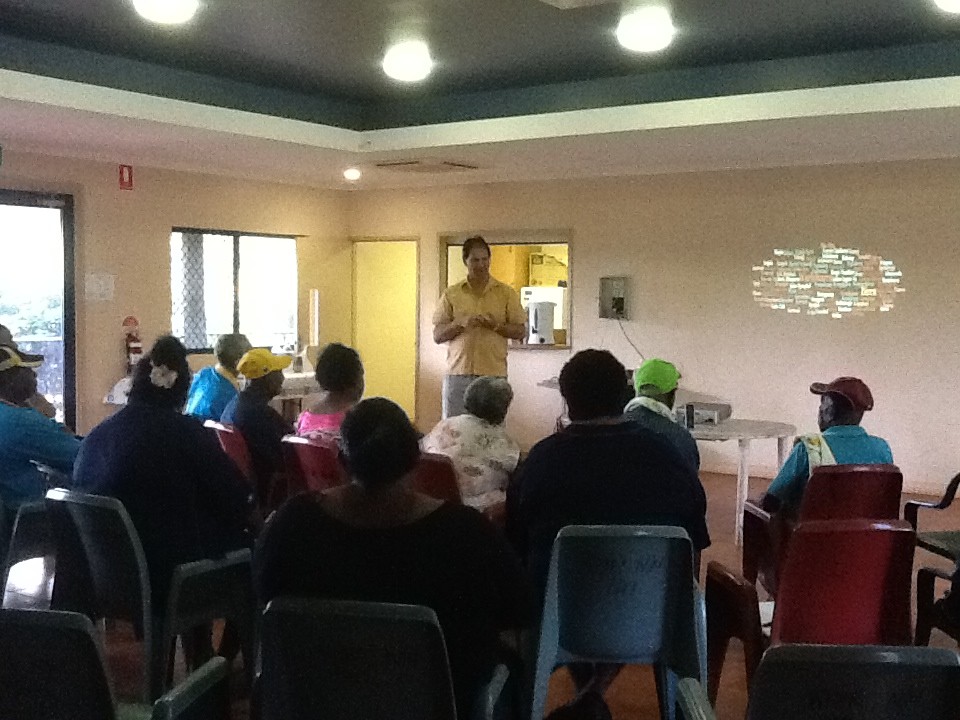 Des Crump opens Regional Indigenous Languages Research Discovery Workshop
About 20 Elders, Indigenous Knowledge Centre Coordinators, and community representatives then shared information about their many varied languages of the NPA region and discussed how important it was that their languages survive. In the afternoon, Des demonstrated how to use language databases such as Miromaa and Lexique Pro.
The workshop continues today and tomorrow. It includes a showcase of local community language programs and resources, and training in recording and documenting languages using digital repositories.
Des is joined in the NPA by Liz Phillips, Project Officer from the State Library Cairns Office and Olivia Robinson, Manager of Research, Advocacy and Partnerships in Queensland Memory as part of State Library's Indigenous Languages Project. The project is funded by the Office for the Arts, Department of Regional Australia, Local Government, Arts and Sport.
State Library is grateful for the support of the Northern Peninsula Area Council in providing a venue for the workshop and supporting the IKC Coordinators to attend. It is part of an ongoing partnership to support the network of 20 Indigenous Knowledge Centres located throughout Queensland.
Des Crump - Indigenous Languages Researcher, State Library of Queensland
Comments
Your email address will not be published.
We welcome relevant, respectful comments.