Siganto Foundation Artists' Book Lecture 2017: Helen Douglas
By Christene Drewe | 12 April 2017
Guest blogger and artist Normana Wight attended the Siganto Foundation Artists' Book lecture given by Helen Douglas Sunday 26th March 2017 and dropped in on the workshops taught by Helen the following week. Normana has written this story in response.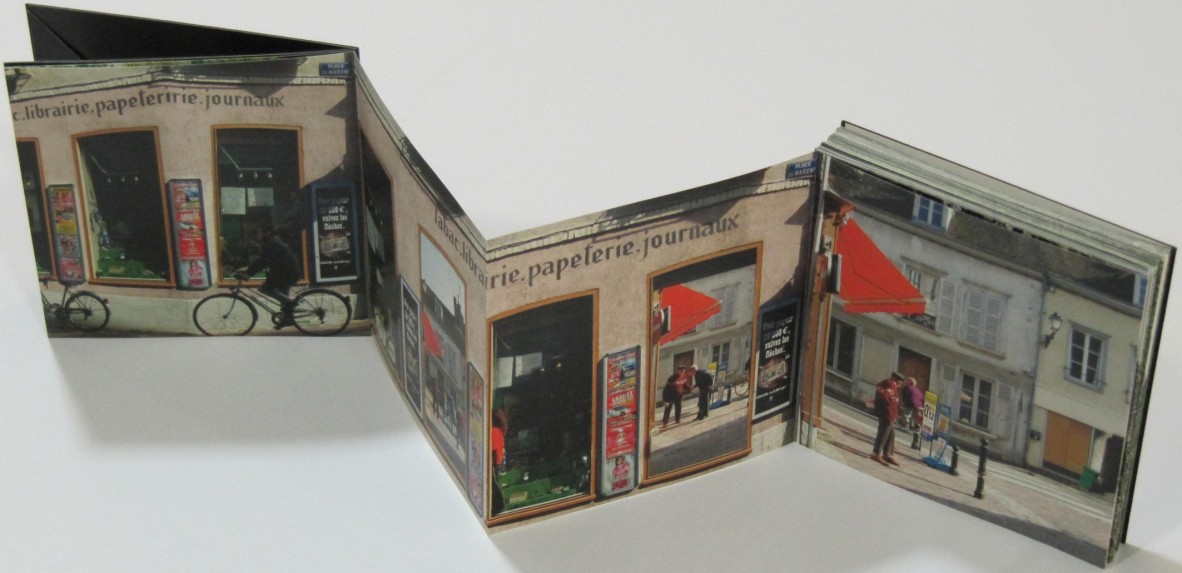 "Illiers Combray"
Last Sunday Helen Douglas gave a memorable illustrated lecture here at the State Library of Queensland; it was rich in information and imagery, whilst also being a HIT with the audience. 2016 Siganto Foundation Research Fellow Lyn Ashby followed with a lecture presenting his research, highlighting storytelling in the artists' book collection.
Helen Douglas. Photo courtesy Doug Spowart.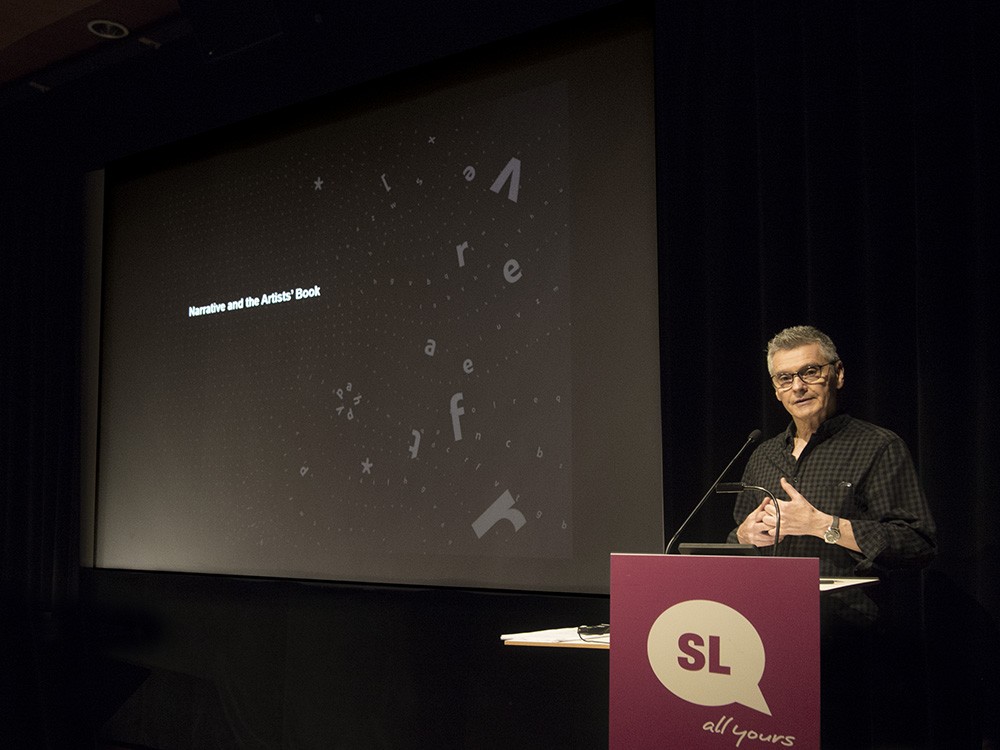 Lyn Ashby. Photo courtesy Doug Spowart.
Master class with Helen Douglas.
Master class with Helen Douglas.
The concept of artists' books offers a plethora of possibilities to the artist. Helen Douglas' output is large and varied, so for this blog I will just write about one of them:
"Illiers Combray" 2004
A small square format very long concertina book filled from cover-to-cover with luscious green toned colour photo images of country France, which work through one side, then go back on the other side of the book……..town, bicycles, people, windows, streetscapes gradually become garden, country; all in luxuriant summer imagery, for example, two birds at the bottom of the page back onto a whole three page scene of vegetable gardens in France.
Moving on to the right, and back to the luscious greenery, it looks like Camelot – does it only rain at night? A border of white flowers? Then we move to open fields . . . . chooks, man on a bicycle – luxuriant green landscape (with white daisies?) There are delicate transparent overlays.

"Illiers Combray"
The whole book is covered with images – twice over. . .The front part starts with a figure in a room, against the light, followed by exquisite greenery, interiors, and references to French tapestry and medieval art. There are lakes and birds again.
The book ends with the green tapering to a town park, still brilliant green, with an elegant woman sitting cross-legged with her back to us, reading a book. A man walks out of the book to the right. The park is edged with a very French accompaniment; small interlocking metal semi-circles. Like a lace edging.
"Illiers Combray"
All held together by a narrow 'waist-band.' Made of paper. There are also two mini audio CDs. The soundtrack is available via the catalogue record in One Search
A joyous book, paying homage to Marcel Proust.
Normana Wight April 2017
"Illiers Combray". Photo courtesy Doug Spowart.
Comments
Your email address will not be published.
We welcome relevant, respectful comments.