Sherwood Township Estate, 1885 (Map of the Week)
By Myles Sinnamon - Engagement Officer, State Library of Queensland | 11 October 2016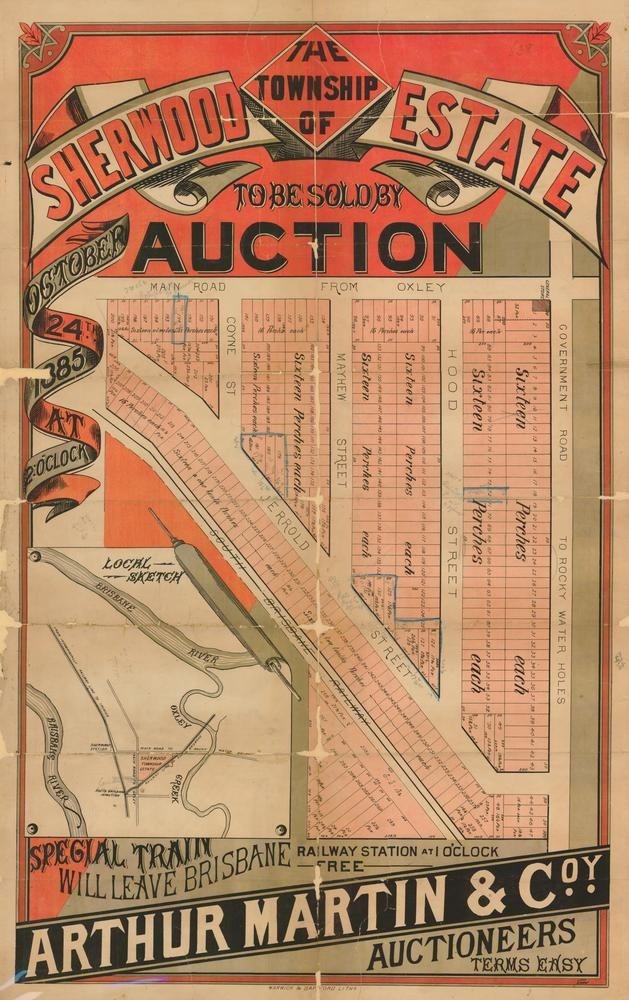 Sherwood Estate, 1885. John Oxley Library, State Library of Queensland
State Library of Queensland has an extensive collection of historical maps of Queensland, some of which have been digitised and can be viewed online.
This real estate map from 1885 advertises 268 allotments of land for sale at the Sherwood Township Estate in Brisbane. The allotments were situated along Jerrold Street, Coyne Street, Mayhew Street, Hood Street and two unnamed roads (now Sherwood Road and Oxley Road).
Prior to the sale extensive publicity was published in Brisbane newspapers.
Advertisement from Queensland Figaro and Punch, October 24, 1885
"It is distant only six miles from the city, but at the same time, railway communication brings it close enough to meet the requirements of everybody in everyday life. The fares for season tickets are much cheaper than omnibuses or tramways, whilst the trains pass so often and so regular that this place is suitable for the residence of the business man, clerk, mechanic, labourer, &c., engaged in the bustle of the busy city during the daytime, with the advantage of being in a position to inhale the free and invigorating country air." (Queensland Figaro and Punch, October 24, 1885)
A public auction was held at the site on the afternoon of October 24, 1885. The Telegraph newspaper reported the results of the sale –
"Messrs. Arthur Martin and Co. report the sale of 37 allotments in the Sherwood Township Estate, on the ground, on Saturday afternoon, for the sum of £1041, or at an average of about £28 per lot." (Brisbane Courier, October 27, 1885).
A higher resolution image of this map can be viewed through our One Search catalogue.
Prints of this map are also available through the Library Shop.
You can browse a compendium of our previous maps of the week on our blog.
Myles Sinnamon – Project Coordinator, State Library of Queensland
Comments
Your email address will not be published.
We welcome relevant, respectful comments.