Shake Your Family Tree
By JOL Admin | 24 November 2009
State Library staff had a great time attending the National Archives of Australia event "Shake your family tree" on the 18th November 2009, at the National Archives reading room at Cannon Hill.
This event explored stories of Queenslanders as told through the records of the National Archives of Australia, Queensland State Archives and the State Library of Queensland.
Subjects included famous aviator Charles Kingsford-Smith; Gordon Cope, World War II serviceman; Bernard O'Reilly, author, bushman and rescuer; Mario Strano, World War II security target; Jack 'Jackie' Howe, legendary shearer; and Thomas Joseph (T.J.) premier of Queensland during WWI.
The session on Jackie Howe was researched and presented by staff from the Family History Unit of the State Library. Bill and Dan Howe, descendants of Jackie Howe, attended on the day and were very excited by the information and material available about their family.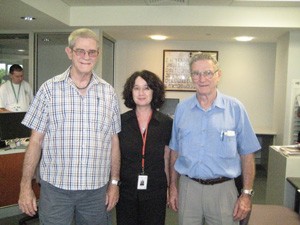 Bill and Dan Howe, with Karen Hind, of the John Oxley Library.
Comments
Your email address will not be published.
We welcome relevant, respectful comments.