Shacks, sheds and cottages: Queensland "Weekenders" in the early 20th century
By Christina Ealing-Godbold, Senior Research Librarian, Library and Client Services | 7 October 2022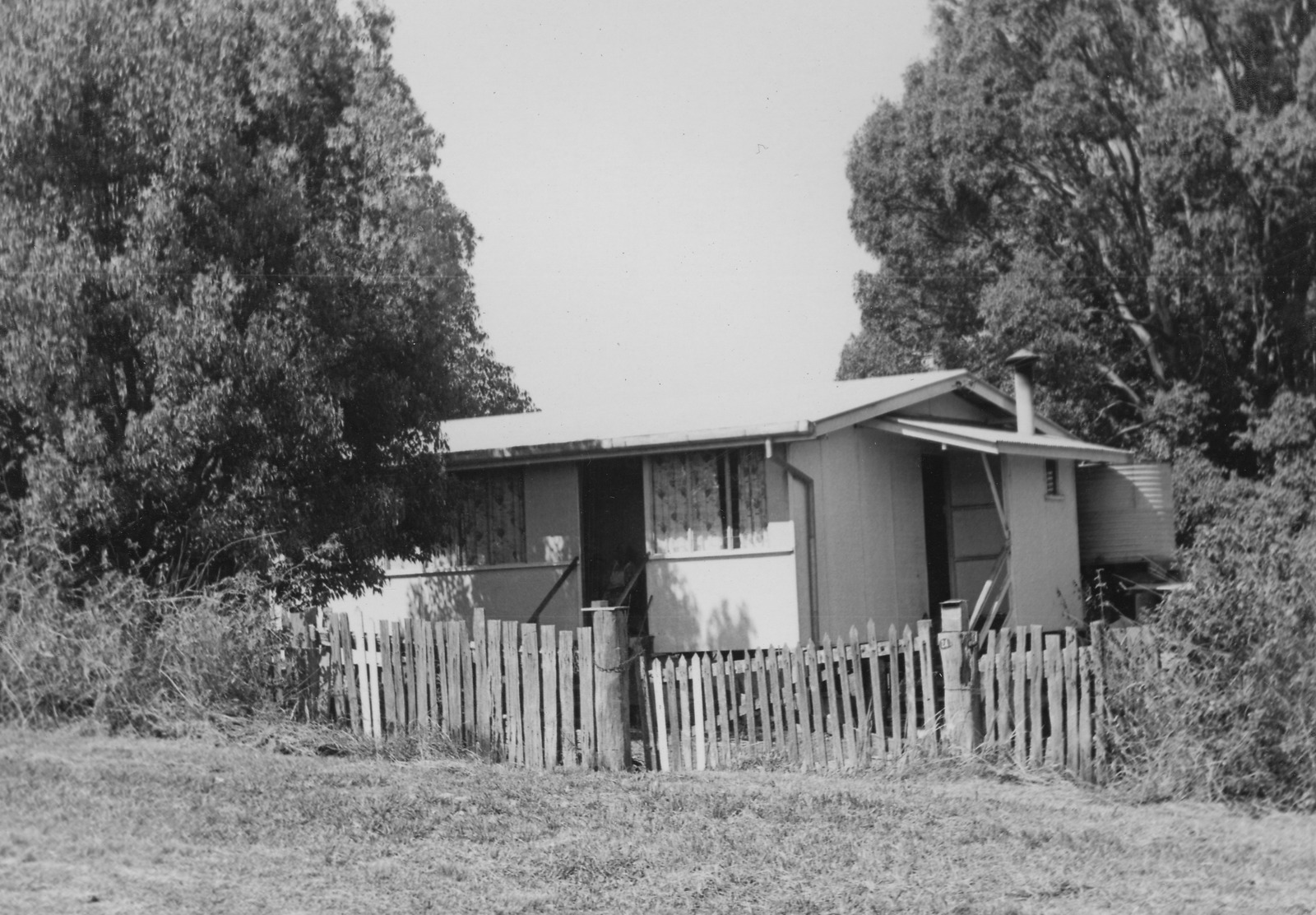 Tewantin fibro cement shack
The "Great Australian Dream" revolved around owning a house. However, it also included the dream of having a place to relax at the seaside and as Queenslanders embraced the motor vehicle and could travel for weekends and holidays, the "seaside shack" became part of the dream. Some families camped under canvas for three or four weeks every year whilst others found a way to build a low - cost residence at the beach, recycling whatever materials were available to achieve the "no fuss" beach house.
From the Maroochy River to Tewantin and Gympie Terrace, Caloundra and Mooloolabah, Bribie Island, Southport and elsewhere on Queensland water frontages, the post-World War One Era saw the rise of the "seaside shack". Seaside shacks appeared also at Redcliffe, Cribb Island and Manly and Lota – places we now consider to be part of Greater Brisbane. River frontages were also lined with seaside shacks, enabling fishing, sailing and still water swimming as part of the family holiday.
The seaside shack provided the opportunity for the coastal "getaway" with modest investment. From 1914 to 1946, they popped up everywhere. Advertisements in the Nambour Chronicle and the Brisbane Courier showed many "seaside shacks" available for rent at holiday time.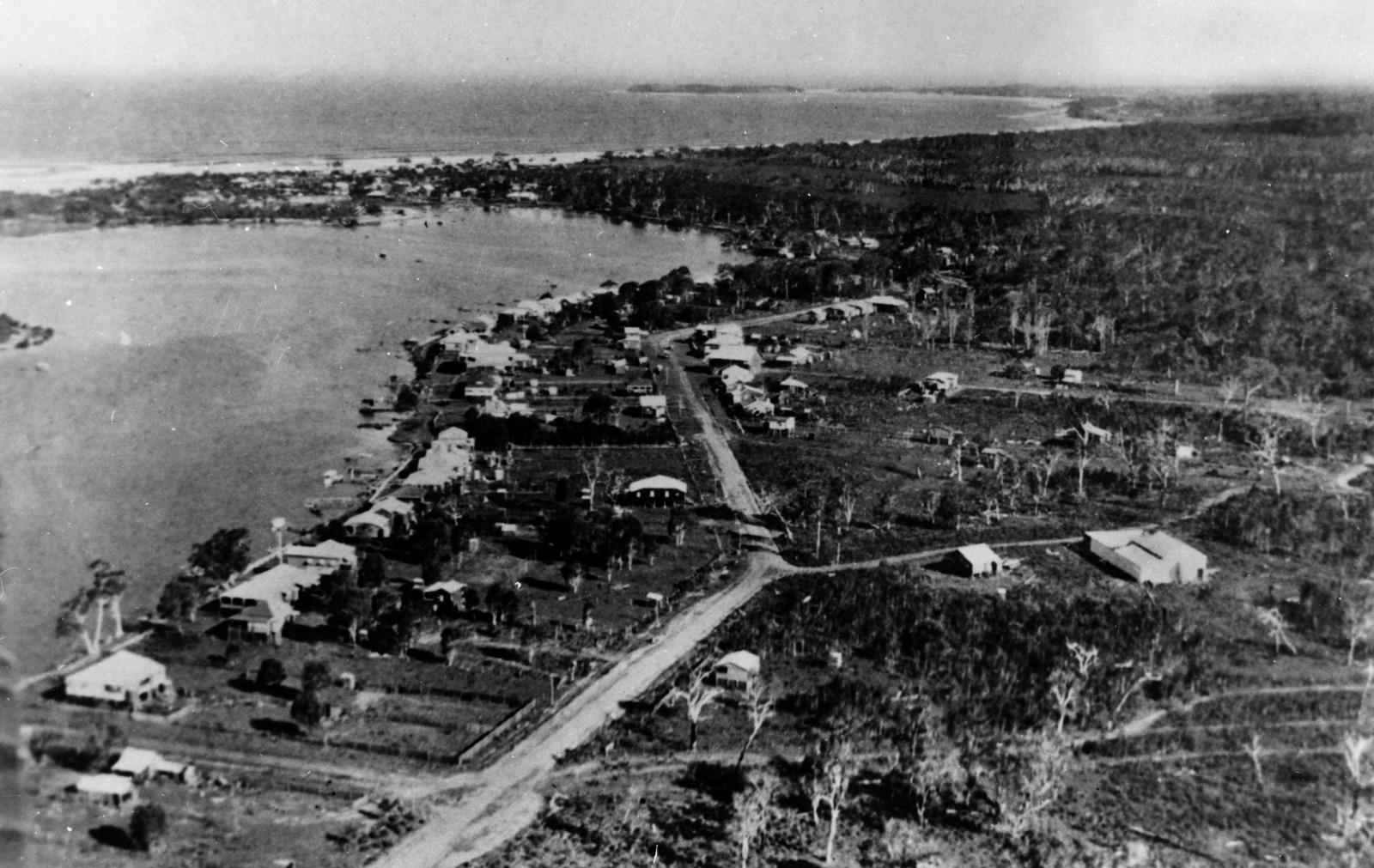 Aerial view of Maroochydore, ca. 1920
An early example of recycling
Seaside shacks were exceedingly cheap and were an early use of the concept of recycling! While many were built of disused or second grade timber, all kinds of materials were used for the holiday seaside shack – including fibro cement, metal containers, and left-over farm sheds; even disused trams were sold off as seaside shacks. Local Sunshine Coast sawmills and companies advertised various materials suitable for the seaside shack which were often built by the landowner, rather than a builder. In fact, the seaside shack sometimes became the garage of the homeowner once a proper house was constructed in later years. Fibro cement was used in many of the shacks in the 1930s, but it was not until many years later that asbestos was discovered as a harmful ingredient in these building products.
Working on the seaside shack at Cribb Island
Fisherman standing outside a fishing shack at Bribie Island, ca. 1925
Tewantin fisherman's cottage
When land was sold at Coolum Beach, it was accompanied by a "Model Holiday Shack" competition, to improve the aesthetics of beach side communities. During the 1930s, newspapers ran articles on how to best decorate your seaside shack.
Furnishing The Week-End Cottage
Then came regulations!
Councils in the 1950s sought to specify the construction of holiday cottages and the word "shack" gradually went out of fashion. It is interesting to observe how language follows social trends. Soon, the weekend cottages became known as "beach houses", a term still used today. Some advertisements in the newspapers began to stipulate "Not a seaside shack" in real estate advertisements, to assure buyers that it was a properly built home.
Not a seaside shack but a beautifully built home
As electricity, proper water and sewerage connections and local government regulations insisted on construction standards, the familiar seaside shack gradually left our ocean and river frontages. Landsborough Shire Council began as early as 1941 to outlaw the seaside shacks at Caloundra.
Caloundra Town Planning Scheme
Efforts to restrict the building of shacks soon made their way to other coastal areas. Not all the residents were pleased with the new regulations.
Correspondence - South Coast Shacks
The rise of luxury beach houses
By the late 1950s, luxury beach houses and apartments or beach units began to populate our beach suburbs, both on the Gold Coast and Sunshine Coast and further afield. Gone were the recycled, jerry-built retreats that had relaxed earlier generations on their holidays.
Modern architect-designed home on the Gold Coast, 1957
Beach house design became an important part of architectural practice in Queensland, as new and modern designs of the 1960s lined the river frontages once occupied by fibro sheds, old trams and small weatherboard one or two room cottages. Gradually, councils demanded the demise of those buildings that did not meet new standards, including a whole row of seaside shacks on Brisbane's Cribb Island. An era in Queensland's social history, that of the construction of the "seaside shack" soon vanished from the visual record. However, through history projects and the documenting of Queensland stories, the memories of times spent in South-East Queensland's "seaside shacks" will hopefully live on.
Further reading
Video/DVD
Memorably Moffat : beach house stories / Sunshine Coast Council.
Gail Robinson interviewer. ; James Muller cinematographer, editor of a moving image work. ; Sunshine Coast (Qld. : Region). Council. issuing body. ; Caloundra, Qld. : Sunshine Coast Council ; 2014
Available: State Library South Bank Collection Request then arrange viewing at level 4 desk (HDVD 994.32 MEM ).

Books
Iconic seaside cottages of Bribie Island / James G Lergessner and Tony Ryan.
James G. Lergessner ; Tony Ryan 1948- ; Woorim, Qld. : James G. Lergessner ; c2011
Available: State Library South Bank Collection Request to access from level 4 (Q 994.32 LER ).

The fibro frontier : a different history of Australian architecture / Charles Pickett ; <forward by Barry Humphries>
Charles Pickett 1950- ; Sydney, N.S.W. : Powerhouse ; 1997
Available: State Library South Bank Collection Request then collect from level 3 (GSA 721.0445 1997 ).

Beach houses of Australia & New Zealand / text by Stephen Crafti ; introduction by Harry Seidler.
Stephen Crafti 1959- ; Harry Seidler 1923-2006 ; Mulgrave, Vic. : Images ; 2000
Available: State Library South Bank Collection Request to access from level 4 (Q 728.72 cra ). See other locations

Beach houses / Stephen Crafti ; edited by Mark Cleary.
Stephen Crafti 1959- ; Mark W. Cleary 1971- ; Mulgrave, Vic. : Images ; 2011
Available: State Library South Bank Collection Request to access from level 4 (Q 728.72 CRA ).

Beach houses down under / Stephen Crafti.
Stephen Crafti 1959- ; Mulgrave, Vic. : Images Pub. ; 2006
Available: State Library South Bank Collection Open Access, level 3 (728.37 2006 ).
Contemporary beach houses down under / Stephen Crafti.
Stephen Crafti 1959- ; Mulgrave, Vic : Images Publishing ; 2008
Available: State Library South Bank Collection Request to access from level 4 (Q 728.72 CRA ).
Articles
Fibro Dreaming: Greenwashed Beach-house Development on Australia's Coasts
Shaw, Wendy S. ; Menday, Lindsay ; London, England: Sage Publications, Ltd ; JSTOR Public Library I Collection (Journals Only)
Urban studies (Edinburgh, Scotland), 2013, Vol.50 (14), p.2940-2958

Comments
Your email address will not be published.
We welcome relevant, respectful comments.