Searching for the Longreach Leader 1923-1924
By JOL Admin | 9 September 2009
John Oxley Library is searching for The Longreach Leader 1923 and 1924.
The State Library of Queensland is taking part in the Australian Newspapers Digitisation Program which is being coordinated by the National Library of Australia. As part of this program the Courier Mail 1846-1899 and 28 Aug 1933-30 Apr 1934 is now freely available online. The Courier Mail will soon be online up to 1954. The Queenslander newspaper (3 Feb 1866 to 22 Feb 1939) has also been digitised and will soon be available online.
Longreach Regional Council is working with State Library and National Library to commence the digitisation of The Longreach Leader newspaper. The first step involves the microfilming of the first 10 years of this newspaper, but we are missing the years 1923 and 1924.
Can you help us to find issues of The Longreach Leader for the period 1923 and 1924?
If you can help us, please email us at heritage@slq.qld.gov.au or phone (07) 3840 7880.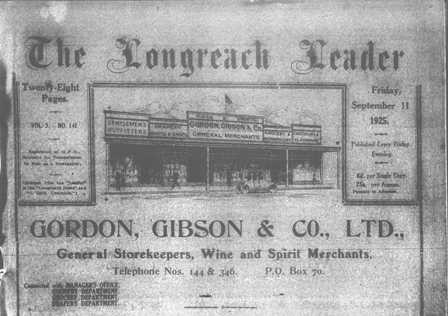 Longreach Leader 1925
Comments
Your email address will not be published.
We welcome relevant, respectful comments.