Scottish Adventurers on the Darling Downs
By JOL Admin | 15 January 2015
An interesting story was recently uncovered when a client enquiry requesting information about a couple of Scotsmen grew into a tale of courage and success.
John and George Gammie left their homeland in Scotland, in search of wealth, adventure and a new life. After searching resources held at the State Library of Queensland, a picture was starting to develop about the exploration and true grit of John and George Gammie. The Gammie brothers were the sons of Dr Peter Gammie and his wife Mary, formerly Mary McRobb of Aberdeen. George, the youngest of five children, was subsequently baptised at Forgue, Aberdeenshire on 30 August 1819. His elder brother John, one of twins, was born on 5 April 1817. George and John arrived in Sydney with letters of introduction to Governor Sir George Gipps. They made their way to Bathurst and found work and eventually purchased land on the Darling Downs in the 1840's. They had arrived in Australia after being tempted to explore this distant land after hearing an address given by Ernest Elphinstone Dalrymple, a gallant young officer in the Highland regiment, who had returned home to Scotland for a family celebration.
Dalrymple spoke of his travels in India, Ceylon and the United States and predicted the Civil War between the North and the South over slavery, which broke out nearly 30 years later. He spoke about the explorations of Allan Cunningham in Australia. Ernest told his audience about the fertile land and fortunes to be made, for those adventurous enough to take the journey to this new land. He then surprised his audience by announcing that he had decided to resign from his commission and was forming a party of Aberdonians and was making his way across the seas to Australia. Dalrymple made his plans and a group of fellows came forward with their intention of joining him. These were George and Patrick Leslie, George and John Gammie, George McAdam and James Fletcher. An article in the Courier Mail gives the full account of the Scottish Adventurers on the Downs
Sketch of sheep washing on the Darling Downs 1860s. John Oxley Library, State Library of Queensland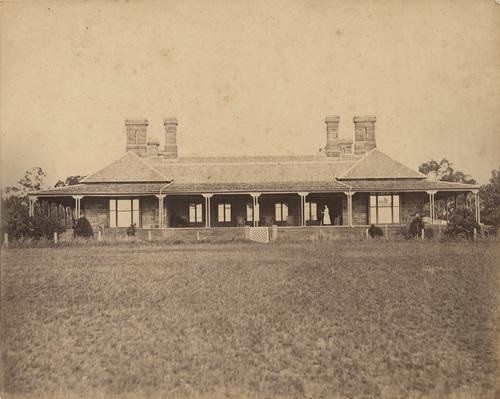 Homestead at East Talgai Station Queensland ca. 1877. John Oxley Library, State Library of Queensland
John and George Gammie had been working on a station near Bathurst when their employer fell on hard times; he was unable to pay their wages and offered them 3000 Catarrh stricken sheep and an old grey mare as payment. Unsure what they were going to do they decided to make the journey to Queensland and join Dalrymple and the Leslies on the Darling Downs. They set out without a map and only makeshift directions on how to get there. They trekked overland finally reaching the Downs, settling on land next to the Leslies. They were hard working and soon established themselves in the district; John Gammie took up a lease on land known as the Pilton run, which had been transferred from Philip Pinnock. An article appearing in the Sydney Morning Herald, on 2 August, 1848, estimated the area was 30,000 acres, with grazing capabilities, for 10,000 sheep. His neighbour John Taylor secured the adjoining run named Goomburra an estimated area, 45,000 acres. The Goomburra run comprised of the two heads of Dalrymple Creek from their sources to the boundary line between Goomburra run and the licensed station of Mr. Geo. Gammie, about one mile below the main line of road leading from Warwick to Cambooya. Both brothers never looked back, They increased their flocks considerably by the purchase of 7000 sheep from the Forbes at Clifton, and in 1848 they took over the old Talgai run. They continued to purchase more pastoral runs, such as Stonehenge and by 1854 George was shearing as many as 60,000 sheep. In the same year cattle in the Hunter River country were being sold at the famine price of 5/ and 6/ a head, and the Gammies bought a great herd of 10,000 cattle and drove them to the Darling Downs. These facts are gleaned from Thomas Hall's reminiscences, and Hall relates that after the cattle had been fattened several drafts were sent to Ipswich to be boiled down for tallow, and the balance sold to W. B. Tooth, Clifton, at £3 per head. The Gammies made a handsome profit on their speculation. They strengthened their flocks with the best merino sheep obtainable, on the advice of Mr. Fred Bracket, the manager of Rosenthal. Although drought, flood, and disease decimated their flocks the Gammies became very wealthy. This fact is revealed in the letter books of the late James Morgan, father of the late Sir Arthur Morgan, who managed the property from 1849 to 1854.
Portrait of shearers and farm workers in front of a farm building at Talgai Queensland. John Oxley Library, State Library of Queensland
John Gammie also had a keen interest in growing cotton at Talgai and in the Courier on the 30 July 1862, was described as the most practical and most successful, sheep-farmer of his day. A letter from him to the Courier received a few months prior to his death, gave his views on the possibility of producing cotton in Queensland, at a cheap rate with European labour. His letter to the Courier dated 1 March 1853, said:-
Dear Sir,
Hearing that you contemplate visiting Europe shortly, I avail myself of the opportunity thus afforded me to send to the manufacturers of Lancashire a sample of cotton, the product of my garden. My station is situated on the tableland, Darling Downs, 1200 foot above sea level, and 100 miles from navigation. I assert to you, as a practical man, that it is possible for each sheep station, having two shepherds and one hut-keeper, to produce as many bales of cotton in their own time as I shear wool off my sheep.
It is the produce of sea-island seed; the picking extended over three months; and that picking comes in between our shearing and weaning. I was four or five years on the Mississippi and New Orleans, and engaged in the cotton trade, and am convinced that this country offers great advantages over the States for producing this commodity, and at a cheaper rate than has been grown with slave labour, and, as I have already hinted, can be worked to advantage on all wool-producing establishments in these northern districts, and particularly on those stations where married men and families are employed.
Yours very truly
John Gammie
Sadly, it was reported in the Moreton Bay Courier on Monday 8 August 1853, that John Gammie had died suddenly at his lodgings in Ipswich aged 34. Then in early 1855 North Talgai was sold to Messrs. Hood and Douglas and soon afterwards George Gammie returned to England.
According to Hall's account the property then fell into the hands of Massie and Walker. It was cut in two. Clark and Hanmer, taking the Old Talgai end, and Donald Gunn, the southern half, which was always known as North Toolburrii. Later, North Toolburra and acquired later by the Coutts family.
After arriving in England and with part of the proceeds of the sale of his properties in Queensland, George purchased the Shotover Estate in Oxfordshire. Soon after purchasing the Shotover estate, George Gammie married Ellen Yaldwyn at Midhurst, Sussex on 20 September 1856. The birth of their first child followed almost immediately and is registered in the Headington registration district for the July-September quarter of 1856, as "Female Gammie". So it is presumed the family were already resident in Shotover House by this date.
It would seem that George Gammie became a permanently resident in England from at least 1856, although he also had connections in New Zealand. More information about this family can be found here and by searching the historical newspapers through Trove. Other articles can be found in The Maitland Mercury and Hunter River General Advertiser, Saturday 12 August 1848 and the Brisbane Courier 30 July 1862. The family history section of the State Library of Queensland, holds a vast amount of materials, which include personal papers, diaries and photographs. There are also copies of the Pre-separation index of Moreton Bay Region, 1824 – 1859 and Indexes relating to the papers of the N.S.W. Colonial Secretary 1788 – 1825 and much more.
Janette Garrad – Original Content Technician, State Library of Queensland
Comments
Your email address will not be published.
We welcome relevant, respectful comments.