A Scotsman, an Irishman and a Tasmanian set up shop
By Simon Miller, Library Technician, State Library of Queensland | 26 March 2013
It might sound like an old joke but this is really the story of a shopping revolution and how it played out in Brisbane's Fortitude Valley. By the 1890s, three men, James McWhirter (the Scotsman), Thomas Charles Beirne (the Irishman) and William James Overell (the Tasmanian), had all established their own drapers shops in Fortitude Valley. Over the next few decades they would transform these humble shops into modern department stores and make the Valley a shopping destination rivaling the Brisbane City centre.
William James Overell was the grandson of another William James Overell (1790-1866) who arrived in Hobart Town in 1821 as a free settler. At the age of 23 young William decided to pursue his fortune in the warmer climate of Queensland, travelling with some of his brothers and sisters in the Florence Irving and arriving in Brisbane in 1877. In 1883, after working for another company for a few years he established a business in partnership with Mr. T. White in Fortitude Valley. A few years later, a branch was opened in Queen Street, managed by William's brother Joseph. The great flood of 1893 inundated the Queen Street store to a height of 11 feet and destroyed all of the stock. The city store was then sold to Joseph Overell.
Overell's Drapery Shop in Fortitude Valley, ca. 1900
Overell's Drapery Shop in Fortitude Valley, ca. 1900
William bought out his partner and purchased a block of land with frontage on Brunswick and Wickham Streets, although he was never able to buy the block on the corner which was occupied by the Bank of New South Wales. William Overell, trading as W.J. Overell & Sons, built a fine new shop on the land but in 1904 disaster struck again when the shop and all the stock was destroyed by fire, the complete destruction taking less than an hour. William Overell was not daunted by this loss and rebuilt the store, even adopting the phoenix as his new trademark to symbolize the business rising from the ashes. The new shop replaced the earlier gas lighting with electricity generated on the premises, the power also being used to drive two passenger lifts and a goods lift. Overell's company also had branches in Charleville and Laidley and the Charleville branch had also been destroyed by fire and rebuilt. Another branch in Childers was also burned out.
Fire-damaged Overell's Department Store in Fortitude Valley, 1904
Fire-damaged Overell's Department Store in Fortitude Valley, 1904
The library holds a family history publication Overell connections 1821-1987 which includes copies of many documents relating to William J. Overell, the business, and the Overell family. An article copied from the Methodist Leader of Christmas 1908 describes the setup of Overell's new store.
The Wickham Street building is entirely devoted to men's and boy's clothing, shirts, hats, travelling goods, and men's boots. On Brunswick Street ground floor is found manchester, dresses, ribbons, laces, gloves, hosiery and fancy goods departments. In the basement the ladies' boot department occupies a large portion ; also furnishing department, where are to be found the finest assortment of floor coverings in Brisbane. Wickham Street basement is used for bedsteads, bedding, and heavy goods.
The kiosk is an ideal Turkish Open Summer House, supported by pillars, where ladies are supplied with tea and light refreshments without charge. All are welcome to morning, mid-day, and afternoon tea. Adjoining Kiosk is a grass lawn, with comfortable seats, where gentlemen are supplied with coffee, where they can rest and enjoy a smoke while their lady friends are shopping.
Thomas Charles Beirne was born in the village of Ballymacurley in Ireland in 1860 to a family of small farmers. The library holds his autobiography The Life story of Thomas Charles Beirne published in 1947. Thomas was apprenticed to a draper at the age of 14 and worked at various companies before making up his mind to go to Australia. He arrived in Melbourne in 1884 and took work as a junior salesman for Eyre & Sheppard and then worked for Foy & Gibson's, then the biggest store in Melbourne. In 1885 he recieved an invitation from a former employer from Ireland, Mr Pigott, who wanted Beirne to join him as a partner in a new business in Brisbane. After a setback when Pigott's proposed premises were no longer available, the firm of Pigott and Beirne opened in Stanley Street in 1889.
Thomas Charles Beirne, aged 24 years
Thomas Charles Beirne, aged 24 years
The company of Pigott and Beirne also suffered an early disaster as the whole block containing their shop caught fire in January 1889. They started again and after 18 months Pigott bought out Beirne's share of the partnership and he had to start again on his own. Thomas rented a small shop in a block owned by the Church of England and after a few months rented a second shop in the block and then a third. He wanted the owners to make alterations so the shops could be joined together but instead the Church treasurer offered to let him buy the whole block for £8000. In 1894 Thomas Beirne employed a new manager who would become a partner in the firm for a limited term. This was James McWhirter and Beirne became so confident of McWhirter's management that he felt able to make a trip to London to set up a buying office. In 1898 McWhirter left the partnership and set up his own shop on the other side of the street. This was the beginning of an intense rivalry between the two companies, yet the McWhirter and Beirne families remained good friends.
Beirne's department store in Fortitude Valley, ca. 1919
Beirne's department store in Fortitude Valley, ca. 1919
Thomas C. Beirne was not just a successful businessman, becoming one of the first millionaires in Australia, but also took on other responsibilities in public life. He was a member of Queensland's Legislative Council from 1905 until the upper house was abolished in 1917. He served on several boards including the Brisbane Gas Co. and the AMP Society. From 1927 until 1940 he was Warden of the University of Queensland and donated £20,000 to establish a School of Law which was named after him.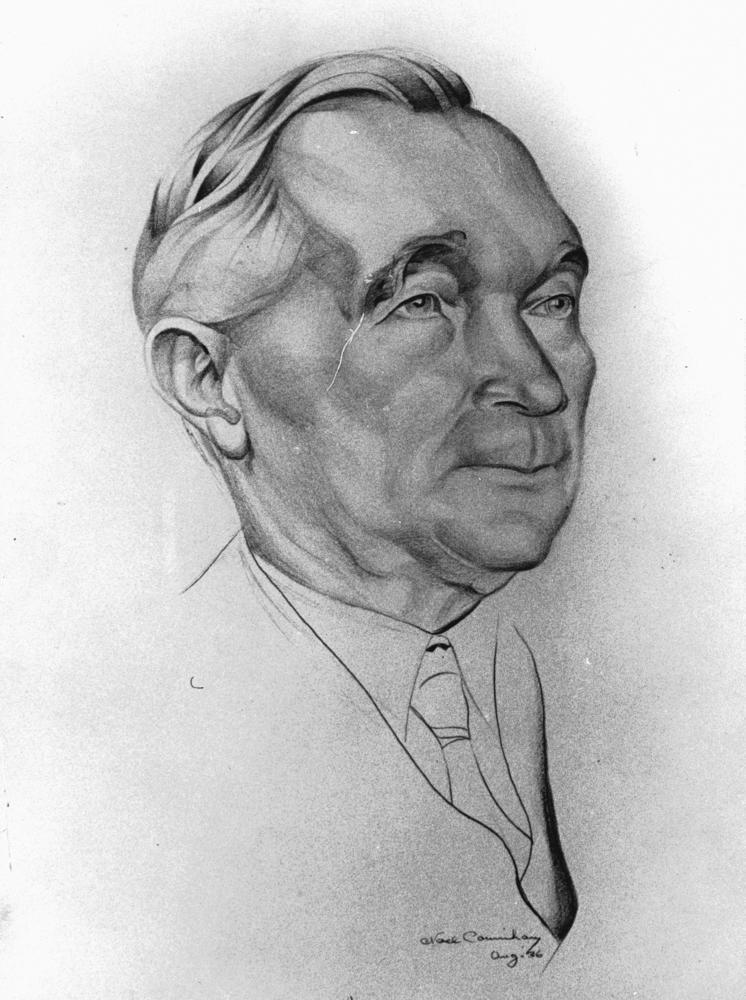 Thomas Charles Beirne 1936 by Noel Cournihan
Thomas Charles Beirne 1936 by Noel Cournihan
When James McWhirter joined T.C. Beirne's company it was on his second venture into business in Brisbane, having first arrived in 1880. He worked for D.L. Brown & Co. before setting up his own successful drapery business but then sold up and returned to Scotland. After ending his partnership with Beirne, McWhirter launched his own small business in Brunswick Street, employing around 30 people.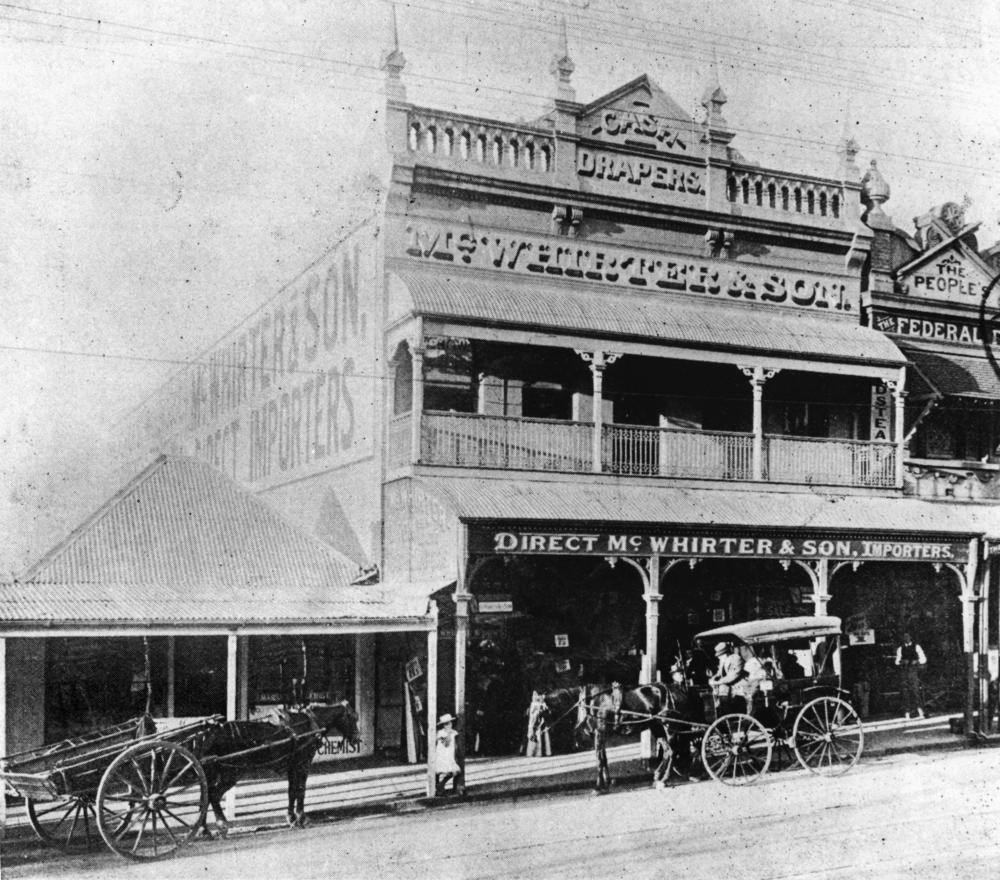 McWhirter & Son Drapery warehouse in Brunswick Street, 1900
McWhirter's department store in Fortitude Valley, 1913
McWhirter's department store in Fortitude Valley, 1913
McWhirter soon expanded his business, buying adjoining properties and then in 1912 building a new five story building with all modern conveniences. All three of these companies developed thriving mail order businesses which were very profitable and also provided a valuable service to far flung parts of Queensland. McWhirter's offered free shipping on drapery orders. The Library holds catalogues from McWhirter and Beirne as well as McWhirter's shopping guides from the 1920s.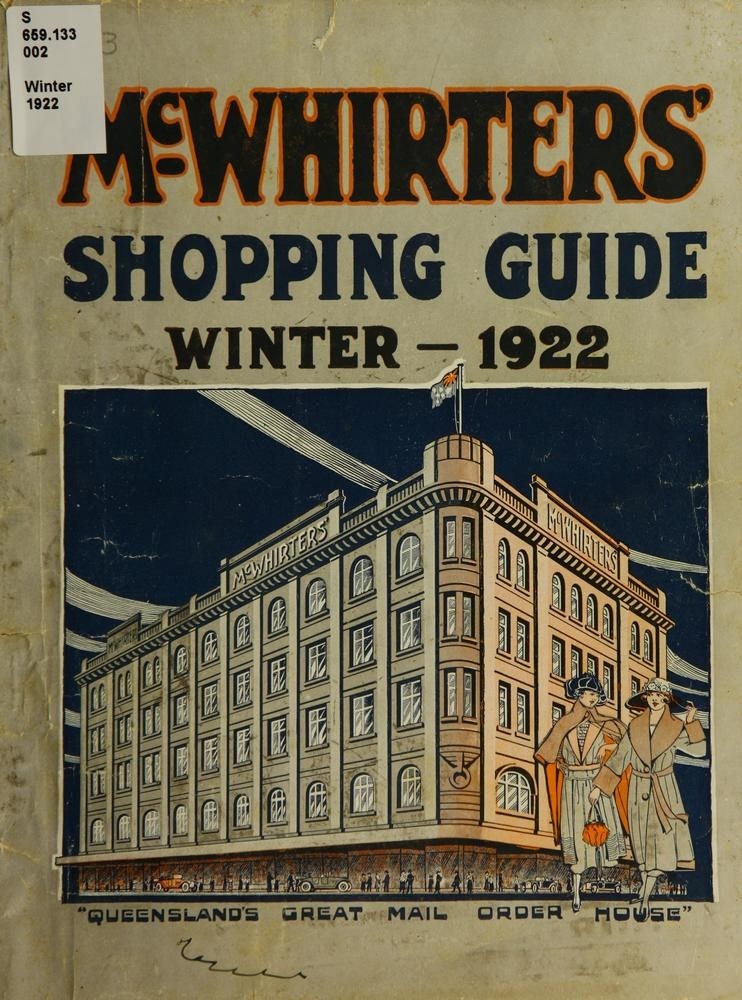 McWhirters shopping guide 1922
Phone orders section in T. C. Beirne's deparment store, 1952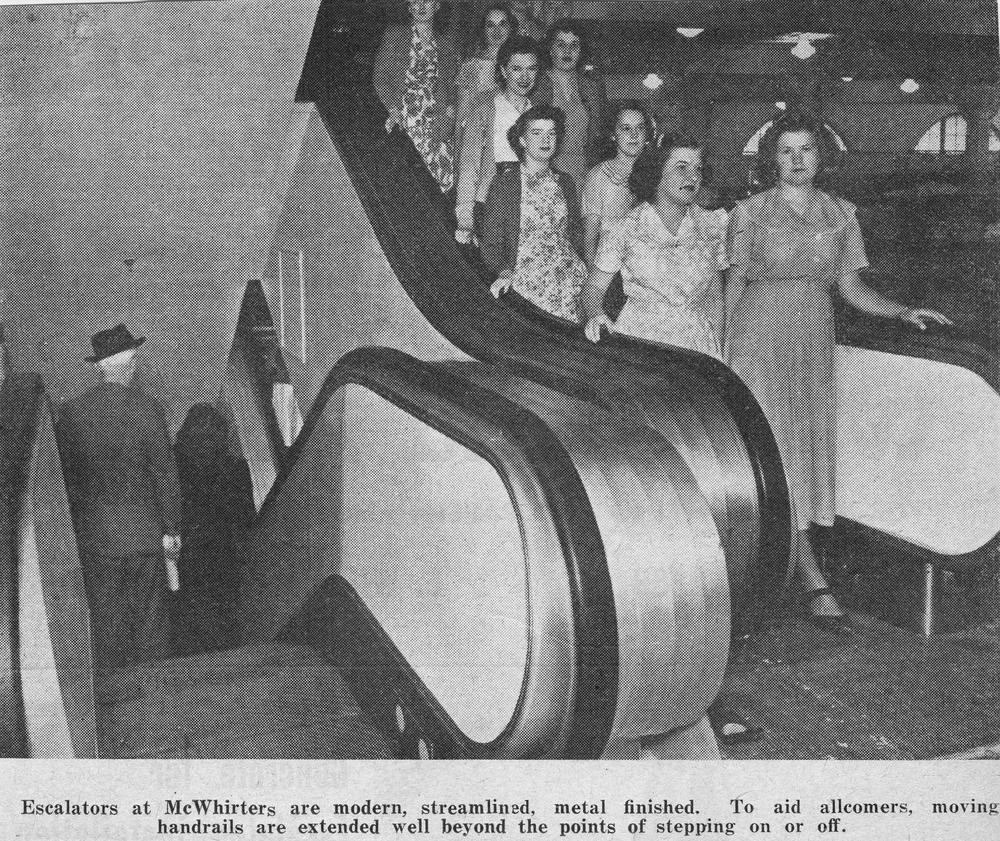 Customers using the escalators at McWhirters store Brisbane 1950
Customers using the escalators at McWhirters store Brisbane 1950
The iconic art deco facade of McWhirter's last big expansion was constructed in 1932 to a design by Hall & Phillips, who also designed Brisbane City Hall. By the 1970s all three department stores had been taken over by big southern companies. McWhirters was run by Myers, Beirnes became David Jones and Overell's store was run by Waltons and by the end of the 1980s the rise of the big suburban shopping malls had led to the inevitable decline of Fortitude Valley as a major shopping hub. McWhirter's heritage listed building was refitted as McWhirters Markets and the Beirnes building has also been refurbished and re-purposed, now just called TCB.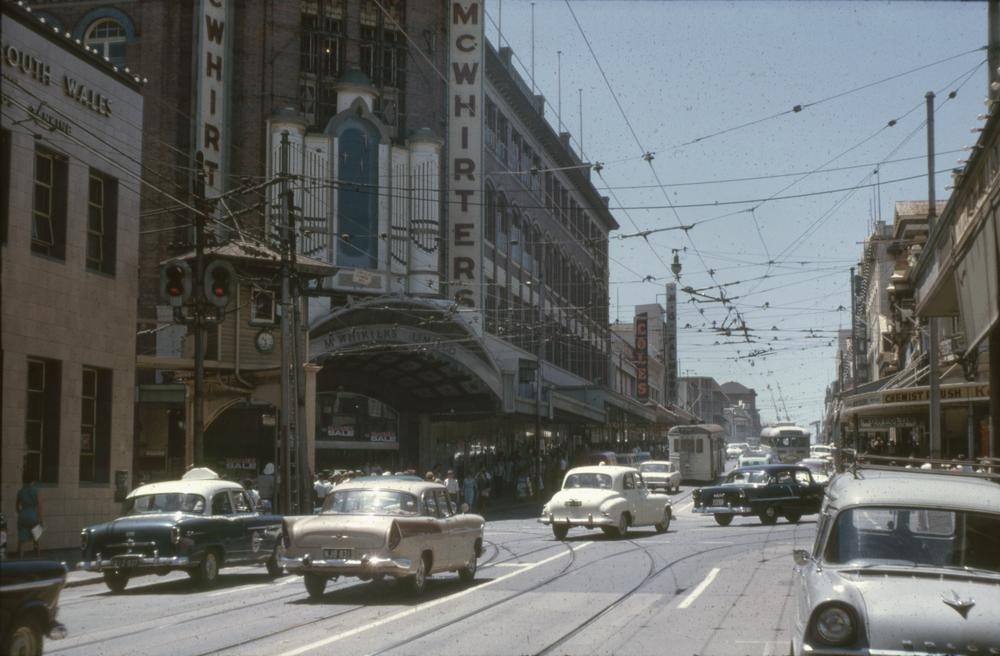 Facade of McWhirters' department store in Fortitude Valley, ca. 1960
Comments
Your email address will not be published.
We welcome relevant, respectful comments.