Royal Wedding Gifts
By JOL Admin | 29 April 2011
As Prince William the Grandson of Queen Elizabeth II marries Kate Middleton, we reflect on some of the gifts given to the Queen on the occasion of her own marriage to Lieutenant Philip Mountbatten in 1947.
In nearly every instance a country gave something typical of its best products, exquisite lace from Malta, bracelets of gold from South Africa and linen from Northern Ireland.
The Queen received thousands of precious gifts from around the world. The official gift from the Brisbane City Council was a rare and valuable pendant of 8 black Queensland opals from Lightning Ridge and matching earrings. The large centre stone of light opal, was chosen by the designer and maker, Mr. E. H. Staines to suit the Princess' fair complexion. A cigarette box of choice Queensland maple with in-laid woods was presented to the groom. The money for the gift was raised through the Lord Mayor's Princess Elizabeth Wedding Gift Fund.
Two silver salvers and comports decorated with hand-chasing were sent from the Australian Commonwealth Government to the Royal bride and her bridegroom. The salvers had a pierced border of cattle design and three hand-pierced feet. The Commonwealth coat-of-arms was inlaid in gold on the comports, inscribed on the salvers.
The list of presents from Australia also included a wedding cake from the Country Women's Association in Australia, Wedding cake ingredients from the Girl Guides of Australia and 10 1b of icing sugar from a Queensland resident.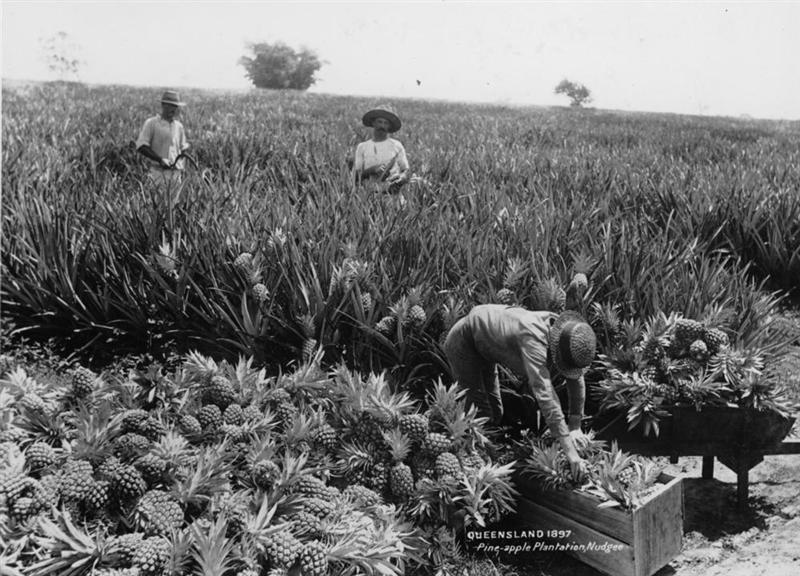 Nudgee pineapple plantation, 1897. John Oxley Library Image 109952.
However, perhaps the most unanticipated gift was 500 cases of tinned pineapple and matching gift labels from the Queensland Government. The gift seems unusual until you consider that Britain remained financially exhausted as a result of the war effort. Wartime austerity not only continued well into peacetime but rationing of essential commodities was even worse in 1946 and 1947 than it was during the war, which is why the Royal couple had requested that some of their gifts should be directed to their people.
Karen Hind and Trudy Bennett
Librarians, Heritage Information Services.
Comments
Your email address will not be published.
We welcome relevant, respectful comments.