Rona Joyner and the Society to Outlaw Pornography
By JOL Admin | 26 September 2016
The founder of STOP (the Society to Outlaw Pornography) and CARE (the Committee Against Regressive Education), Rona Joyner was either a crackpot or a defender of society's morals, depending on your point of view.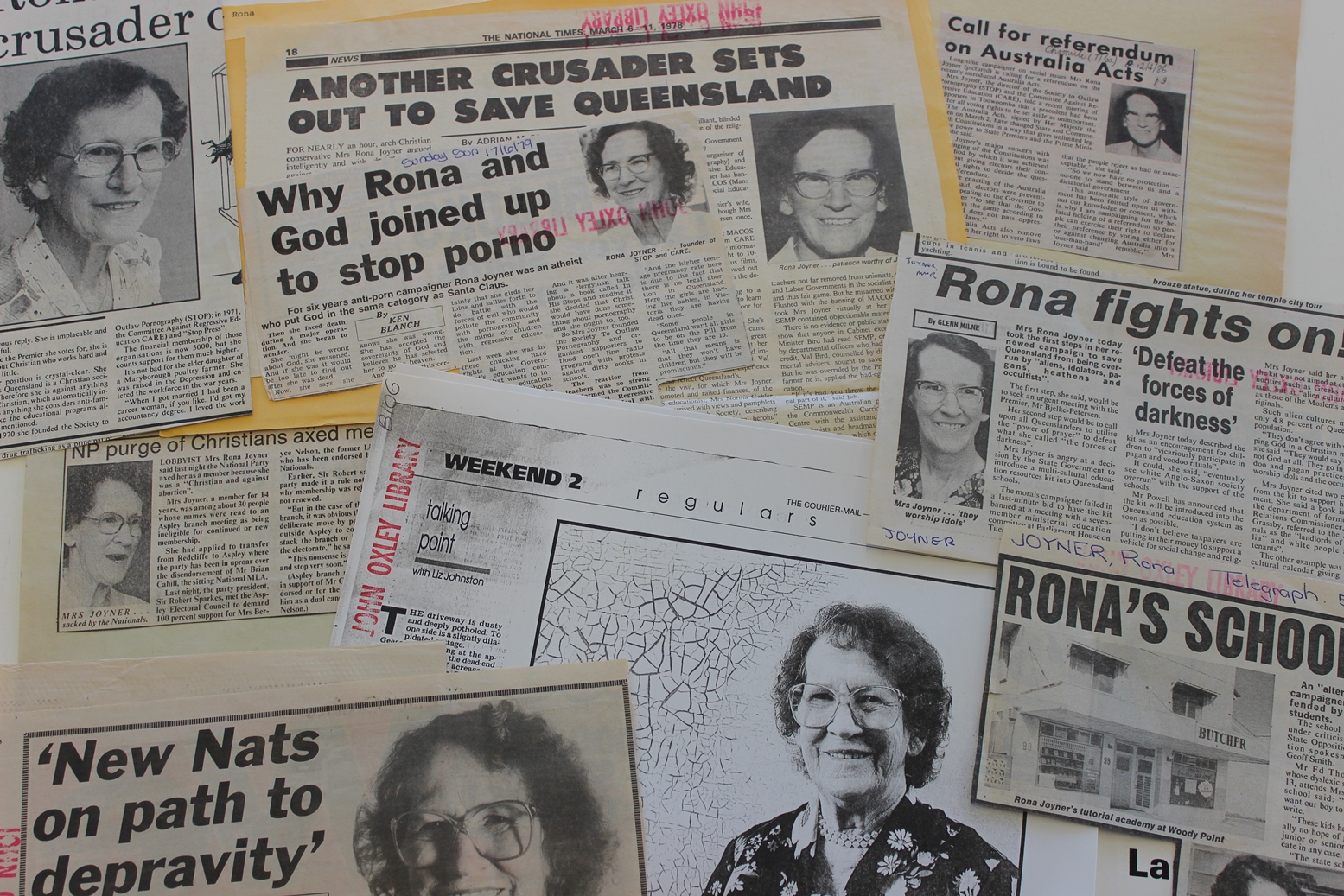 Queensland teachers who were around in the 1970s still wince at the mention of her name. With the support of the Premier, Joh Bjelke-Petersen, she succeeded in getting the MACOSopen_in_new and SEMP (Social Education Materials Project) courses and learning materials banned from Queensland schools.
Two big sticking points were the teaching of evolution and sex education, but she waged a heavy campaign against un-Christian and subversive books in general.
The list of banned books published by Semper, v 48 no 3 (1978), p 7. *Please see footnote.
Her activities made university students froth at the mouth. A 1978 article in Semperopen_in_new, the University of Queensland student magazine, included what they called her 'death list'. These were books on school reading lists which she considered 'suspect'.
They included titles such as To Sir with Love, The Old Man and the Sea and more than a hundred others.
In their place she recommended reputable and anti-subversive alternatives such as I Found God in Soviet Russia (Noble), Tortured for Christ (Wurmbrand) and Masters of Deceit (Hoover).
STOP press
By 2011, however, the softening effect of time allowed 'Q Weekend' to feature Rona in their Queensland icons series. The article has a rather lovely photographopen_in_new, taken by Russell Shakespeare, of Rona in her old age. It elicited a range of responses, from the admiring "I admire Joyner as she was passionate enough to take a strong moral stand" to the exasperated "This woman used to travel 20km to P&C meetings just to interfere in the running of our school. With her puritanical influence on the social fabric of this city, she singlehandedly caused hundreds of wonderful future citizens to leave the state".
Material held in State Library of Queensland includes:
Newspaper clippings about Rona Joyner - a file mostly from the 1970s and 1980s, with some from the 1990s.
STOP press and STOP and CARE's education letter - newsletters of the Society to Outlaw Pornography and the Committee Against Regressive Education,
"SEMP : the case against : submission to the select committee of enquiry into education (Q'ld)" by Rona Joyner (1980)
References
STOP press, v.1 no.1, March 1972
STOP press, v.1 no.2, June 1972
Kieza G. It's terrible how people have gone away from God ...There's more of everything that's bad in 'Q Weekend', November 5, 2011, p.14. The responses quoted are from the mailbox of November 19.
*Footnote: Mrs Rona Joyner made clear statements that the "Death List" was not her work and that neither did she have equipment capable of producing that layout. As such, no copy of this document is held by the John Oxley Library in the large collection of documents donated by Mrs Rona Joyner and STOP and CARE.
Comments
Your email address will not be published.
We welcome relevant, respectful comments.