RON MCBURNIE WEEKEND
By Administrator | 26 October 2012
Metal as anything, the retrospective exhibition of Ron McBurnie's work, Ron spent last weekend at State Library. On Saturday he taught a drawing and watercolour workshop and on Sunday did an artist's talk in the Philip Bacon Heritage Gallery and later a more extensive illustrated presentation.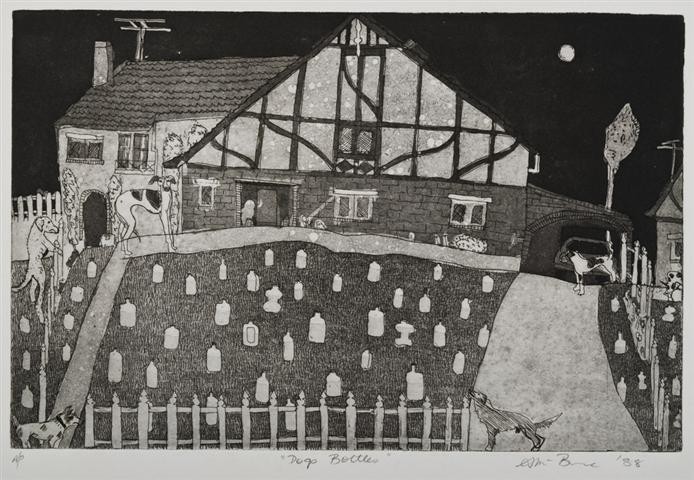 Ron writes:
"I had a really enjoyable weekend spent doing a workshop and two talks in conjunction with the Metal as Anything exhibition at the State Library.
The Saturday drawing/ painting workshop began by looking at examples of my paintings, drawings and etchings and discussing suitable materials and some simple techniques.
We then moved with our portable camping chairs and materials to the grassed area between the State Library and GOMA. We had a great view of the Brisbane River. Many of the workshop participants could either draw quite well and wanted to brush up on certain skills or were beginning to make art but until the workshop did not have enough time to devote to it.
One of the great aspects of any workshop situation is the dialogue that begins and continues between the people who attend. This seemed to be happening between many of the people who attended. Most people set up in close proximity to other participants and had a lively discussion about their work.
During the workshop I moved between the different people and discussed possible directions in which they could take their work as well as to suggest possible technical ideas.
I enjoyed working with the group and the challenge of working en plein air using the figures, the trees and the river was very exciting."
Ron collects funny stories to incorporate into his work and his talks were both enlightening about his influences and etching techniques, and amusing.
He told some of the stories behind his Suburban etching series such as his Uncle Chip sending his ducks, whose wings were clipped, up in a box kite so they could have an idea of what it was like to fly.
Then there was the cat who tried, three times, to jump onto a table in a painting by Margaret Olley.
Ron also discussed his other works, including The rake's progress series and his Romantic works influenced by study of the etchings of Samuel Palmer and the group of artists he worked with known as The Ancients. Particularly interesting is his use, following the Ancients, of line in his etchings to achieve rich tonal ranges through the layering of hatching in different directions.
Ron's website can be viewed at www.ronmcburnie.com and his blog of his collection of prints by the Ancients at www.ancientprint.com
The second White Gloves tour associated with the exhibition is Tails from the artists' books collection on Saturday 3rd November at 2pm.
Ron will hold a workshop on Beginners etching on 17 November. His workshop on Printmaking without acids is unfortunately already sold out.
More images of his etchings are available on the Metal as anything exhibition web site.
The exhibition Metal as anything, is open daily on Level 4 of the State Library of Queensland until Sunday November 25, 2012.
Comments
Your email address will not be published.
We welcome relevant, respectful comments.