Romance ends in tragedy for long-distance lovers
By Myles Sinnamon - Engagement Officer, State Library of Queensland | 12 February 2021
In 2006, a small, unassuming diary, written between 1885 and 1886, made its way across the oceans for the third and final time, finding its new home at State Library of Queensland. The diary's author was Thomas Beynon, a 21-year-old coalminer from the village of Glycorrwg, Glamorganshire, Wales, who decided to leave the country of his birth behind and attempt to make a new life in the colony of Queensland. Thomas' words carry great optimism for his future life and love, but his story ultimately ends in tragedy.
Diary of Thomas Beynon Diary 1885-1886. State Library of Queensland collection
Prior to his journey, Thomas was given a partially used mining account book, which served to document his voyage to Australia. Leaving Gravesend aboard the ship Duke of Buckingham bound for Maryborough, Thomas wrote about daily shipboard life, the weather and sea conditions, other passengers, visits to ports of call, the entertainment and the meals eaten.
Along with journal entries, Thomas kept drafts of the letters he sent back to Wales to his sweetheart Jenet Popham. In the one of these tender love letters, written after his arrival in Queensland, Thomas attempts to persuade Jenet to join him.
"
[T]here is no difference hardly in the price of food here than at home and there is plenty of demand for dressmaking here if you was here you might pick up a good penny at it if you would think it worth the while to hold at it, you said in your letter that you should like to be in my arms again but you would not wish more than i should like to have my darling sweet Jenet in my arms again, the one that i have love [loved] and caressed better than myself, although i could not help it but I hope it will not be lost in this wide world while i am far away from the love, yes my darling i do remember well the last kiss too, i have heard a song in welsh its called "the last kiss" and I used to like to hear it sung but i should not like to hear it sung now as i know.
Thomas Beynon
In another letter to Jenet, he laments that in the rush to disembark the Duke of Buckingham he left all his money under his pillow. Thomas contacted the agent and two telegrams were sent to the ship, however the money could not be found.
Within four months of arrival in Maryborough, Thomas headed south to the Gympie goldfields to find work. Tragically on 10 April 1886, he was fatally injured while working in the Crown and Phoenix mine. While ascending the mine shaft a cage guide sprung out and hit him in the face. Thomas clung to life for several days in hospital before expiring from his injuries. The Gympie Times newspaper highlighted the actions of one Thomas Barton, a fellow miner who was with Beynon during the accident.
"
The man would undoubtedly have been precipitated to the bottom, and as undoubtedly been killed outright, had not his mate, Barton, with great presence of mind, instantaneously caught him, and afterwards, held him until they were both lifted to a level above.
Gympie Times, 13 April 1886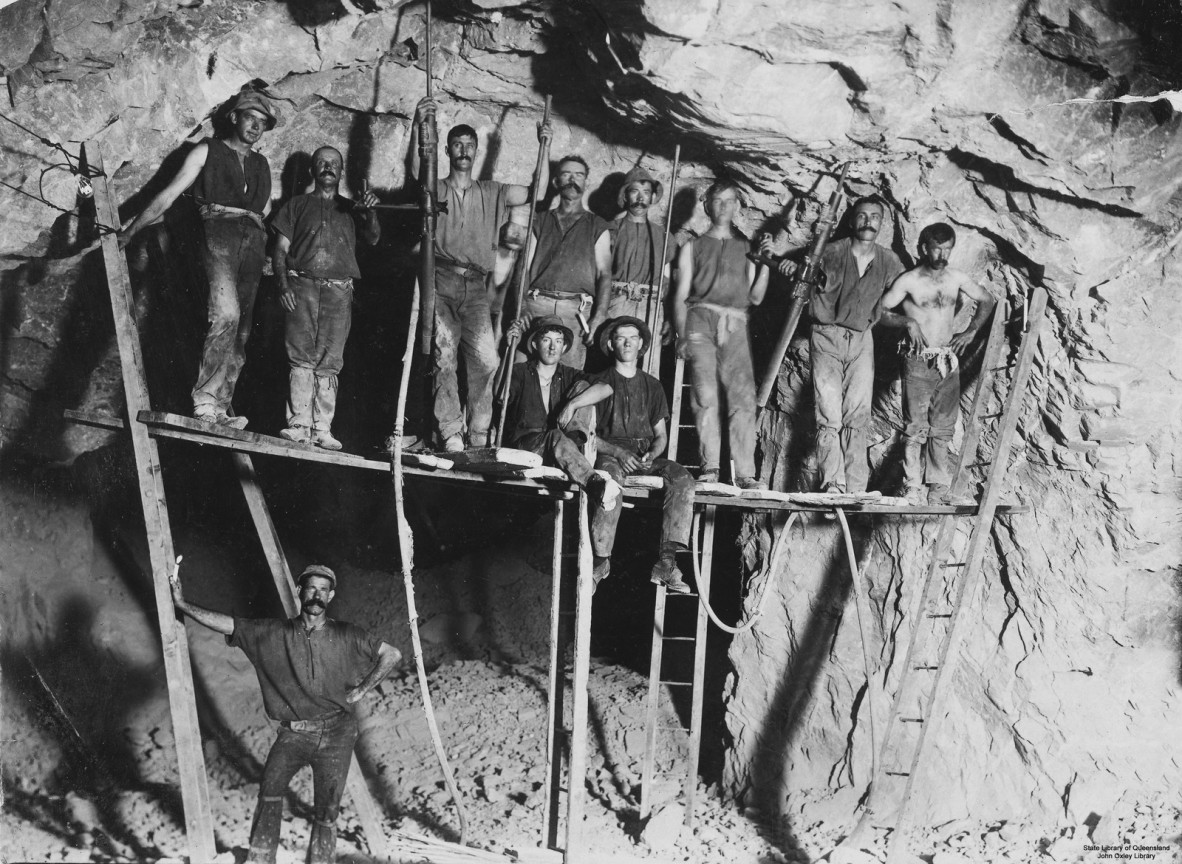 Miners working in a gold mine at Gympie, Queensland. John Oxley Library, State Library of Queensland. Negative number: 15910
He was buried in King Street and Tozer Park Road Cemetery. The diary along with two nuggets of gold were sent inside a trunk back to his family in Wales. Thomas' father was so distressed that he wouldn't open the trunk in the six months or so following his son's death.
So what happened to Jenet Popham? We know a little courtesy of the 1891 census for England and Wales. The census taken in April of that year shows an unmarried, twenty-four year old Jenet residing in Glyncorrwg. Her occupation is listed as dressmaker. According to the England and Wales marriages index Jenet was married in same year.
In the early 2000s, Thomas' great nephew, living in the UK, contacted State Library of Queensland after finding Thomas's name on a list of Queensland mining accidents, compiled for family history researchers. The family were pleased to receive additional information about Thomas' death and later decided to donate the diary to our collection.
Along with having a place in our physical collections, the diary has been digitised making it available to view online through our One Search catalogue. His touching love letters to Jenet are at the back.
"
It can't have been an easy decision to emigrate alone, and leave his family and sweetheart behind. But it shows that he had a vision and a determination to make a better life for himself. His dream was to end in tragedy. But through this diary he has left behind a unique insight into what life was like for a late 19th century emigrant on board a ship destined for Australia.
Thomas Beynon's great nephew, Graham Reynolds, 2006
Comments
Your email address will not be published.
We welcome relevant, respectful comments.