Ringer and Ranger, Tom and Tiger – not reindeer but leaders in the bullock teams of the past
By Christina Ealing-Godbold, Research Librarian, Information and Client Services | 7 December 2021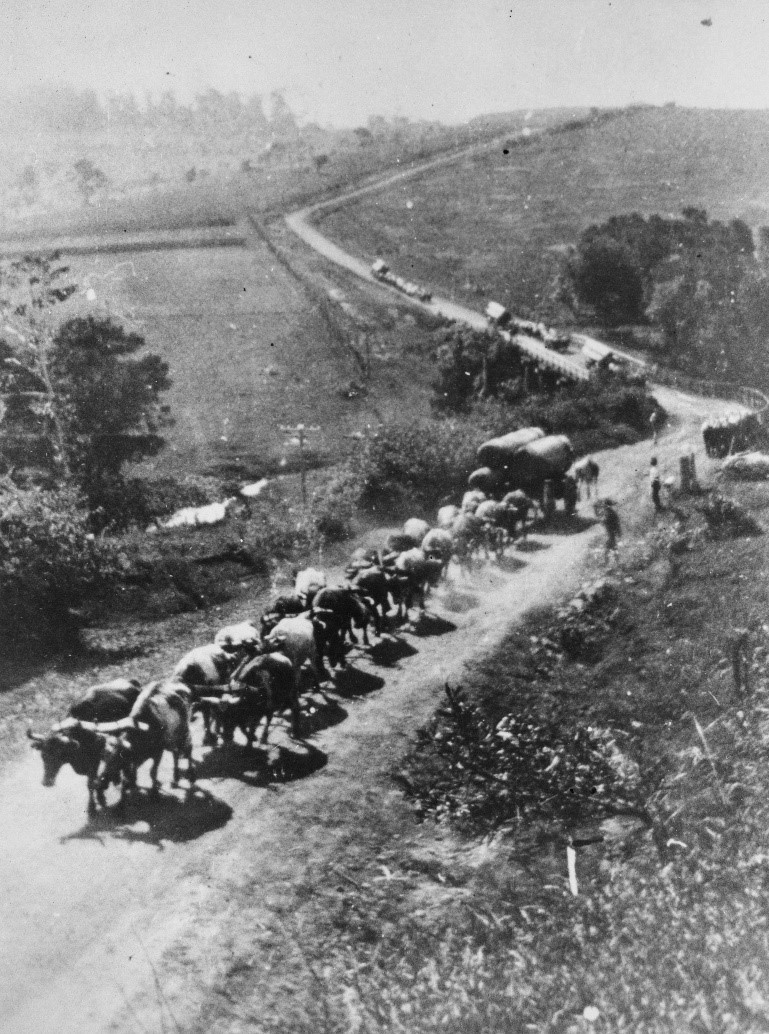 Bullock teams crossing the Blackall Range at Maleny. There are a number of teams, each carrying heavy loads of logs. John Oxley Library, State Library of Queensland. Negative number: 5057
The timber getting industry of the Sunshine Coast relied heavily on the use of bullock teams. My interest in the early pioneers of the Sunshine Coast hinterland was sparked by a research enquiry received via Ask Us, State Library's research and information enquiry service, and by an older friend telling me that they could remember the bullock teams going up over the hill and down into Nambour in the early 1950s. State Library of Queensland has some excellent images of the Sunshine Coast bullock teams and their bullockies.
Timber getters and their bullock teams are long gone. However, they played a major role in the development of early North Coast settlements. Bullock teams hauled logs to a waterway, or in the steep country to chutes, where the logs could be launched. Bullock teams hauled the timber out of the forests to the sawmills, the railway stations and also to the wharves for the journey to Brisbane. There were often several bullock teams in and around railway yards at one time.
A bullock team consists of 12 to 24 desexed bulls (they can be of any breed) that are paired to perform heavy work. Bullocks were named, and answered to their name. The pairs were generally named with alliteration – Ringer and Ranger, Tom and Tiger or Sam and Sonny. The key to operating the team was creating the bond between the working pair and training an excellent pair as leaders. The bullocks who made up the team behind the leaders were called the polers. A good team could pull a load of up to ten tons of weight. With strong necks, they were then yoked together, which transferred their power through a pole or chain to pull the heavy load – either timber or other agricultural loads.
Mustering and yoking the team could take up to two hours. Usually, each bullock pair was called by name and yoked into the team. The wooden yokes were made of box or river oak and linked to metal chains and/or poles. Early amateur bush carpenters and blacksmiths could make the yokes. However, they needed to be fitted by the bullockie. The bullocks were controlled with a handful of voice commands and lengthy stock whips that enhanced the command - usually cracking for effect and emphasis. Bullockies often started their careers as young teenagers and worked for 30 or 40 years as bullockies.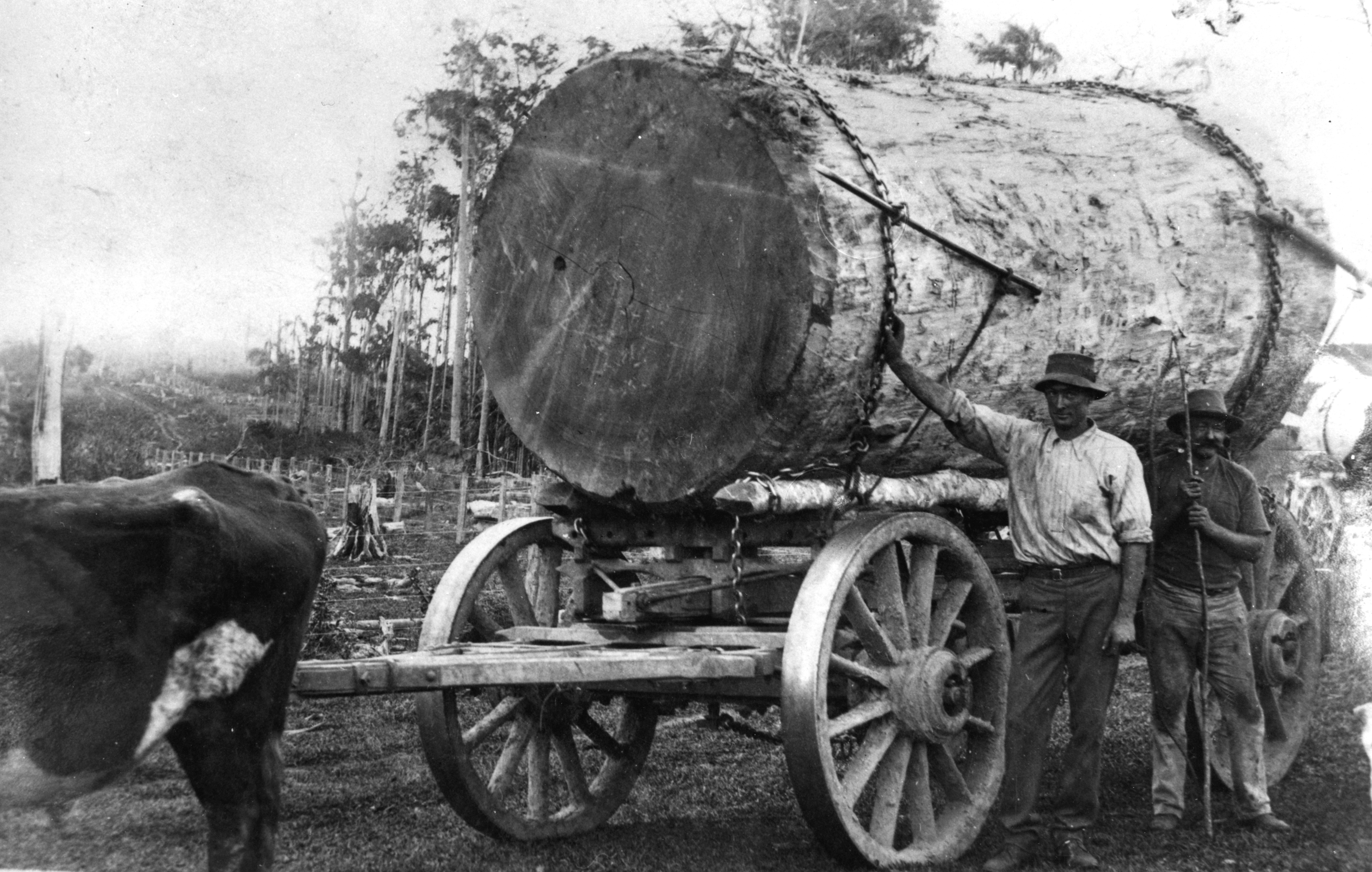 Bullock team transporting timber at Eumundi, Queensland, ca. 1895. John Oxley Library, State Library of Queensland. Negative number: 12199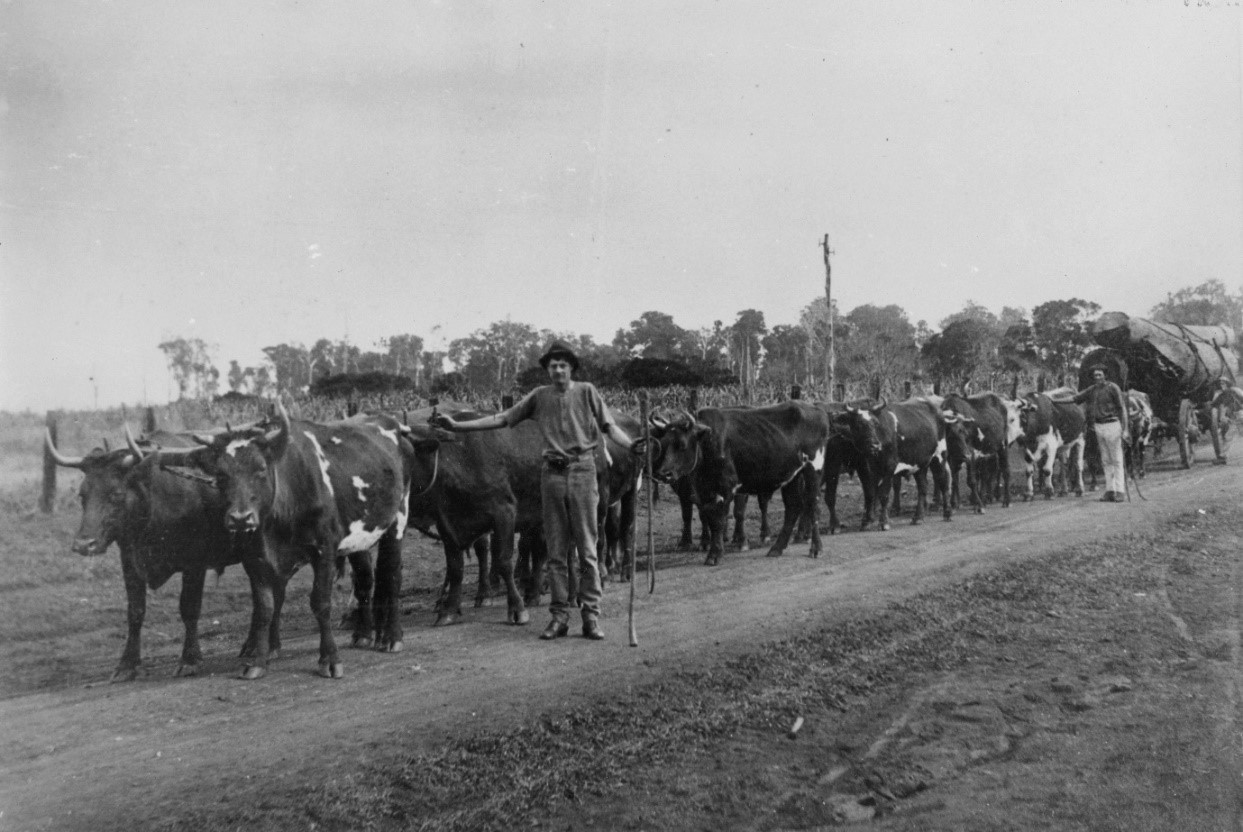 Ted Hankinson and his bullock team hauling logs near Maleny, Queensland, ca 1923. John Oxley Library, State Library of Queensland. Negative number: 5076
Newspaper articles reported that there were 60 or 70 teams working on the Sunshine Coast in the first half of the 20th century, and it was not uncommon to see several teams at once making their way to the railway station or sawmill yard. A good team was a valuable asset – as reported in the Mary River Mining Gazette in August 1918.
A Gulcher bullock owner claimed on Saturday that he made between 40 and 50 pounds per month from his team … Two bullock teams were recently sold at Imbil by Mr Baylis, at, it is understood, 400 pounds each"
Mary River Mining Gazette, Tuesday 20 August 1918, page 3.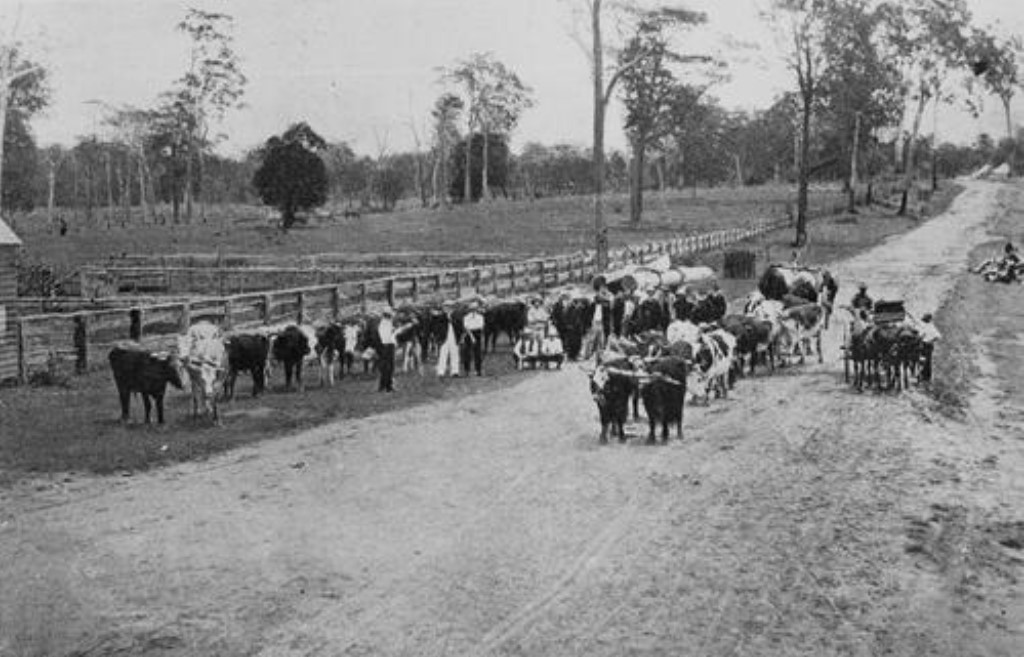 Auction sale of W. Litherland's bullock teams at Caboolture, 1907. The Queenslander, 23 March 1907, p 26. John Oxley Library, State Library of Queensland. Negative number: 35344
In the steep hinterland terrain, they were invaluable. Bullock teams were renowned for their patience and steady pulling power, and they did not need to be shoed. Generally, they lived on the available grass and did not need any special feed.
When coming down steep inclines, the brakes needed to be screwed on front and back of the load. This would have been a challenge on the Sunshine Coast hinterland ranges.
Bullock teams hauling logs through Landsborough to the railway yards. John Oxley Library, State Library of Queensland. Negative number: 9522
Bullock team hauling timber at Buderim. John Oxley Library, State Library of Queensland. Image number: APE-063-01-0003
There were many bullockies who worked teams on the Sunshine Coast, some as late as the 1950s. State Library has images of some of the teams, and names known to us are the Burgess, Grigor and Ferris families in the Beerwah/ Beerburrum/ Peachester areas; Russell Nipperess in Nambour; Aubrey Low in Eumundi; W. Litherland in Caboolture; "Budge" Miner in Pomona; Ted Hankinson in Maleny and Charlie Ball in Mt Cooroy.
'Budge' Miner and his son surrounded by their bullock team at Ringtail, Pomona, Queensland, ca. 1895. John Oxley Library, State Library of Queensland. Negative number: 34956
Motor transport replaced the bullock teams. It is hard to imagine the busy streets of Nambour sharing the roadway with cars, trucks, cane trains and bullock teams. It is equally difficult to imagine the railway stations of the Sunshine Coast filled with bullock teams of various sizes pulling heavy loads. Although a feature of our past, the opening up of the Sunshine Coast hinterland owes much to the bullockies and their teams who worked hard in challenging terrain and conditions.
Further reading
Comments
Your email address will not be published.
We welcome relevant, respectful comments.