Researching Queensland's fashion business history
By JOL Admin | 4 September 2014
Guest bloggers: Nadia Buick and Madeleine King from The Fashion Archives
When most people think of 'business' they imagine serious corporations and enterprises, not the 'frivolous' world of fashion. But fashion businesses have played an important role in the economic history of Queensland, and their story is a significant one. Through our online publication, The Fashion Archives, we've come across many pioneering names in Queensland fashion that warrant serious attention. Some remain familiar - T.C. Beirne, Bayards, McWhirters, Paula Stafford, Barry and Roberts, Wallace Bishop, Mathers – while others have faded from memory. Some of them traded for over a century, some of them invented radically new products, some of them devised complex and audacious marketing campaigns ahead of their time. Some grew from the kitchen-table or garage to become retail and manufacturing giants. Others started in small rural towns and went on to dominate national and international markets.
As inaugural recipients of the Queensland Business Leaders Hall of Fame Fellowship, we will be sharing the wonderful fashion items we uncover in the collections of the John Oxley Library over the coming months. At the end of the project we'll be presenting a special issue of The Fashion Archives called High Street Histories focusing on some of the leading fashion businesses our state has produced.
As we've been poring over business ledgers, retail catalogues, photographs, newspaper clippings, financial records, and correspondences, we've been thinking a lot about the value of business records to historians like us. Sometimes just a fragment of information can give us vital leads. For example, a small sales receipt can tell us about the price of a garment, the market tier it was pitched to, the address of the business at a given point, the items stocked, and the spending habits of its customers.
A case in point is the recently donated business records of Jenyns Corsets, one of Queensland's most successful fashion businesses, who traded for close to a century. When its founder Sarah Jenyns (1865-1952) was recently inducted into the Queensland Business Leaders Hall of Fame, the family's thoughtful donation to the JOL collection meant that we were able to get some new leads and insights into this leading corset label. We knew that Jenyns was extremely competitive in both national and international markets, with aggressive marketing campaigns, and a long paper trail of patent applications for their innovations to their fashion and surgical corsets. The new materials in the collection give us a fuller picture of what it takes to become one of the country's most significant underwear empires, and one of Queensland's longest running fashion companies.
Take for example this original design for an advertisement that we found in the collection. We don't know the date it was produced or where it was used, but it looks similar to other advertising imagery the company produced in the early 1930s. The hand-written annotations, written presumably by Sarah Jenyns, demonstrate the company's awareness of their brand image, and the refinement of their marketing message. Jenyns was remarkably successful at selling to multiple markets. They advertised in medical journals as well as fashion magazines. They promoted themselves as having "a Model for Every Figure and Every Occasion", meaning that they were able to reach the young and old, healthy and infirm; no body type could go unimproved by a Jenyns corset.
Jenyns Patent Corsetry Insignia 1950
This market diversity meant that they had to choose their words carefully, so as not to alienate their fashion market when promoting the health benefits. This advertisement shows how the words 'For Health & Beauty Wear' are changed to 'High Quality Corsets and Girdles that ensure Beautiful Figure Lines' to emphasise the fashion angle. The tag line 'Fashionable, Reducing & Supporting' was altered to the more direct descriptive, 'Surgical as well as fashionable'. In marketing campaigns from the early- to mid-20th century, Jenyns used other lines to attach their image to style over medicine: "in service to health and beauty", "the foundation of beautiful lines", and, "Jenyns ensures graceful lines".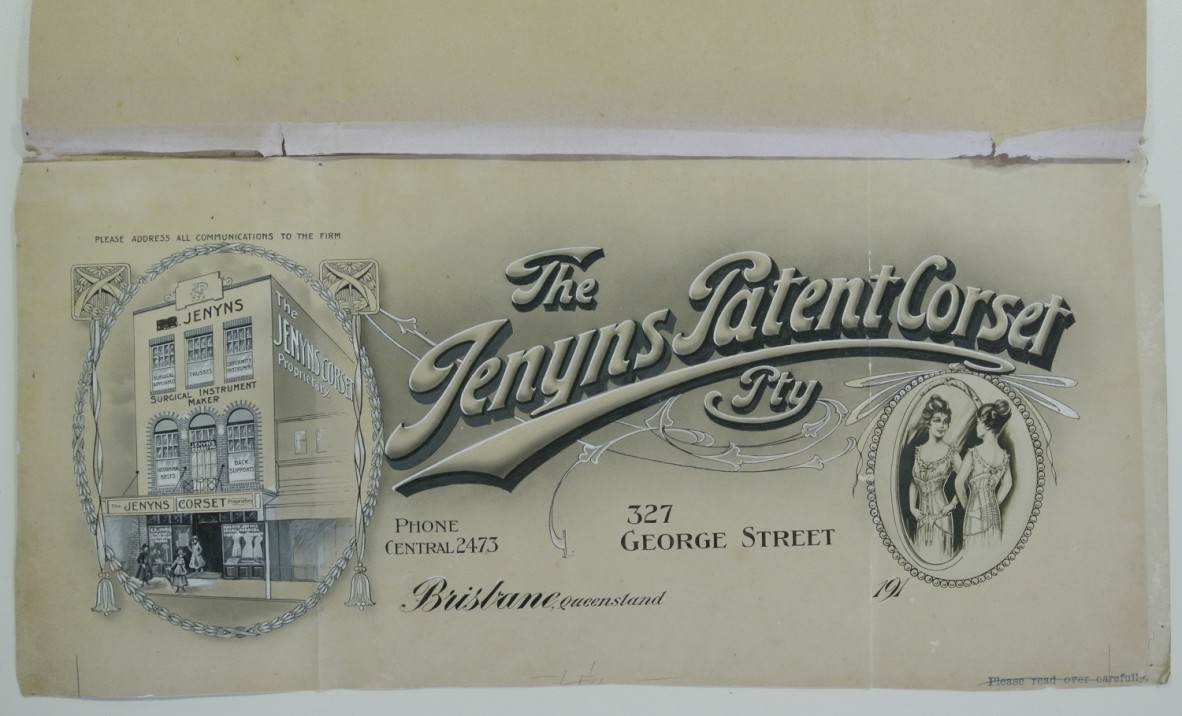 Jenyns premises illustration c.1920
We've also spotted some other revealing edits to Jenyns marketing material. Take for instance, this illustration of the premises with their logo and business address, which was reproduced in newspaper and journal advertising as well as in company stationary and brochures. It tellingly has the initials E.R. scratched out from the premises name, after Sarah's husband, Ebenezer Randolphus, had split from the business.
The materials donated to the John Oxley Library as a result of Sarah Jenyns' induction into the QBLHF are an especially rich source for our research. The strength of these items in particular lies in the vastness and diversity of types of materials donated. Having access to the original documents that were used within the business across several decades provides subtle and valuable insights for us to build our new research upon. We admire the foresight of those who save not just the valuable items after a business closes or moves, but also the newspaper clippings, cheque stubs, outdated stationary, notepads, and unfinished designs.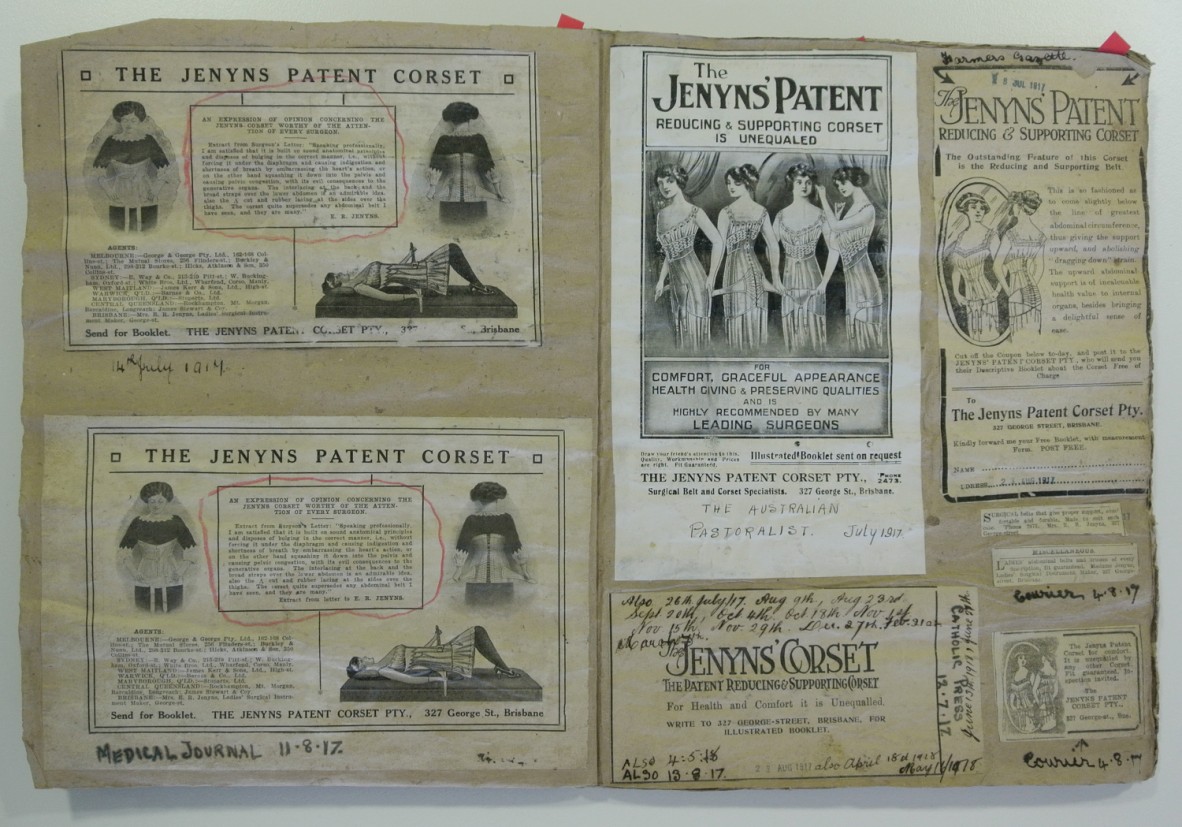 Comments
Your email address will not be published.
We welcome relevant, respectful comments.