Researching Languages at the State Library of NSW
By JOL Admin | 22 October 2013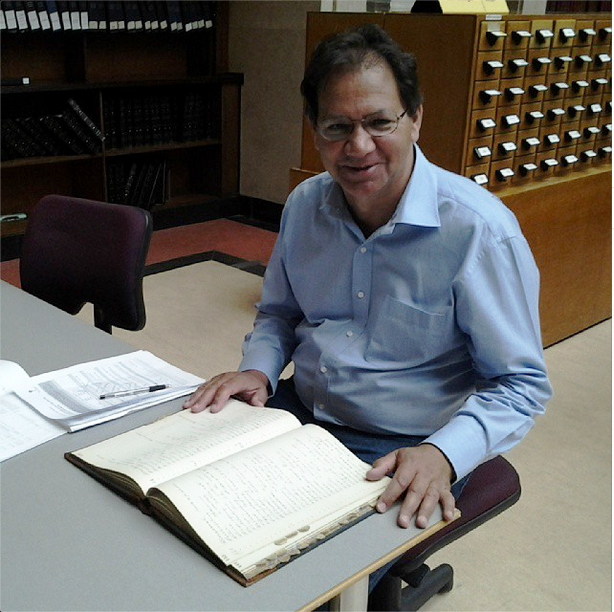 Researcher at Work (SLNSW Instagram)
Researcher at Work (SLNSW Instagram)
In October, I was fortunate to spend a week researching Aboriginal and Torres Strait Islander languages at the State Library of New South Wales. I was particularly interested in identifying any items relating to the pre-1859 colonial period when Moreton Bay was administered through Sydney.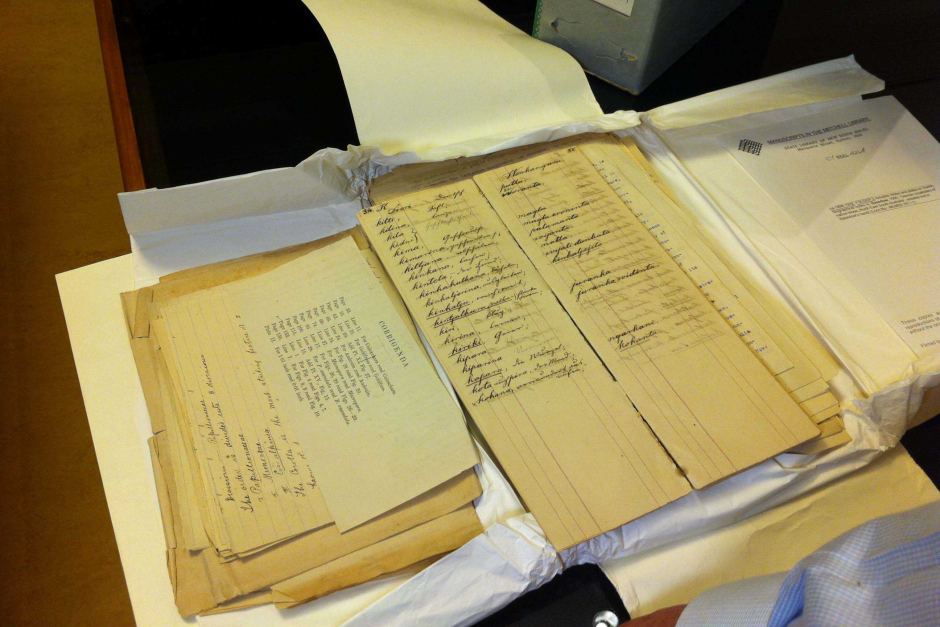 Historical documents at SLNSW
SLNSW has a current digitisation project Rediscovering Indigenous Languages which aims to digitise items in the collections relating to Indigenous languages. This three-year project is supported by Rio Tinto and has undertaken a research phase with Michael Walsh from University of Sydney/AIATSIS exploring the collections and identifying language materials for digitisation. The second phase will involve the newly established Indigenous Unit engaging communities in consultation to explore how communities can access and use the material. This project was showcased at the recent Hidden Gems Symposium and collecting institutions and communities alike are looking forward to seeing the outcomes of this work.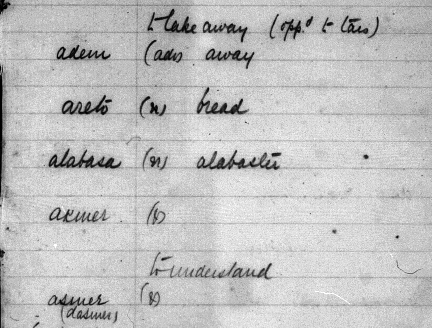 Murray Island Dialect
SLNSW collections include records from explorers, surveyors, missionaries, government officials and pastoralists who had a range of interactions with Aboriginal and Torres Strait Islander people; many of these encounters resulted in the documentation of language. The above image is from an item 'Vocabulary of Murray Island Dialect', an undated and anonymous notebook which records the language of Murray Islanders in 2 alphabetical volumes . This represents an early attempt to document Meriam Mir language in a dictionary format.

Warkon Tribal Dialects
Harriet Barlow lived on Warkon Station in South-West Queensland from 1858-1872; during this time she recorded words from the Aboriginal people who lived and worked on Warkon as well as neighbouring stations. The end result was a document called 'The Warkon Tribal Dialects ... Vocabulary of Aboriginal Dialects of Queensland' which includes words from 8 different languages. The State Library of Queensland holds Barlow's original 1865 Manuscript, while the SLNSW materials include additional notes from L R Schwennesen.

Notes section from Warkon Tribal Dialects
Notes section from Warkon Tribal Dialects
Oswald Brierly was a Naval Architect and Marine Artist who travelled on the HMS Rattlesnake when it undertook a marine survey of the Great Barrier Reef, Torres Strait and Papua New Guinea from 1857-1863. During October 1848 as the HMS Rattlesnake charted the waters off Cape York, Brierly documented words from Cape York Aboriginal groups including Kokobera and Kaurareg. Again, this primary source material is a rich treasure trove for community language workers.
Extract from Oswald Brierly's Diary (1849)
Extract from Oswald Brierly's Diary (1849)
One of the more intriguing items in the collection was a letter written to W E Parry-Okenden, Commissioner for Police in 1899. It is written by Magdalena Mulun, an Aboriginal woman from Cape Bedford in Guugu Yimidhirr at the request of W E Roth who was the Northern Protector of Aborigines at the time. The purpose of the letter was to highlight the work of the Mission in educating the local Guugu Yimidhirr people of the Cooktown region and request a boat for the community.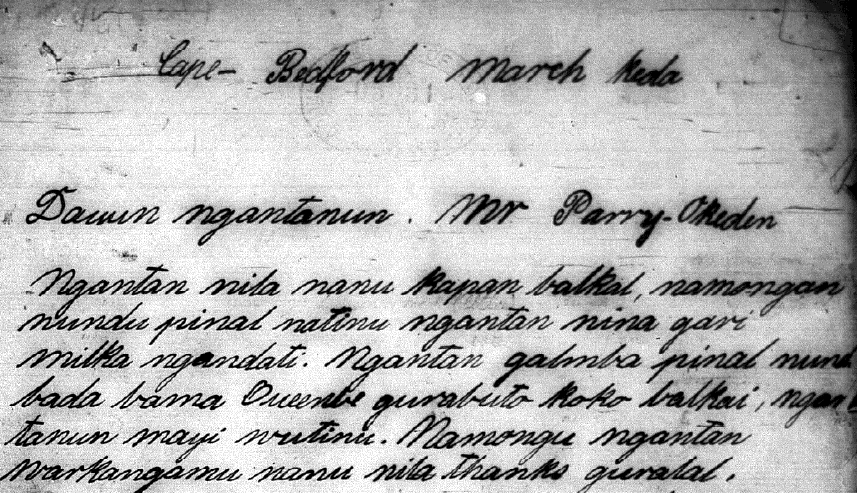 Extract from Guugu Yimidhirr letter (1899)
Extract from Guugu Yimidhirr letter (1899)
State Library of Queensland Indigenous Languages Project
This research activity was made possible through the State Library of Queensland's Indigenous Leadership Grant.
Des Crump - Indigenous Languages Researcher, State Library of Queensland
Comments
Your email address will not be published.
We welcome relevant, respectful comments.