Researching Indigenous Languages at AIATSIS
By JOL Admin | 7 November 2013
Australian Institute of Aboriginal and Torres Strait Islander Studies (AIATSIS)
I was fortunate to spend a week researching the collections at AIATSIS for material relating to Queensland Aboriginal and Torres Strait Islander languages. AIATSIS is located in Canberra and is the peak collecting institution for Aboriginal and Torres Strait Islander studies, with a particular attention on cultures, languages, histories and lifestyles.
Their collections include historical and original items as well as published materials and audio-visual articles pertaining to a broad range of topics including language, culture, history and genealogy. The collections are physically housed in Canberra at AIATSIS; however there are also on-line exhibitions and other documents available for personal and academic research. Mura is the online catalogue for AIATSIS Collections and enables researchers to identify relevant materials prior to visiting AIATSIS.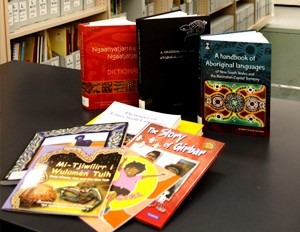 The focus of the week was identifying and analysing items in the collections that included Queensland Indigenous languages content; AIATSIS holds extensive materials so I concentrated my energies on primary source materials such as manuscripts and historical documents. Most of this linguistic content has been deposited at AIATSIS by linguists, anthropologists, academics and other researchers. AIATSIS then acts as a repository and manages this collection of print, audio and visual materials which has set guidelines and conditions for access and copying as determined by the depositor.
In addition to print materials, the Audiovisual Archive holds over 45,000 hours of sound recordings dating from 1898. These are accompanied by field notes and transcriptions as well as Finding Aids to assist research. Additionally, some material has been digitised for preservation as well as increased access by community members. AIATSIS has a proactive policy of returning materials to the community through its' Return of Material to Indigenous Communities (ROMTIC) initiative.
Extract from Bannister Queensland Wordlists
The Bannister Papers are well-known and a rich source of language for community language workers as he has collated material documented from 1838-1975 in Queensland. Another treasure trove is the Arthur Capell Papers which consists of 22 archival boxes of linguistic notes, wordlists, grammar and other documentation from Capell who was an academic, linguist and anthropologist! The week at AIATSIS was very productive and provided an opportunity to explore collections with a strong emphasis on Aboriginal and Torres Strait Islander languages.
Screenshot of AIATSIS Website
Comments
Your email address will not be published.
We welcome relevant, respectful comments.