Researcher Profile: Erik Olaf Eriksen's ongoing discoveries at the State Library
By JOL Admin | 13 November 2008
Erik Olaf Eriksen may be the State Library's most enduring client. For some twenty-five years he has carried out independent research at the library. In fact, his personal use of the collections actually goes back a further twenty years to 1962 when he visited the former William Street building as a high school student. According to Erik "The library has been not only a place of learning - it has also shaped my character".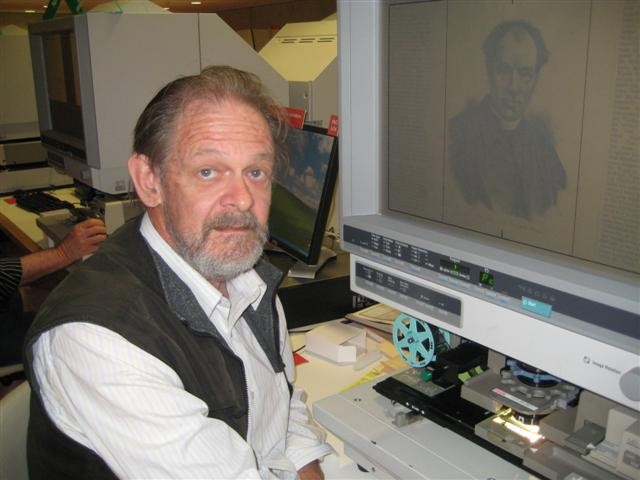 Erik Eriksen researching at the State Library.
Erik Eriksen researching at the State Library.
Erik began his studies with work on Queensland colonial biography. For over a decade he has carried out research on the life and works of the Reverend J.E. Tenison-Woods, the naturalist and geologist, who contributed so much to the science of colonial Queensland.
J.E. Tenison-Woods.  Sydney Mail, 19/10/1889, p.867.
J.E. Tenison-Woods. Sydney Mail, 19/10/1889, p.867.
Erik states that "It was Tenison-Woods who predicted, on the basis of characteristic fossils, that Queensland would become the great emporium of coal that it now is. His outstanding skill in science is attested to by his reflection on the wider effects that burning coal might have".
Another strong area of study for Erik was an examination of the forensic sciences, drawing on history, and exploring the definition and scope of the various forensic disciplines. This research is recorded in his publication The Journal of Forensic Medicine, Theoretical and Applied, and in related journals and memoirs, all of which are held in the John Oxley Library.
Erik's other areas of interest include: the Gatton murders, Benvenuti musicians, Aids, the Gatton Mounted Infantry, Henry Plantagenet Somerset, and Sir Arthur Conan Doyle and his relationship to the forensic sciences. His work on Conan Doyle includes a bibliography of his lecture tour in Queensland as well as an examination of the historical setting of Sir Arthur's detective stories.
To his research Erik has brought university qualifications relating to the sciences, engineering, and mathematics, but the actual methods of historiography he has learned in the course of his research at the library. Erik states "I have seen the great changes in the availability of materials in the library, from the old card catalogues to the latest digitization of newspapers. The new library systems are making citizens the direct proprietors of the history of their society. This brings a new dawn in opportunities for learning and its beneficial application to society is inspiring".
Though Erik has travelled to many exotic places in the world, both tropical and polar, he has always returned to the State Library of Queensland. According to Erik "State Library has been a goldmine to me - I couldn't have produced my 36 works without it!"
Erik's publications are all available in the John Oxley Library. A full listing appears on the State Library's catalogue.
Comments
Your email address will not be published.
We welcome relevant, respectful comments.