Remembrance Day traditions
By Anzac Square Memorial Galleries staff | 14 October 2022
Beginnings
On 11 November 1918, the guns of the Western Front fell silent after four years of continuous warfare. The allied armies had driven the German invaders back, having inflicted heavy defeats upon them over the preceding four months. With their armies retreating and close to collapse, German leaders signed an Armistice, bringing to an end the First World War.
In the four years of the war more than 330,000 Australians had served overseas, and more than 60,000 of them had died.
Learn more about the origins of Remembrance Day.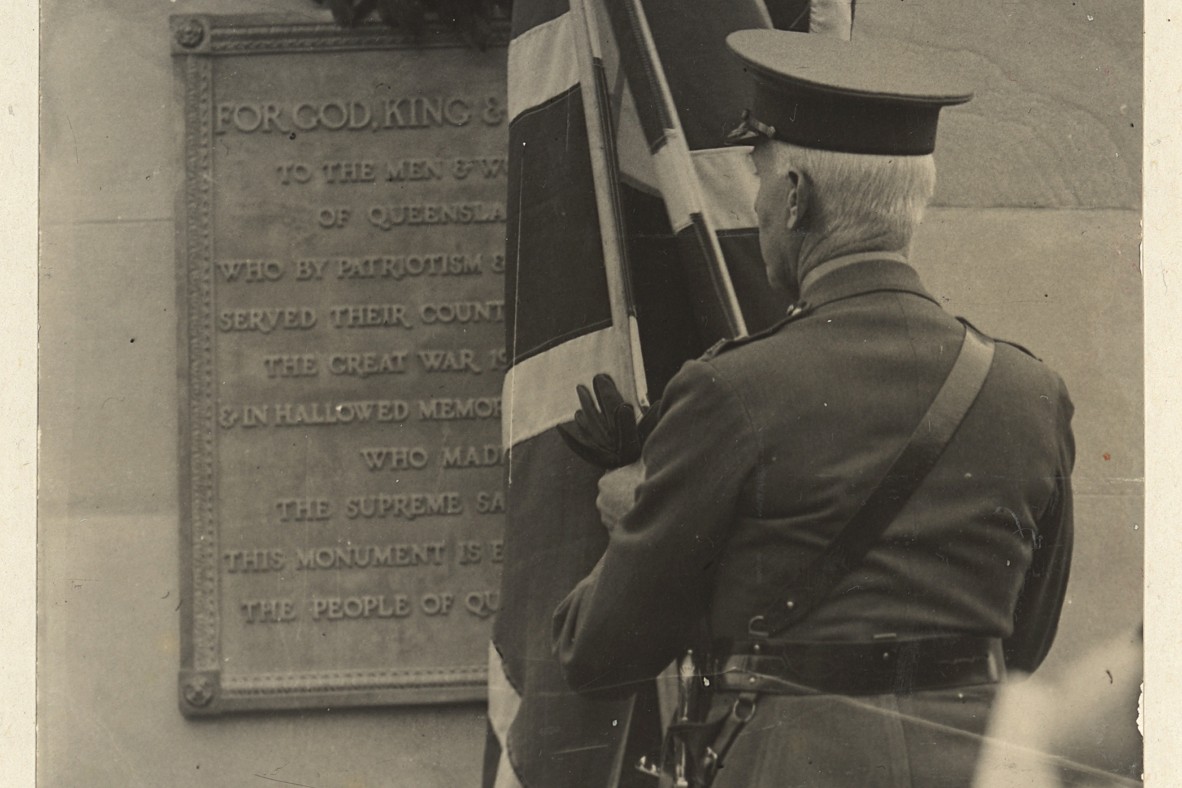 One minute's silence
The idea of silent remembrance was first suggested by Australian journalist, Edward Honey in 1916. Silences of various kinds had been observed previously, but Honey's idea was for a national silence of five minutes duration.
In 1919, King George V personally requested that all the people of the British Empire suspend normal activities for two minutes on the hour of the Armistice 'which stayed the worldwide carnage of the four preceding years and marked the victory of Right and Freedom'.
The two minutes' silence was popularly adopted and it became a key feature of Armistice Day commemorations.
Ask Anzac Stories to listen to the Last Post and observe a commemorative silence
Lest we forget
'Lest we forget' - a phrase commonly used in war remembrance services, comes from Rudyard Kipling's poem 'Recessional', written for Queen Victoria's Jubilee and first published in the London Times 17 July 1897.
The red poppy
The tradition of wearing a red poppy for remembrance has its origins during the First World War and was inspired by the fields of poppies that grew in the battle-ravaged fields of the Western Front. In soldiers' folklore, the vivid red of the poppy came from the blood of their comrades soaking the ground.
After attending the funeral of friend and fellow soldier who died in the Second Battle of Ypres in 1915, Canadian doctor Lieutenant Colonel John McCrae wrote the poem In Flanders Fields which has since become one of the most quoted poems of the First World War.
Moved by Lieutenant Colonel McCrae's words, in 1918 an American YMCA member Moina Michael vowed she would always wear a red poppy to honour the men and women who fought and helped in the war. She began making silk poppies for others, and along with organisations such as the American Legion and French YMCA, started selling poppies to raise money for veterans, their widows, orphans, and families. Soon poppies were being worn all around the world, and the tradition continues to this day.
Comments
Your email address will not be published.
We welcome relevant, respectful comments.