Registry of births, deaths and marriages
By Fiona Dixon | 23 March 2015
A recent visit to the Queensland Registry of Births, Deaths and Marriages at 110 George St, Brisbane provided a fascinating insight into how records of life events in our state have been gathered, preserved and are being made increasingly accessible. The procedures of the past have evolved to allow records to be digitised, made more widely available and to cater for the information needs of the government and public. Today, these records are available more easily and inexpensively and provide more information than ever before.
Registry records of marriages from 1923
Registry records of marriages from 1923
Touring the registry with a number of people from organisations that provide services to people researching family history (including State Library of Queensland, Queensland State Archives and the Genealogical Society of Queensland) gave me a greater understanding of the role of the registry and the potential uses of their information for family historians. The registry works with these various organisations to understand how their records are used, enabling them to improve their services.
We were lucky enough to see the traditional skills of the bookbinder in the building's basement, who binds and repairs material, the modern equipment used to transport the records for digitisation, and the impressive storage facilities. Yet it was seeing some of the actual records held at the registry that made the greatest impression, and gave me a greater appreciation of the value of the information stored there – for statistical, historical and personal reasons.
Traditional tools and skills are still used in binding the volumes of documents
Trolleys used for transporting volumes for digitisation
Trolleys used for transporting volumes for digitisation
When a birth, death or marriage is registered in Queensland, an original certificate (referred to as the source document) is created, along with a registry document. The source document and one registry document are transferred to the registry in Brisbane, where they are bound into large volumes, by district and date, and stored. By the end of this year, a massive ongoing digitisation project will see 11 million of these records digitised – a very impressive feat when you see the physical size, volume and weight of the bound volumes. Some of the volumes weigh up to 16 kg each.
Storage of volumes at the Registry of Births, Deaths and Marriages, Brisbane
A volume of marriage certificates from 1907
A volume of marriage certificates from 1907
The family history research page of the registry's website contains freely searchable indexes for births from 1829-1915, deaths from 1829-1985 and marriages from 1829-1940. An historical image of a source document can be purchased and downloaded instantly for $20, or a certificate supplied for $28. While the index is freely searchable, the information provided on source documents is invaluable to family historians, providing information on up to three generations as well as extra information, such as handwritten notes and signatures, not available on the transcribed indexes. Transcribed information also allows room for human interpretation or error, so viewing the source document is the best way to see the original entry, including handwriting and any other material or notations. Some historical documents include codes (such as "1922" for World War 1 deaths) and may be the only place where a person's ethnicity is noted.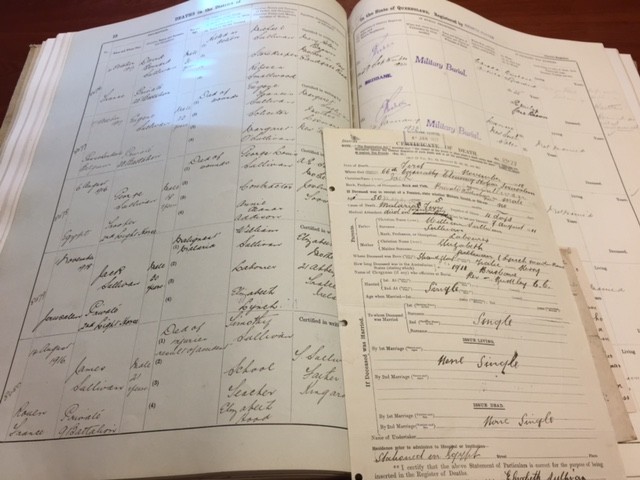 Death certificate and register records from 1918
Death certificate and register records from 1918
Historically, the registry's primary task was to maintain records of births, deaths and marriages in the state for statistical purposes and for government and infrastructure planning. While the legislative requirements to record such life events remain the registry's principle obligation, increasing public interest in discovering these historical treasures continues to shape the organisation's processes and service provision.
Comments
Your email address will not be published.
We welcome relevant, respectful comments.