Red Flag Riots - One Hundred Years Ago
By Joan Bruce, Specialist Librarian, State Library of Queensland | 25 March 2019
The Red Flag Riots were spread over three days and involved up to 8000 men, but for a long time they disappeared from public memory in Brisbane.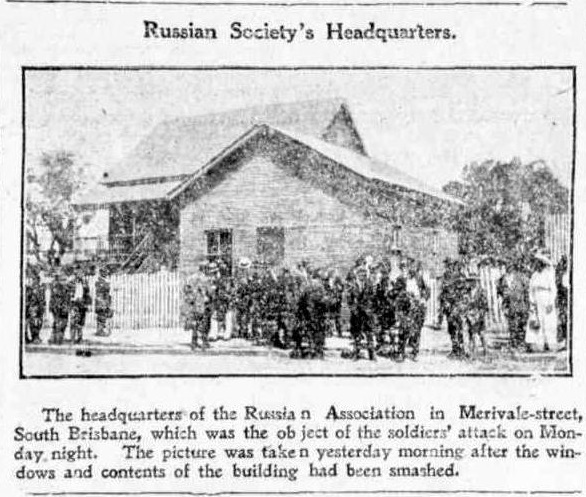 Russian Society Hall (Daily Mail, 26 March 1919 p7)
Historian Raymond Evans sums up the account of a young eye-witness in South Brisbane in March 1919.
Their game of I-ackey was brought to an abrupt halt by a terrifying, unearthly sound. … It was the roar of a rampant mob of around 7000-8000 adults, principally men, rushing across Victoria Bridge and down Melbourne, Grey and Russell streets en route to attack the Russian community headquarters. Their wild cries were underscored by the thunder of thousands of marching and running feet; and as this approached a crescendo, the children could see the front ranks of the crowd pouring into Merivale Street, as well as lines of foot and mounted police rapidly taking up their positions to defend the Russian Hall. (Radical Brisbane, p.167)
Her family had always dismissed these childhood memories as pure imagination, but it was in fact the main clash in a series of vigilante attacks on the Russian community in Brisbane which took place between 23 and 25 March, 1919.
The large Russian immigrant community was concentrated in South Brisbane and included a significant number of refugees from the failed 1905 revolution.
This sub group was highly politically aware and active. They had formed a Union of Russian Workers Society, published their own newspaper and had built up a library of 1000 books housed in the Russian Society Hall in Merivale Street.
23 - 25 March 1919
Whether or not these riots were later forgotten they didn't go unnoticed at the time.
Their Way (Daily Standard, 25 march 1919 p5)
While the left wing press decried one of the maddest and most disgraceful scenes ever witnessed in any part of Australia, coverage in the right wing papers was inflammatory.
The Challenge (Daily Mail, 26 March 1919, p7)
Papers like the Daily Mail and the Brisbane Courier railed against the dangers posed to Australia by this group of unpatriotic Bolshevists and 'not quite white enough' Russians.
The Immediate Spark
The immediate spark to these events had been a small civil liberties demonstration on 23 March. Some of the marchers were carrying red flags in defiance of a ban under the War Precautions Act. Later in the day a mob formed and attacked the One Big Union meeting at North Quay, seriously injuring one of the speakers, and then moved on to the Russian Hall in Merivale Street, South Brisbane.
The hall was successfully defended on that occasion by a small group of Russians, led by Alexander Zuzenko. The Russians, who had armed themselves, managed to disperse the mob by firing over their heads.
The Main Clash
On Monday 24 March, when the main battle took place, the Hall was defended by police armed with rifles and bayonets, along with mounted troopers.
Red Monday (Queensland Police Union Journal, 11 June 1919)
The seriously outnumbered police held out for two hours against fence palings, guns and even home-made bombs. Nineteen police were seriously injured, along with several police horses, and the Russian premises were wrecked, before the rioters moved on to raiding and looting homes and shops in the vicinity.
Final Attack
The final riot occurred on the following day, Tuesday 25th March, when another mob formed to attack the building of the Daily Standard newspaper. With that, although assaults continued on a smaller scale against individual Russians in the street, the Red Flag Riots were over.
Background
The rioters were mostly returned soldiers, stirred up by a mix of patriotism, anti-Bolshevism, xenophobia, and all the emotions they had brought home with them from the Western Front.
It also appears that Australian authorities, fearful of the spread of Bolshevism in the wake of the 1917 Russian revolution, had been playing with fire by covertly encouraging right-wing vigilante groups. Queensland Police cooperated by turning a blind eye to the arming of these groups.
Jail and Deportations
Despite serious injury to police and indiscriminate property damage in South Brisbane, the Russians were punished instead of the rioters. Fifteen men were sentenced to seven years in prison for violating the War Precautions Act by displaying their red flags.
The Commonwealth also jumped on the chance it had obviously been waiting for and began deportations of alleged Bolsheviks, Zuzenko among them. His story can be read in Kevin Windle's book Undesirableopen_in_new.
Listok
Listok was the newspaper of these radical socialists. All issues were thought lost, but several were found many years later in the Beckingham Family and Lane Family Papers in State Library of Queensland's John Oxley Library.
Click here for the story of how they were translated.
Joan Bruce - Specialist Librarian, State Library of Queensland
Bibliography
Radical Brisbane: an unruly history/edited by Raymond Evans and Carole Ferrier (Vulgar Press, 2004)
The Red flag riots: a study of intolerance/Raymond Evans (University of Queensland Press, 1988)
Agitation, ceaseless agitation: Russian radicals in Australia and the Red Flag Riots by Raymond Evans in "Russia and the fifth continent: aspects of Russian-Australian relations"/edited by John McNair and Thomas Pools (University of Queensland Press, 1992). Ch. 7, p.126-171
Undesirable : Captain Zuzenko and the workers of Australia and the world / Kevin Windle (Melbourne, Australian Scholarly Publishing, 2012)
Rare Russian Papers Discovered in the John Oxley Library
Comments
Your email address will not be published.
We welcome relevant, respectful comments.