Queensland's railway routes, lines and stations
By Katy Roberts, Library Technician, Information and Client Services | 16 October 2020
Queensland's first railway line opened in 1865, and ever since then railway routes, lines and stations across the state have been planned, opened, closed and even re-opened but with a few alterations.
Residents of Redcliffe waited for over 130 years between when the railway line was planned and when they were eventually able to travel on the first train.
The South Coast railway line operated between 1889 and 1964, transporting thousands of holiday makers during that time. A little over 30 years later, a modified Gold Coast railway line re-opened, transporting a new generation of holiday makers and many more commuters.
What about the railway line that went from Dutton Park to Woolloongabba, terminating at the South Brisbane wharves? This was a goods line and operated from 1884 to 1969, with Woolloongabba Railway Yards just near the site of the Cross River Rail station that is currently under construction. Trains carrying coal from Ipswich used the Ipswich line to Dutton Park, then travelled on a line parallel to Ipswich Road, then crossed the Woolloongabba Fiveways near the Gabba Cricket Ground. A railway siding was located where Park Rd and Albert St meet Ipswich Rd, and this was used to hold sheep ready for the local meat processing plants. Imagine the noise from the trains and the smells and smoke from the engines.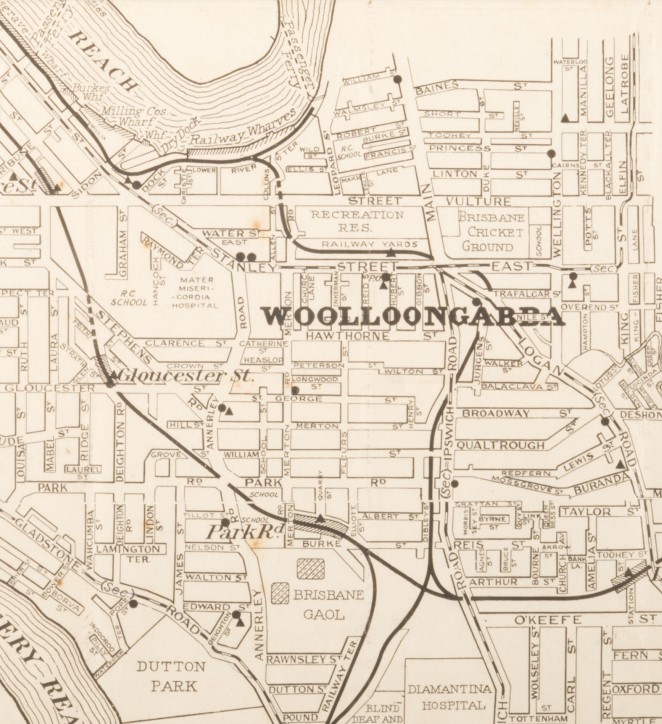 Image from Harris' street and road directory 1916. Map No. 2. The solid black lines are the railways. State Library of Queensland.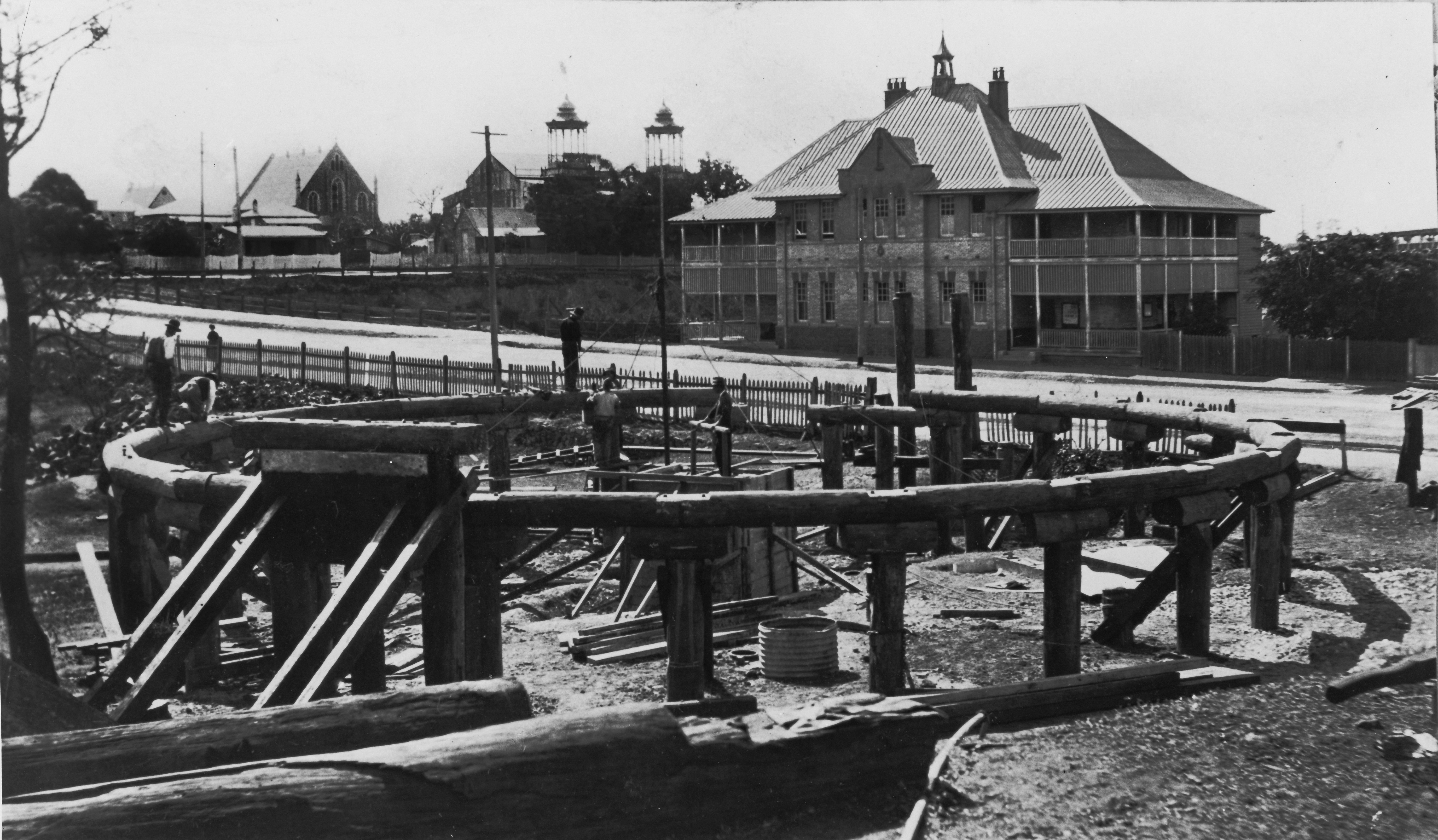 Construction of a railway turntable in Main Street, Woolloongabba, Brisbane, 1921. John Oxley Library. Negative number 37394.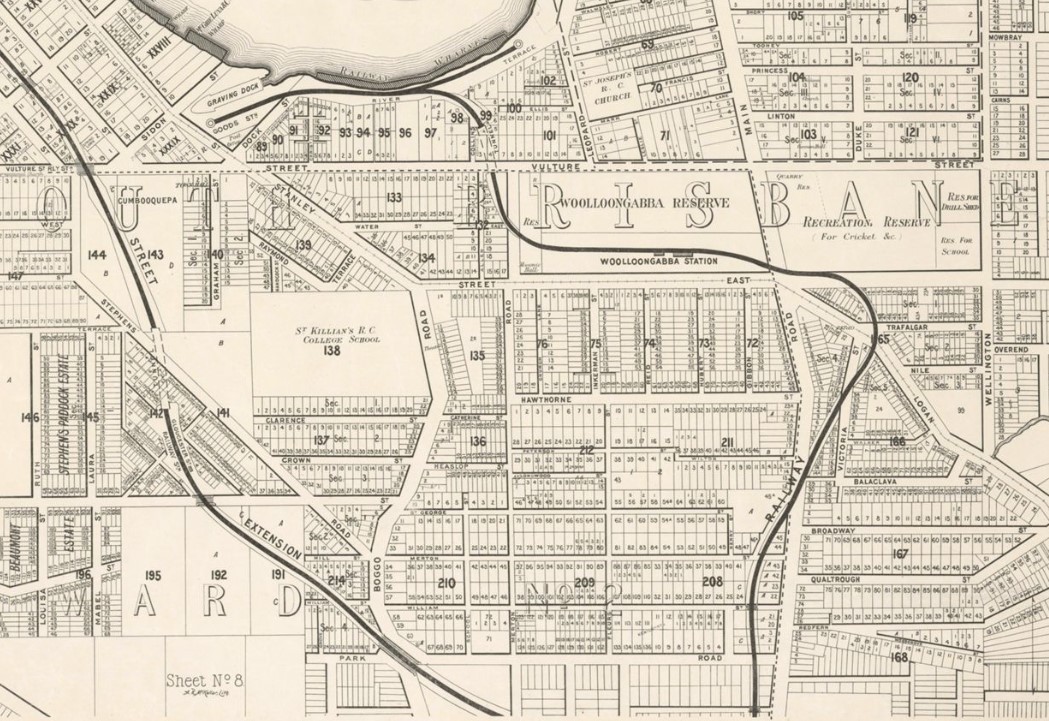 McKellar's official map of Brisbane & suburbs, Sheet no 8, 1895 showing railway lines in black and the location of the Woolloongabba station. State Library of Queensland.
Disused railway lines are now found throughout Queensland, as improvements to roads and airlines changed the way we moved through the state. Many of the closed lines have been re-opened as rail trails – popular walking, cycling and horse-riding routes. From a few hundred metres through Muntapa Tunnel, Queensland's longest straight railway tunnel, to exploring old mining towns in North Queensland, or covering over 160 kilometres through the Brisbane Valley, why not get out and explore a recycled railway corridor, or enjoy a trip on an historic steam train? And imagine the lives of men and women who built and worked on these historic railway lines.
Railway worker with his rail trolley, 1949. John Oxley Library. Image number 7062-0001-0002.
Did your ancestors work on the railways in Queensland?
Check our Railway employees research guide for some research starters.
Further reading
Read more about Queensland railway history:
Comments
Your email address will not be published.
We welcome relevant, respectful comments.