Queensland Post Office Directories, 1868-1949
By JOL Admin | 16 December 2008
Recently Heritage Collections' staff conducted an in-house training session in the John Oxley Library about the Queensland Post Office Directories and the many ways in which they can be used for historical research. The main points are outlined below.
These directories were published in Queensland from 1868 to 1949, and were the equivalent of the present-day telephone books. They provided a convenient listing of private residents, professionals, firms and institutions in the state. Today they can be used to trace the history and movements of those listed.
  Qld Post Office Directory, 1868. National Archives, J2364:6727
Qld Post Office Directory, 1868. National Archives, J2364:6727
As economic life in Queensland became more complex, there was a need to know who were the members of the legal, medical and ecclesiastical professions. It was also necessary for residents fo trace the whereabouts of businesses, and for the post office to know the addresses of residents and firms. The leading publishing houses in each state of Australia were charged with the task of producing the official post office directories.
Compilation of the directories must have been a huge task, given the challenges of distance and communication. The introduction to Sands and Kenny's Commercial & General Sydney Directory, states that : "As far as practicable information has been obtained from individuals, at their private addresses, or at their accustomed places of businesses, by competent parties, who have been both diligent and careful".
In other words, collectors visited streets and individual houses and firms, as modern market researchers do today. People had to pay to have their names included in the directories so they are not a completely comprehensive list. In addition, heads of households are only included, so it is often difficult to trace women. Women do appear, but usually if they are single or widowed.
Content of the directories varies over time with the earlier directories containing basic information such as listings of residents of Brisbane and country towns, as well as an alphabetical name directory for the whole state. Later directories contain more complex information, including specialist directories for professions, trades, and pastoral stations. Advertisements for firms were also included.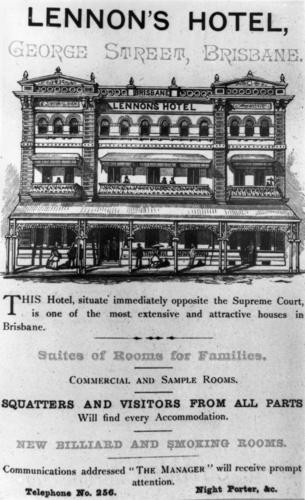 Advertisement from the 1889 directory.  Image No: 13064
Advertisement from the 1889 directory. Image No: 13064
Overall the basic format is as follows:
Brisbane Directory: This comprises an alphabetical listing of the streets of Brisbane with the residents and firms listed for each street. North and South Brisbane appear as separate directories. Occupations of residents are provided in some cases.
Country Directory: A list appears for each town with residents and firms listed alphabetically. Bigger centres such as Rockhampton and Townsville have street listings the same as Brisbane.
Alphabetical Directory: Complete alphabetical listing of residents and firms for the whole state.
Trades Directory: The comprises an alphabetical list of trades and occupations, with firms and individuals listed below. The directory is similar to the Yellow Pages of today.
Medical Directory: Includes doctors, chemists, dentists, hospitals (both private and public), hospitals for the insane, benevolent institutions, refuges and homes.
Legal Directory: Includes barristers, solicitors, judges, and police magistrates
Eductional Directory: Includes orphanages, industrial schools and reformatories, schools of art, grammar schools, technical colleges, private schools and colleges, church schools and private teachers of music and art.
Ecclesiastical Directory: Lists churches by denomination and the name of clergymen.
Government Directory: Lists government officials for all levels of government.
Stations Directory: Alphabetical list of pastoral stations, including the name of the owner, nearest post town, and number of stock.
As can be seen, these directories are a treasure trove of information. They are available on microfiche on Level 3 of the State Library. An incomplete hard copy set is also available in the John Oxley Library reading room on Level 4.
Comments
Your email address will not be published.
We welcome relevant, respectful comments.