Queensland Places - Thursday Island - RMS Quetta - What happened after the sinking?
By JOL Admin | 12 December 2016
The sinking of the SS Quetta on the night of February 28, 1890 remains one of Queensland's most tragic events, but what happened in the period after the sinking and loss of life? Public feeling over the loss of the ship was very strong with various rumours and stories circulating throughout Queensland and beyond. Some of these suggested various causes for the disaster including placing the captain and pilot under suspicion of negligence or incompetence. As well, the Admiralty was accused of supplying the ship with inaccurate charts.
In March, 1890, Mr John Douglas, the government resident on Thursday Island organised the first dive on the wreck. This operation was severely hampered by strong currents and poor visibility, restricting the length of dives. However, an inspection of the wreck was able to confirm it had been rent from the bow to the engine room. A marine board of enquiry was held in April, 1890 and found that there was no cause to blame the Quetta's captain, officers or the pilot for the sinking and loss of life. The insurance payout to the owners of the cargo lost on the Quetta was in excess of £50,000. Attempts were later made to recover some of the cargo including the salvage of wool but this proved unsuccessful. More successful was the recovery of tin, silver and lead from the wreck, worth around £4,000. Some luggage was also recovered.
Various relics from the Quetta were recovered and taken back to Thursday Island including a lamp, compass case, a copper jug, a teak slab from the wheel box and other items.
Many of these relics including the ship's life buoys are now held at the Quetta Memorial Cathedral. There is an interesting postscript to the disaster. The Quetta was due to sail again from London on April 26, 1890. Her place in the Royal Line was taken by the RMS Dacca but on May 9, 1890 this ship was also wrecked in the Red Sea as a result of what was later termed the negligence of the chief officer. The Quetta shipwreck was declared "historic" under the Shipwrecks Act on October 22, 1981.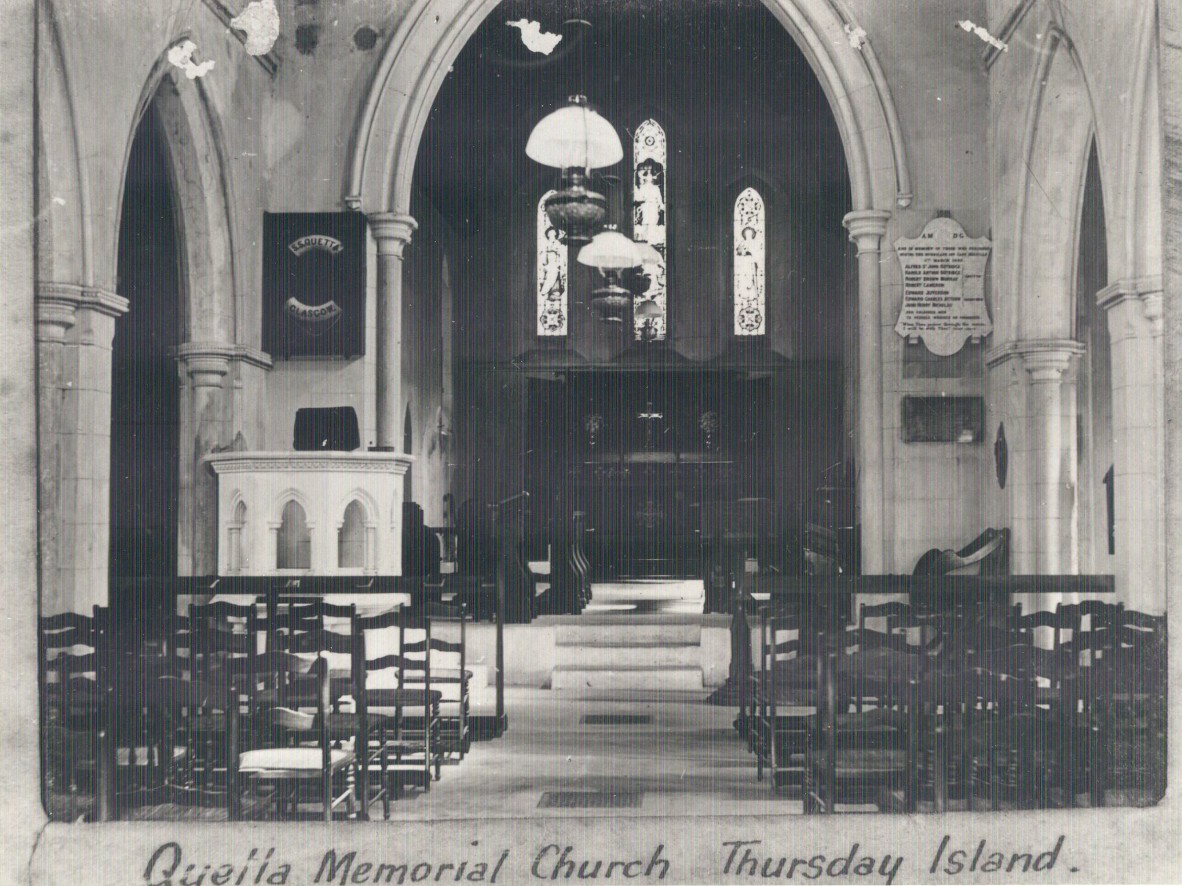 Quetta Memorial Cathedral, Thursday Island, 1904. John Oxley Library, State Library of Queensland Neg 143584
Quetta Memorial Cathedral, Thursday Island, 1904. John Oxley Library, State Library of Queensland Neg 143584
This image shows the interior of All Souls and St. Bartholomew's Quetta Memorial Cathedral in 1904. One of Quetta's buoys can be seen displayed above the pulpit.
Brian Randall - Senior Librarian, State Library of Queensland.
Comments
Your email address will not be published.
We welcome relevant, respectful comments.