Queensland Places - Thursday Island - Heriverto Zarcal, Pearl Trader
By JOL Admin | 23 September 2013
The Pearl industry has played a major role in the history and development of Thursday Island as well as other places throughout the Torres Strait, and has long been part of Torres Strait history and folklore. The industry's formative years were in the last half of the nineteenth century and by the 1890s many islanders were involved directly in the industry or influenced by it in one way or another. The pictured advertisement, dating from 1897, shows one of the major pearl entrepreneurs of the time, Heriverto Zarcal, providing us with a window into the history and development of this important and fascinating business.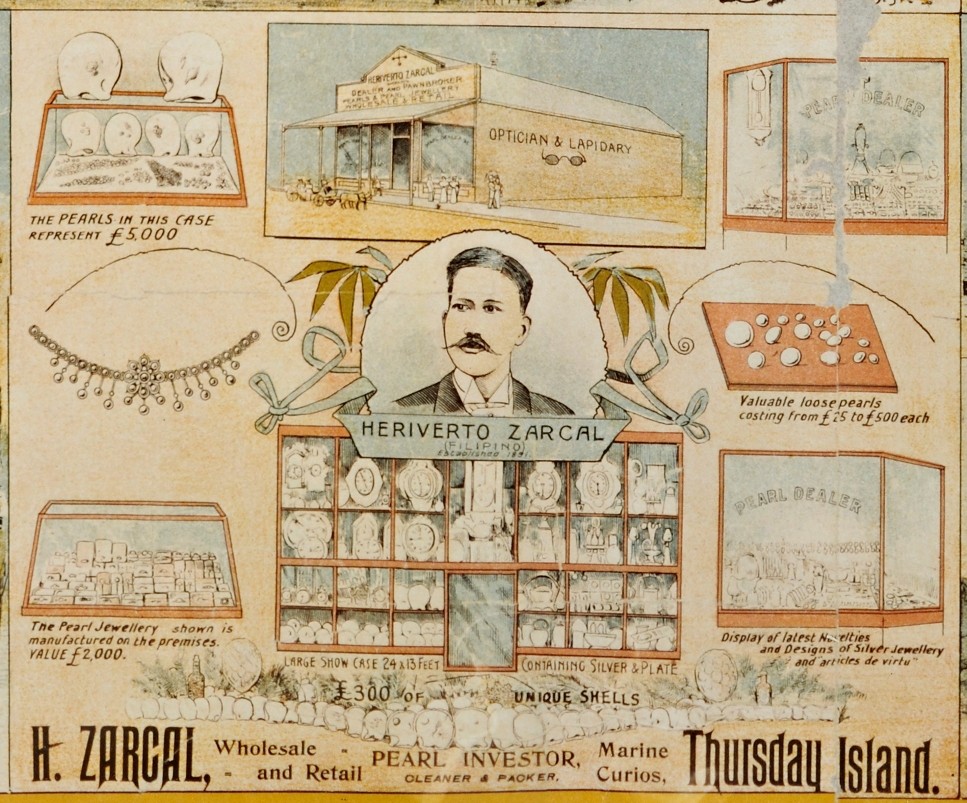 H. Zarcal, Thursday Island, 1897
Zarcal established his business in 1891 and, like many of his colleagues and competitors, he was to go through his ups and downs. As shown in his rather elaborate advertisement, his pearling interests were wide, and we also see him pictured as a young, well dressed man, no doubt proud of both his heritage and his growing business. In addition to manufacturing and selling a range of pearl jewellery, he also sold loose pearls, shells as well as what he described as marine curios. He also advertised his services as a pearl investor, as well as the additional sidelines of optometry and lapidary. As well, his interests went beyond being a seller of pearl related items, with newspaper reports of the time recording that he owned and operated a pearling fleet consisting of a schooner and six luggers.
Zarcal was of Filipino descent and was unfortunately to become embroiled in the racial tensions existing on Thursday Island, as well as elsewhere, particularly towards the end of the nineteenth century. At times, this tension could turn into open conflict, for instance, Zarcal's store was attacked on at least one occasion by South Sea Islanders who felt discriminated against by the Filipinos. There was also racially based criticism of Zarcal when he was appointed to the committee of the Torres Straits Hospital. Zarcal's challenges and bad luck were to continue with his premises, by then having been extended into a two storey structure, being destroyed in a large fire which occurred in 1905.
Zarcal's pearling business is representative of many similar businesses which operated at the time and this advertisement gives us an insight into the history of one of Thursday Island's most significant historical influences.
Brian Randall - Queensland Places Coordinator, State Library of Queensland
Comments
Your email address will not be published.
We welcome relevant, respectful comments.