Queensland Places - Thursday Island - Burns Philp & Co.
By JOL Admin | 1 January 2017
Burns, Philp and Co. was formerly one of the largest business operations in the Torres Strait, with its history dating well back into the nineteenth century. By 1900, the company was carrying on the most extensive shipping and commercial business on Thursday Island and its wide trading interests required that it stocked an extensive range of articles and merchandise.
Its business premises were a major landmark in the Thursday Island streetscape and comprised a solid concrete store, originally built in 1892, with an associated long jetty, to facilitate its shipping operations. The company leased this jetty, which had been built at a cost of some 40,000 pounds, from the Queensland government. The company also maintained a coaling station, using two hulks for the storage of coal, with this facility being used by Admiralty vessels as well as various steamers. In addition to its other business interests, Burns, Philp & Co. also operated two pearling fleets.
In June 1899, a devastating fire broke out in the company's store, destroying the building as well as the adjoining Tattersall's Hotel. The entire stock in the store was lost, including drapery, hardware as well as diving and shipping related gear. There was fortunately no loss of life, however the total damages were valued in excess of 11,000 pounds.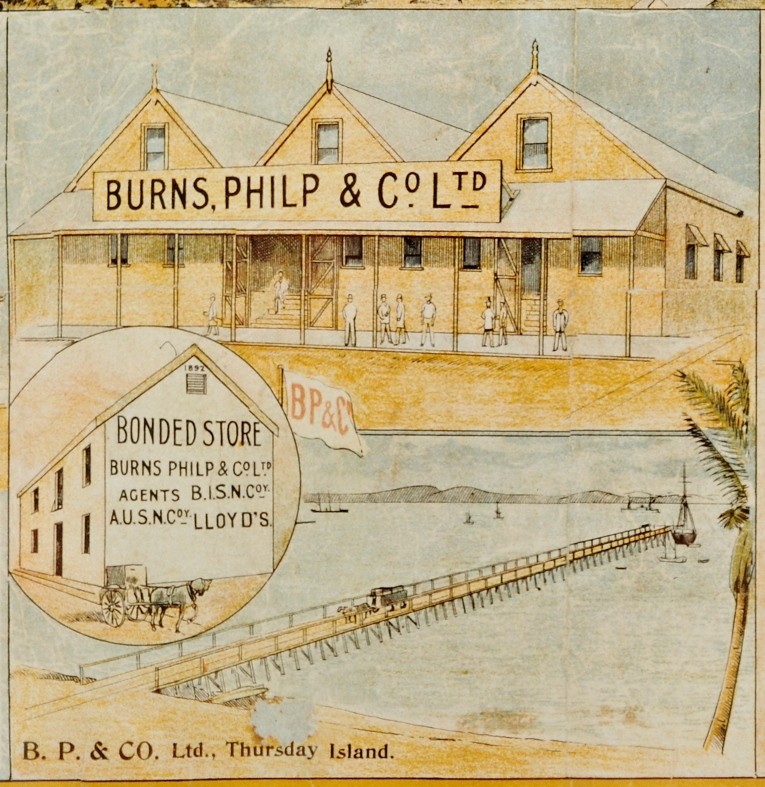 Burns, Philp and Co., Thursday Island, 1897
Burns, Philp and Co., Thursday Island, 1897
The pictured advertisement, dating from 1896, shows the company's premises and store only a few years after being constructed. The leased jetty, known locally as the Burns, Philp jetty, is also prominent in the image. As can be seen, rails on the jetty enabled goods to be loaded or unloaded more easily, using purpose built, horse drawn vehicles, one of which can be seen.
Burns, Philp & Co. played a major role in Queensland's early economic development and remains a familiar name in business circles, in particular in Far North Queensland.
Brian Randall - Senior Librarian, State Library of Queensland.
Comments
Your email address will not be published.
We welcome relevant, respectful comments.